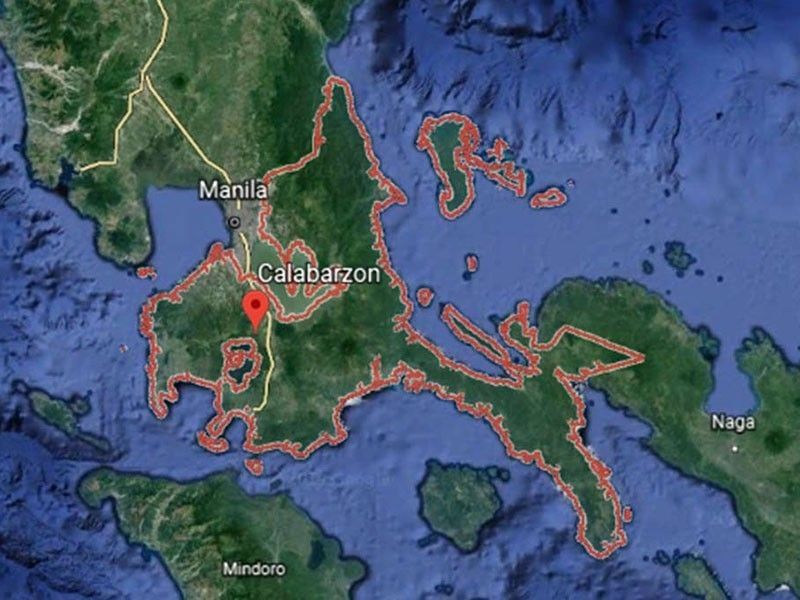 Screenshot shows Region IV-A Calabarzon, comprised by the provinces of Cavite, Laguna, Batangas, Rizal and Quezon.
Google Maps
'Bloodbath Day': Deaths, arrests reported in police raids in Calabarzon
MANILA, Philippines — (Updated 6:08 p.m.) Police raids that swept across four provinces in Calabarzon on Sunday left nine activists dead, a "bloodbath" that groups condemned days after President Rodrigo Duterte told state forces to shoot right away suspected armed rebels in encounters.
Philstar.com was told by Calabarzon police that operations in the region yielded the said number of casualties, or six reported killed in Rizal, two in Batangas and one in Cavite.
The labor group Pamantik said activist leader Emmanuel Asuncion of BAYAN-Cavite was shot in a raid at the Workers' Assistance Center in Dasmariñas, while the couple Chai and Ariel Evangelista were killed in a similar operation in Nasugbu, Batangas.
Both were said to have been staff members of the group Umalpas Ka, and their 10-year-old child was also reportedly taken into custody but has since escaped.
In Rizal, only two out of the six killed had been identified so far: Makmak Bacasno and Michael Dasigao, who were part of the urban poor organization SIKKAD in Montalban.
PLt.Col. Chitadel Gaoiran, a spokesperson for the Calabarzon PNP, said six were also arrested while nine remain at-large. The figure matches that of groups' report that three in Laguna were nabbed — two labor leaders and a human rights worker.
They were identified as Steve Mendoza, executive vice president of the group Olalia, or the Organized Labor Association in Line Industries and Agriculture, Mags Camoral, BAYAN-Laguna spokesperson, as well as Nimfa Lanzanas, a paralegal aide to political prisioners of the group Kapatid in Southern Tagalog.
The arrests were made after search warrants were issued on March 2 on alleged illegal possession of explosives — a charge that groups have long said is usual to file against activists.
It was signed by First Vice Executive Judge Jose Lorenzo dela Rosa of the Manila Regional Trial Court Branch 4.
Gaoiran could not specifically say if the 24 search warrants which turned out as the basis for the raids were all signed by Dela Rosa. But when asked to describe how it resulted in deaths, he said an "armed encounter" took place.
Groups' condemnation, call for release
The Duterte administration in its more than four years in office sought to rid the country of its decades-long insurgency problem. But often, groups said it had targetted critics and human rights advocates too.
In a statement, the Human Rights Watch said it was "seriously concerned" over the Calabarzon raids as it described the anti-insurgency efforts as becoming increasingly brutal.
"The fundamental problem is this campaign no longer makes any distinction between armed rebels and noncombatant activists, labor leaders and rights defenders," said Phil Robertson, HRW's deputy Asia director. "The Philippine government should act now to investigate the use of lethal force in these raids."
Kapatid, a support group for families and friends of political prisoners, called too for the immediate release of those arrested, who include their paralegal aide Lanzanas.
"Nimfa is now 61 and frail," said Fides Lim, the group's spokesperson. "Nimfa thinks nothing of her own sicknesses like hypertension, anemia and rhinitis just so she can be of help whenever she is needed even if it means walking for kilometers to visit political prisoners. When did it become a crime to help people in need?"
Lawmakers from the progressive Makabayan bloc in Congress also took to social media to condemn the incident.
Rep. Carlos Zarate (Bayan Muna party-list) called it a "Bloodbath Day by murdering innocent civilians, and by planting evidence for trumped-up cases."
"This is pure terrorism to brutally silence dissent," he wrote on Twitter. "Pure terrorism to stop making government accountable."
Rep. Sarah Elago (Kabataan party-list), meanwhile, said search warrants are now being weaponized to run after activists, labor organizers as well as human rights defenders.
"Instead, [the] Duterte administration's counterinsurgency campaign has targeted dissenters, organizations and activists opposing the regime's anti-people policies," Elago said.
Rhetoric inciting violence
HRW's Robertson and Kabataan party-list's Elago sought to draw the link between Duterte's recent remarks and a seeming outcome in the form of the police raids still in the region.
Over the course of his presidency, Duterte has publicly declared that he has no regard for human rights, particularly on his anti-drug campaign that had already seen thousands killed. He has also repeatedly vilified his critics as he vowed that the said campaign will remain relentless until the end of his term in 2022.
In his meeting on March 5 with the anti-communist task force, the president told members of the police and the armed forces to "ignore human rights" and "kill them right away," pertaining to armed rebels.
Robertson said it was "no longer a coincidence" that such took place especially after Duterte's remarks.
The kind of language that the president has exhibited in his years in office has long been called out by groups, which his officials had always sought to make an excuse for.
But significantly, the United Nations' Human Rights Office in its June 2020 report said that such rhetoric may have incited violence and "have had the effect of encouraging, backing or even ordering human rights violations, with impunity."
The country's human rights commission has warned too that words coming from the highest authority may often be interpreted as an order.
"Any word that you utter will be taken as a serious matter or by the subordinates as something that is quite serious," said commissioner Karen Dumpit in December 2020. "You cannot just pick and choose what the president says and say this is a joke [or] this was done in levity and this one is really a serious order."