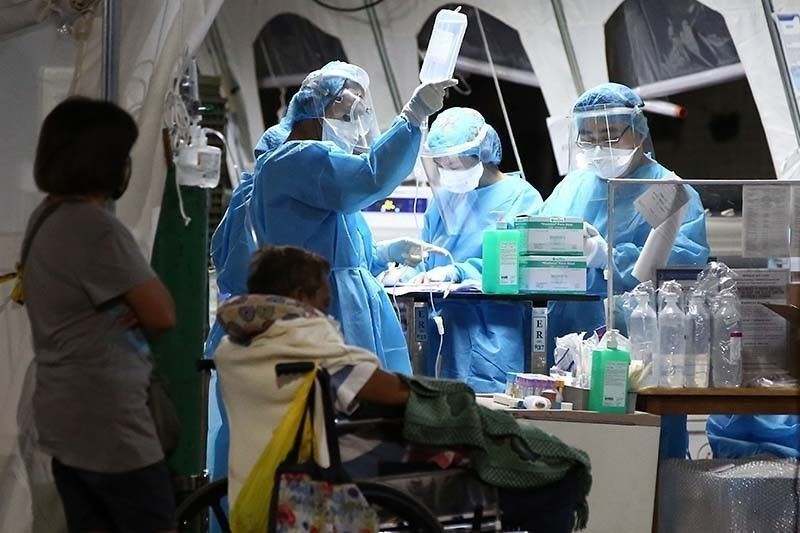 Medical workers screen patients for possible COVID-19 before admission at the National Kidney and Transplant Institute (NKTI) in Quezon City on April 18, 2020.
The STAR/Miguel de Guzman
AstraZeneca jabs being eyed for elderly medical personnel, officials say
MANILA, Philippines — Government on Thursday said it is looking to vaccinate health workers who are also senior citizens with the AstraZeneca, whose doses are due to arrive in the country later tonight after figuring in delays.
The delivery of 487,200 doses under the World Health Organization-led COVAX facility comes as the country is days into its inoculation efforts, with so far the Sinovac as the only choice.
Cabinet Secretary Karlo Nograles in a briefing recognized the Chinese-made jabs' limitation of only being recommended by the National Immunization Technical Advisory Group for 18 to 59-years-old.
This leaves out those 60 and above, including medical personnel who have continued in their duties.
"The Astrazeneca vaccine has no limts on age," he said. "So we will await for the advice of the NITAG [if] we can use this for senior citizens who are health workers and can't be inoculated with the Sinovac."
Vaccinations in the Philippines began on March 1, with health workers the first to receive the jabs despite an earlier advice by the Food and Drug Administration against it.
To date, Nograles said 8,559 have already been inoculated, which includes some administration officials in a bid to allay public concerns over Sinovac.
Speaking to CNN Philippines' "The Source," vaccine czar Carlito Galvez Jr. said too that doctors are pushing to prioritize elderly health workers to receive the AstraZeneca.
He added that inoculations are already ongoing in 32 hospitals, with efforts soon expanding to Davao, Cagayan de Oro and Cebu City as more than 190,000 doses of Sinovac were already transported nationwide.
The administration first said the jabs from the COVAX facility, that is AstraZeneca including 117,000 doses from Pfizer, will arrive in the country by February 15.
But hopes by many for vaccines that have reported higher efficacy rates were met with delays due to the lack of an indemnity agreement.
Latest allocation figures from the COVAX published showed that the Philippines is due to receive 4.58 million doses of AstraZeneca, from the earlier 5.5 million given by officials.
Galvez, who yesterday was hesitant to confirm the arrival of the said jabs, told CNN Philippines as well that the delivery is slated by 7:30 p.m. tonight.
As It Happens
LATEST UPDATE: April 15, 2021 - 2:28pm
The national government has so far secured two official deals for COVID-19 vaccine supplies in the Philippines, one with Chinese pharmaceutical company Sinovac and another with the Serum Institute of India.
Watch this space for bite-sized developments on the vaccines in the Philippines. (Main image by Markus Spiske via Unsplash)
April 15, 2021 - 2:28pm
The US, through the United States Agency for International Development (USAID), will provide P170 million in support to help the Department of Health rollout the government's COVID-19 vaccination program.
According to the US Embassy, the aid was announced by US Embassy Chargé d'Affaires John Law during a visit to a Caloocan City vaccination site with Health Secretary Francisco Duque III and other officials.
"Through this new funding, USAID will support the Philippines in strengthening the vaccine supply chain, monitoring vaccine safety, and delivering effective communication campaigns to address vaccine hesitancy. This assistance will also support local government units as they plan for, track, and administer vaccines."
April 13, 2021 - 8:42pm
Top US health authorities recommended a "pause" in the use of the Johnson & Johnson Covid-19 vaccine "out of an abundance of caution" as they investigate any links between it and blood clots, a regulator said Tuesday.
The US Food and Drug Administration and the Centers for Disease Control are assessing the "potential significance" of six reported cases of a rare blood clot in patients who have received the shot, the FDA tweeted.
"Until that process is complete, we are recommending this pause," it said.
The regulator said that as of Monday more than 6.8 million doses of the J&J vaccine had been administered in the US.
"CDC & FDA are reviewing data involving 6 reported U.S. cases of a rare & severe type of blood clot in individuals after receiving the vaccine. Right now, these adverse events appear to be extremely rare," the FDA stated on Twitter. — AFP
April 13, 2021 - 11:20am
Some 20 million doses of Russian-made Sputnik V COVID-19 vaccine are expected to arrive in the Philippines within the next four months.
Vaccine czar Carlito Galvez Jr. says the government will sign a supply agreement with Russia's Gamaleya Research Institute this week.
"It can be used on the elderly, so from 18 and above. So we can use this and the good thing is at least in the absence of AstraZeneca, we can use this," Galvez says in an interview with ANC's "Headstart."
April 7, 2021 - 9:23pm
Germany's Bavaria region has signed a provisional agreement to buy doses of Russia's Sputnik V coronavirus vaccine once it is approved by European regulators, state premier Markus Soeder said Wednesday.
The southern state has "signed a memorandum of understanding today... for the supply of Sputnik," Soeder told reporters in Munich.
If the Sputnik vaccine is approved by the European Medicines Agency (EMA), Bavaria is set to receive around 2.5 million doses in the coming months through a company in the Bavarian town of Illertissen, Soeder said. — AFP