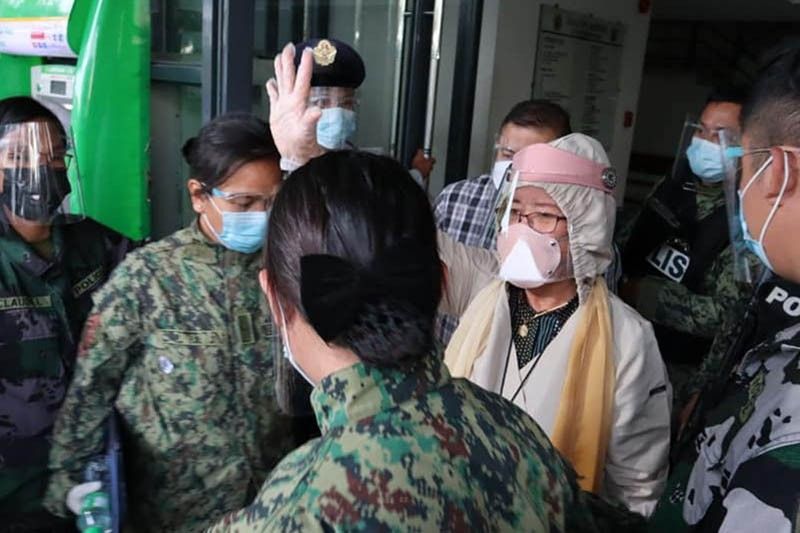 Sen. Leila De Lima attended the hearing in Muntinlupa Regional Trial Court Branch 256, where she faces her third conspiracy to commit drug trading charge, on February 23.
Office of Sen. Leila De Lima/release
De Lima, lawyer seek dismissal of DOJ's contempt plea
MANILA, Philippines — Sen. Leila De Lima and her lawyer on Monday asked a Muntinlupa court to dismiss the contempt case filed by government prosecutors against them over their statements made on drug case trial the lawmaker is facing.
In separately filed Comments, De Lima and her lawyer Filibon Tacardon had asked the Muntinlupa Regional Trial Court Branch 206 to dismiss the petition filed by the Department of Justice prosecutors, saying their out-of-court statements assailed by the prosecution did not present a clear and present danger or imminent threat to the administration of justice.
The best proof of this is the Muntinlupa RTC Branch 205 Judge Liezel Aquiatan's Omnibus orders on their motions for bail and demurrer to evidence, a bid to dismiss the charge, in the two cases pending before her, De Lima and Tacardon said. One was granted, while the second was junked and trial would proceed.
"A plain reading of both Omnibus Orders by the trial court… clearly show that the trial court labored under no undue pressure arising from any purported tendency of Respondent's statements to influence, intimidate, impede, embarrass or obstruct the trial court's administration of justice," De Lima told the court in a Comment filed March 1.
READ: De Lima acquitted in 1 of 3 drug cases
The DOJ, in December 2020, asked the court to cite De Lima and Tacardon in contempt, alleging that their "misinformation" is deemed an "affront to the lawful proceedings" of the court in their "obvious desire to attack or insult" the court's independence.
The state prosecution cited Tacardon's statements made after hearings on the case, saying an Anti-Money Laundering Council investigator and Philippine Drug Enforcement Agency forensic examiner testified that they found no suspicious transactions between the senator and drug convicts.
The DOJ said the statements were "timely and deliberate" as the court had then terminated its proceedings on De Lima's petition for bail. "Their press statements and pronouncements in different media platforms have the power to persuade, influence, intimidate, incite the perception and sentiments of their colleagues and other government officials, including the trial court judges," they said.
Court was not influenced
The DOJ prosecutors are accusing De Lima and her lawyer of violating the sub judice rule, which restricts comments on a pending case.
But De Lima pointed out that the sub judice rule is not without qualifications.
"It is not intended to gag public interest in or in public comment on a public trial, more specifically a criminal trial or a case involving public interest. These kinds of court proceedings are a public event, and what occurs in the court room is public property," she added.
The senator also asserted that their out-of-court statement is protected from punishment for contempt under freedom of speech and press "it appears that under all the circumstances shown it embraces a clear and present danger that the administration of justice would be impeded."
"Comments, legal opinions, or out-of-court statements in general should not be impaired through the exercise of the power of contempt unless there is no doubt that the utterances in question constitute an imminent, not merely likely, threat to the administration of justice," she added.
Tacardon said there is no proof that Judge Liezel Aquiatan was influenced in favor of De Lima and the prosecutors "merely assumed" that since media reported on their statements, the court had been influenced.
The lawyer also asserted that their statements were factual and consistent with what transpired in the hearings. He said he was merely echoing statements by witnesses and as such did not violate the sub judice rule "since there is no distortion at all."
"There can then be no undue influence, let alone be a threat to the Court's impartiality, when what was mentioned were facts that were ultimately subjected to the appreciation of the Court," he added.
De Lima was acquitted in one of the three conspiracy to commit drug trading cases filed against her. She has since appealed the dismissal of her motion for bail and demurrer to evidence in the second case. She is also facing a third case, pending before the Muntinlupa RTC Branch 265, where trial is still ongoing.
The senator, a staunch critic of President Rodrigo Duterte, marked her fourth year in detention on February 24, over the drug cases which she claimed are trumped up.
As It Happens
LATEST UPDATE: February 17, 2021 - 6:53pm
Sen. Leila de Lima on Saturday marked the first year of her detention at the Philippine National Police detention center in Quezon City.
Ahead of the anniversary of her arrest, the Senate minority and various rights groups called on the Philippine government to release her immediately.
The Department of Justice initially charged De Lima for drug trading, but over the months, the state prosecutors filed motions to amend the charges and indict the senator on conspiracy to commit drug trading instead.
De Lima is known as one of the most outspoken critics of President Rodrigio Duterte's administration.
February 17, 2021 - 6:53pm
Opposition Sen. Leila de Lima says she's elated after being acquitted in one of the drug charges she is facing.
"To be acquitted even in just one case, in the time of Duterte, is a victory," the opposition says in a statement Wednesday.
"Na-deny man ang ating Demurrer to Evidence at Motion for Bail sa Criminal Case No. 17-165, naniniwala ako at ang aking mga abogado na mahina ang ebidensya ng gobyerno dito para patunayan ang mga gawa-gawa nilang paratang," she adds.
August 14, 2020 - 11:53am
Sen. Leila de Lima files a motion for bail for the drug case against her and Ronnie Dayan before a Muntinlupa court. The detained senator argues that evidence presented by the prosecution was not strong.
"Without prejudice to her prior arguments questioning the validity of the Amended Information, Accused De Lima respectfully submits that she is entitled to bail as a matter of right, and thus moves for bail ad cautelam," the motion read.
July 24, 2020 - 12:58pm
Opposition Sen. Leila de Lima questions the sudden death of Bilibid inmate Jaybee Sebastian from the coronavirus disease.
"Sebastian's death means one less perjured witness against me, but it also means one less witness against Duterte, Vitaliano Aguirre, Jose Calida, Persida Acosta, Sandra Cam, Ferdinand Topacio, certain retired police generals, and all those who conspired to line-up all these Bilibid inmates to manufacture stories of drug-dealing to implicate me and send me to prison," the senator says.
July 7, 2020 - 2:23pm
Opposition Sen. Leila de Lima files a measure seeking to provide free immunizations for senior citizens who are all susceptible to viruses.
"No less than the Constitution guarantees that the needs of the elderly in relation to their right to health shall be given priority by the State. Clearly, senior citizens belong to a special class of individuals for which the Constitution affords preferential concern," De Lima says.
"Their growing number coupled with their susceptibilities has now made it vital for the State to make the promotion and protection of their health and well-being among its priority social legislations," she adds.
June 27, 2020 - 2:19pm
Opposition Sen. Leila de Lima slams the move to change the name of the Ninoy Aquino International Airport to Paliparang Pandaigdig ng Pilipinas.
"Ano na namang kabalbalan ito?" the senator asks.
"The lawmakers pushing for it has a distorted sense of nationalism, if at all. Such a proposal is devoid of any salutary objective. It's plain and simple politics. And stupidity," De Lima adds.