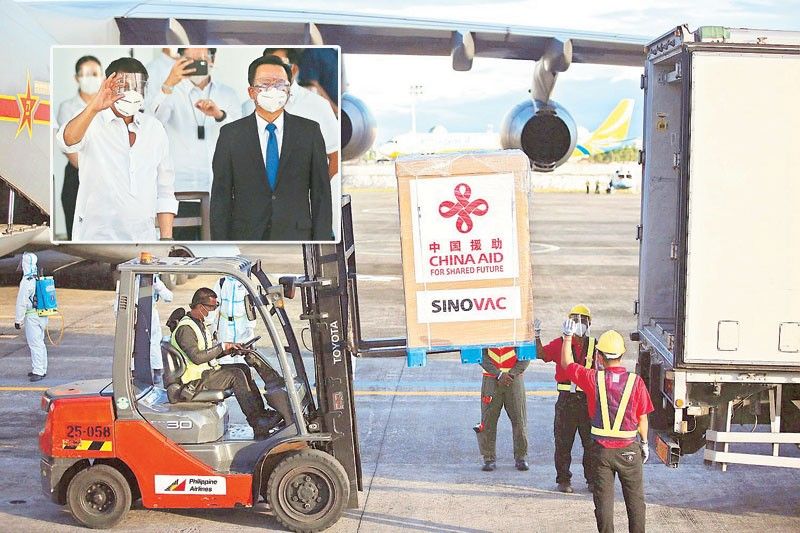 Workers unload boxes containing 600,000 doses of Sinovac Biotech's COVID-19 vaccines from a Chinese Y-20 military aircraft at the Villamor Airbase in Pasay City yesterday afternoon. Inset shows President Duterte holding a vial of the vaccine after he welcomed the donation by the Chinese government, represented by Ambassador Huang Xilian (right).
Jesse Bustos
COVID-19 vaccination starts today
Cabinet execs to get Sinovac jabs in public
MANILA, Philippines — The country will finally start today COVID-19 vaccinations.
Key Cabinet officials and local executives will be inoculated in public with CoronaVac, developed by Beijing-based Sinovac Biotech, to overcome Filipinos' vaccine hesitancy amid calls to have the jab reevaluated by an independent panel of experts.
President Duterte also wants to be vaccinated in public, according to Sen. Bong Go, who chairs the Senate committee on health. Duterte, however, is still awaiting the advice of his doctors on whether or not it is safe for him to be inoculated with CoronaVac, which officials from the Department of Health (DOH) said is not advisable for health workers and individuals over 59 years old.
"(The arrival of vaccines) is just the start. We really need to do more. We need to accelerate the vaccination program in a safe, sure and secure manner," Go told radio station dzBB yesterday.
"(The vaccination) will start with the frontliners, but they have a choice. If they don't want Sinovac, at least AstraZeneca is there. And when they start getting vaccinated, confidence will follow," he added, referring to vaccines made by the British-Swedish pharmaceutical giant that is to arrive this week through the COVAX facility of the World Health Organization (WHO).
The senator said British Ambassador Daniel Pruce helped in facilitating the arrival of AstraZeneca vaccines.
Go added that the issuance of the emergency use authority (EUA) to CoronaVac by the Food and Drug Administration (FDA) was fast-tracked given the urgent need for vaccines.
Simultaneous "symbolic vaccination" will be held in various hospitals in Metro Manila starting at 9 a.m. today.
National Task Force against COVID-19 chief implementer Secretary Carlito Galvez Jr., along with presidential spokesman Harry Roque, FDA director general Eric Domingo, Metropolitan Manila Development Authority (MMDA) chairman Benhur Abalos, Manila Mayor Isko Moreno, and DOH assistant regional director Maria Paz Corrales, is expected to be vaccinated at the University of the Philippines - Philippine General Hospital.
Health Secretary Francisco Duque III will be inoculated at the Lung Center of the Philippines. Joining him are MMDA general manager Jojo Garcia, Quezon City Mayor Joy Belmonte and DOH regional director Corazon Flores.
COVID-19 response deputy implementer Vince Dizon, along with Caloocan City Mayor Oscar Malapitan, MMDA chief of staff Michael Salalima and Health Assistant Secretary Elmer Punzalan, will be vaccinated at the Dr. Jose N. Rodriguez Memorial Medical Center and Sanitarium.
Defense Secretary Delfin Lorenzana and DOH director Napoleon Arevalo will lead a similar activity at the Veterans Memorial Medical Center.
An hour later, two other ceremonial vaccinations will be held at the Philippine National Police General Hospital, led by Interior Undersecretary Bernardo Florece and PNP chief Gen. Debold Sinas, and at V. Luna Medical Center, led by Armed Forces of the Philippines chief of staff Gen. Cirilito Sobejana and surgeon general Nelson Pecache.
Go disclosed that Galvez and Finance Secretary Carlos Dominguez III are expected to visit Serum Institute of India soon to fast-track the procurement of at least a million doses of Novavax.
The senator added that Duterte had given instructions that Novavax be distributed to major public hospitals throughout the country, and that the priority list of recipients – frontliners, senior citizens and indigents – be followed.
Go said he also had asked Galvez to also prioritize members of media, who are considered frontliners.
Meanwhile, Sen. Francis Pangilinan, urged the Health Technology Assessment Council (HTAC) to fast-track its review and recommendation on the use of the China-made vaccines.
"Like those in PGH, we want more science-based information on vaccines that will be administered to us. We want the most effective and the safest vaccine for all our fellow Filipinos," Pangilinan said, as he called on Dr. Marita Reyes of the HTAC to keep true to her promise of not allowing politics to interfere and to make her decision soonest.
The senator backed the call of the PGH Physicians' Association seeking appraisal of CoronaVac "to facilitate individually informed decision-making" before it is administered to the population.
Duterte optimistic as Sinovac jabs arrive
Duterte yesterday expressed optimism that the Philippines will emerge victorious in its fight against the COVID-19 pandemic as he received the first batch of vaccines from China.
The President witnessed the arrival of 600,000 Sinovac jabs donated by China at the Villamor Air Base, paving the way for the start of the country's vaccination program.
A China Air Force XIAN Y-20 cargo plane carrying the Sinovac vaccines – some of which will be administered to some Cabinet members and health workers today – landed at the Ninoy Aquino International Airport (NAIA) at 4:08 p.m., according to airport according ramp controllers.
Duterte was joined by Duque, Lorenzana, Foreign Affairs Secretary Teodoro Locsin Jr., Transportation Secretary Arthur Tugade and other government officials in formally receiving the vaccines.
Sealed in black container boxes filled with dry ice to maintain their temperature, the vaccines were brought down from the aircraft and loaded onto refrigerated vans.
"We welcome this day with high hopes of finally ending the COVID-19 pandemic in our country... I convey my sincere gratitude to the Chinese people and the government of China for this gesture of friendship and solidarity – the hallmark of Philippines-China partnership," Duterte said in his speech.
"With the entire nation's support, I am confident that we will claim victory over this pandemic," he added.
The Chief Executive thanked government officials and Chinese Ambassador Huang Xilian for helping ensure the timely delivery of the donation. Duterte also recognized the sacrifices of medical frontliners and assured them of continuous assistance.
"With this very important shipment, I am confident that more batches of vaccines will be available with great dispatch until every Filipino will be given the chance to be vaccinated at the earliest possible opportunity," he said.
"I wish to assure the public that your government remains committed to a timely rollout that will enable us to confidently reopen our society. The delivery of this first batch, I hope, will serve as a guarantee to everyone that we are taking a big step in our efforts to overcome this health crisis," he added.
The first batch of Sinovac vaccines were supposed to arrive on Feb. 23, but it was delayed because the EUA for the jabs was only issued by Philippine regulators last week.
Duterte ordered agencies to work together in rolling out the vaccines.
"I cannot stress (this) enough: we cannot afford to waste time or resources in the distribution of these vaccines because we are dealing with precious lives," he said.
The President also vouched for the efficacy of CoronaVac as some sectors continue to have apprehensions over China-made jabs.
"To my fellow Filipinos, please set your fears aside. These vaccines are backed by science and deliberated on by our experts. I encourage you to get vaccinated at the soonest possible time and be our partner in preventing the further spread of this disease," he said.
Duterte emphasized that those who would have themselves vaccinated should continue to practice health and safety protocols as the country awaits for the final approval of the vaccines. He also reminded the public to wear masks, wash hands and observe physical distancing.
"Your cooperation here is key and will undoubtedly save numerous lives along the way," he said.
"Panahon ngayon para mag-bayanihan (It's time for unity)... Let us all demonstrate unity in our shared task of nation-building and healthier society for every Filipino," he added.
Duterte also announced a plan to make a short visit to China this year to thank Chinese President Xi Jinping for the vaccines.
More in pipeline
In a speech, Huang said China certainly considers the Philippines' need of COVID-19 vaccines as a priority.
"Despite the increasing domestic need of vaccines, China has decided to donate vaccines to the Philippines, and more vaccines procured by the Philippine government will surely come soon as expected," he added.
China has rendered vaccine assistance to 53 developing countries and is exporting vaccines to 27 nations, accoding to the ambassador.
"Sinovac vaccines have been inoculated in many countries, and (their) safety and efficacy (have) been well-tested," he said.
"As a good friend, neighbor and partner of the Philippines, we sincerely hope that the Philippines control the pandemic to embrace economic recovery and normal life at the earliest date," he added.
'Biggest immunization drive'
With the arrival of Sinovac vaccines, Duque expressed optimism that the country can mount its biggest immunization drive.
"This comes at a much-needed time as the Philippines is preparing to face the herculean task of mounting the largest ever immunization program in terms of scale in our history," he said during the arrival ceremony at the Villamor Air Base.
The health secretary thanked the Chinese government for helping the Philippines, from sending medical experts last year to donating test kits among other equipment, and vaccines.
He said the Philippines and China can work together in curbing the pandemic and ensuring a healthy future. – Neil Jayson Servallos, Alexis Romero, Rudy Santos, Helen Flores, Romina Cabrera, Evelyn Macairan