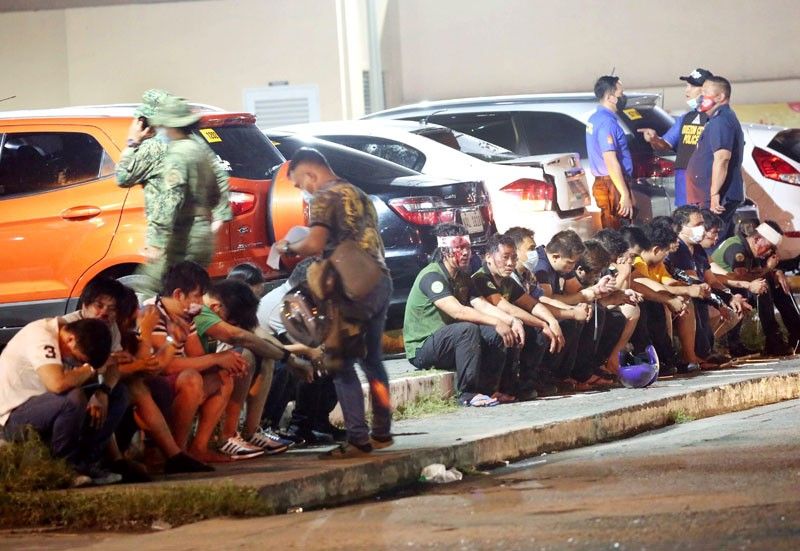 Philippine Drug Enforcement Agency operatives sit at the parking lot along Commonwealth Avenue following a shootout with Quezon City police officers on Wednesday night.
Boy Santos
QCPD-PDEA shootout: Joint probe launched
MANILA, Philippines — The Philippine National Police (PNP) has launched a joint investigation by its Board of Inquiry together with the Philippine Drug Enforcement Agency as both the PDEA and the Quezon City Police District claimed a legitimate operation that ended in a shootout lasting more than an hour that left four dead – two QCPD members, one PDEA operative and an informant.
PNP chief Gen. Debold Sinas and PDEA director general Wilkins Villanueva vowed that those at fault would face the full force of the law.
"We can assure our people that there will be criminal and administrative charges to be filed against those individuals found to have violated the laws, rules and regulations," they said in a joint statement yesterday.
The Senate, House of Representatives and the National Bureau of Investigation (NBI) are also separately looking into Wednesday's incident at a popular mall in Quezon City.
Based on the initial information gathered by investigators, the PDEA Special Enforcement Service (SES) and the Quezon City police District Special Operations Unit (DSOU) personnel had different targets as their respective coordination forms showed.
Ten DSOU officers and seven from PDEA who were directly involved in the shootout were placed under restrictive custody while the investigation is ongoing.
Sinas said they also placed the policemen under restrictive custody at the Criminal Investigation and Detection Group, which was also tasked to probe the incident on the part of the PNP.
"They are collating the evidence and data. As of now, we could not see the entire picture of what really happened," he added partly in Filipino, refusing to comment on a two-page coordination form which showed the DSOU coordinated with PDEA a day before its actual operation.
He noted that it would be premature for them to release other information as it could only result in a misunderstanding between the PDEA and the PNP.
"We could not give our side because if we'd do that, it would only pit us against one another," Sinas said in Filipino.
He identified the fatalities as Cpls. Lauro de Guzman and Galvin Eric Garado, whose remains were brought to their respective hometowns in Bulacan and Samar as requested by their families. One policeman and three PDEA members were also injured.
"Both of them (PDEA and DSOU) are thinking they are doing a legitimate operation that's why the shootout lasted that long," Villanueva said at a joint press briefing with the PNP at Camp Crame in Quezon City.
He dismissed insinuations that one side was doing a sell bust (selling prohibited narcotics to catch a suspect), stressing that the practice is illegal.
While Villanueva said it is too early to say that the law enforcers got played by drug rings, they are not discounting its possibility, noting that the two agencies had different targets.
The investigation, he added, should show how members of two law enforcement agencies ended up in the same place and shooting at each other.
Presidential spokesman Harry Roque Jr. said President Duterte is saddened by the shootout and "expressed both sadness and concern on why forces from the side of government were involved in the encounter."
He added that the Chief Executive wants the incident probed to ensure that justice is given where it is due, adding that Duterte is banking on the results of the probe that will be handled by the Department of Justice through the NBI.
"We will go again to the bottom of this incident. There will be an impartial investigation and justice will be done," Roque said.
The Quezon City government in a statement urged the public not to spread false information on the shootout as it expressed support for the investigations. "What happened was deplorable as it endangered the lives and safety of our citizens and disrupted the peace and commerce in the area," it said.
Justice Secretary Menardo Guevarra instructed the NBI to conduct an impartial parallel probe into the incident, one independent of the PNP and PDEA probe.
"This is separate and distinct from the probe to be conducted by an ad hoc joint PNP-PDEA board of inquiry earlier announced by PNP chief Debold Sinas," he added.
Sen. Ronald dela Rosa said the Senate committee on public order he chairs will conduct an inquiry in aid of legislation and will invite those involved.
Dangerous drugs committee chair Rep. Ace Barbers also gave the same objective when he said the House will also conduct its probe.
Senate President Vicente Sotto III said the incident could have been prevented by unifying the four major programs – enforcement, prosecution, prevention and rehabilitation – into a single government agency.
He pointed out that since these four have to be in sync, a supervisory agency has to intervene in order to ensure that the concerned government agencies mandated to perform several duties under Republic Act No. 9165 are doing the same satisfactorily.
"All these, so we may achieve a drug-free Philippines for the future generations. There is no best time to cure this social ill than now. I, therefore urge my colleagues to support the passage of this important measure," Sotto added.
The PDEA, according to Villanueva, will also comply with Duterte's directive to create a team that will monitor law enforcement officers who were dismissed from service for their nefarious activities.
Duterte ordered the formation of a special team that would monitor the erring personnel that he named last Wednesday, saying he would want to smash the hands of these personnel in his list if only to give them a lesson.
He claimed he hammered the hands of a number of erring government personnel since he was a mayor and that the hammer has become an effective tool in disciplining a handful of them.
"Those that I have hammered, and (Defense Secretary) Delfin Lorenzana knows this when he was assigned in Davao, are true… all of them are now going straight," the President said.
Duterte, who has been criticized for his bloody drug war, said he would remain unfazed if human rights groups would add the "hammering" on the list of his alleged crimes for violations of human rights.
He added that no illegal transactions can be kept secret from the government, insinuating that the long arm of the law will eventually catch the erring individuals. – Christina Mendez, Ghio Ong, Evelyn Macairan, Cecille Suerte Felipe, Edu Punay, Janvic Mateo