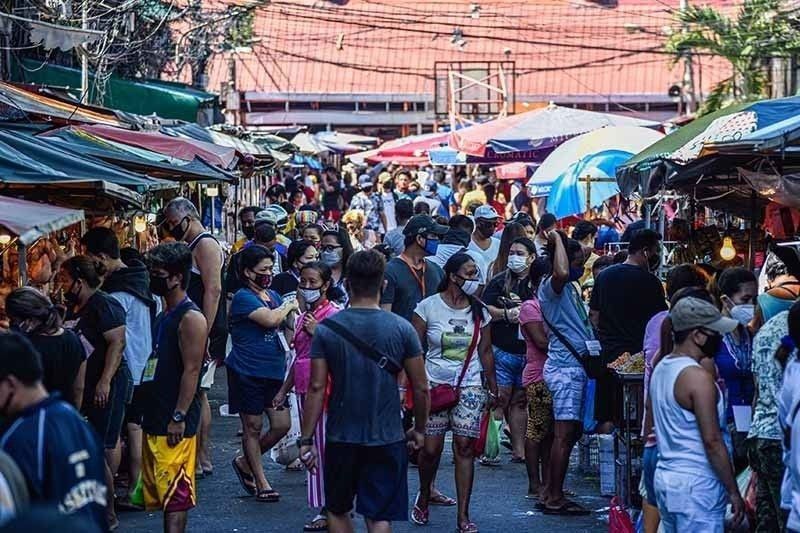 People shop at a market during a government imposed enhanced quarantine as a preventive measure against the COVID-19 novel coronavirus in Manila on April 21, 2020.
AFP/Maria Tan
COVID-19 cases steadily increasing after holidays
Janvic Mateo
(The Philippine Star) - January 20, 2021 - 12:00am
MANILA, Philippines — Almost three weeks after the holiday season, the number of COVID-19 cases is still on an upward trend in some parts of the country, according to the OCTA Research Group.
"We're not seeing any indicators that it is plateauing right now," University of the Philippines professor Guido David said in an interview with "The Chiefs" on One News/TV 5 on Monday night. "It's actually increasing in several locations in the Philippines."
In Metro Manila, David said the reproduction rate, which indicates the number of persons a positive individual can infect, is holding steady at 1.1, meaning it is still increasing "albeit slowly."
"But in other places in the Philippines, the cases are increasing quite fast, including Cebu," he added.
Other areas showing an upward trend in COVID-19 cases are the Cordillera Administrative Region, Isabela, Davao and Misamis Oriental.
In its report released on Monday, OCTA Research noted a significant increase in COVID-19 infections in Benguet, which recorded an average of 83 new cases daily in the past week.
A week before, Benguet only had an average of 35 new cases daily.
"More than half of the new cases were from Baguio City. The rest were from La Trinidad, Mankayan, Itogon and others," the report read.
"This suggests that infections are spread out and not concentrated in a small area," it added.
According to OCTA, hospital occupancy in the province has reached 88 percent as of Jan. 13, beyond the 70 percent critical level set by the Department of Health.
"We can't say for sure what was the specific reason (for the increase)," said David. "They will need a lot of testing to cover the cases."
David said Metro Manila may have started seeing the effects of the feast of the Black Nazarene, which drew thousands of devotees in Quiapo, Manila on Jan. 9.
"If this is already it, it means that the effect of traslacion was not significant," he said. "That would be good news if that's the case, but we are not out of the woods yet."
David said officials and the public may have to wait for one more week to fully determine its impact.
On the plan to declare a "new normal" in areas without COVID-19 cases, David noted the lack of strict border implementation that may result in virus transmission.
"If it is not controlled in a single area, I think it would be easy for a potentially positive case to enter an area under this new normal," he said.
Contact tracing
Amid reports that some of those who were on the same flight with the man who tested positive with the more infectious United Kingdom variant of COVID-19 have yet to be located, David stressed the importance of contact tracing to prevent further spread of the virus.
"We should be worried if there are people who are not cooperating in contact tracing because contact tracing has been one of our better weapons against COVID," he said.
"The past months, we have seen it work at the local government level. We have prevented a lot of secondary transmissions because of a proactive contact tracing scheme," he added.
David said there is no evidence to suggest that the new COVID variant is already spreading in the country.
"It may have entered the country but was limited or has been contained," he said. "But it can spread anytime if we're not careful, that's why it is important that we contact trace."