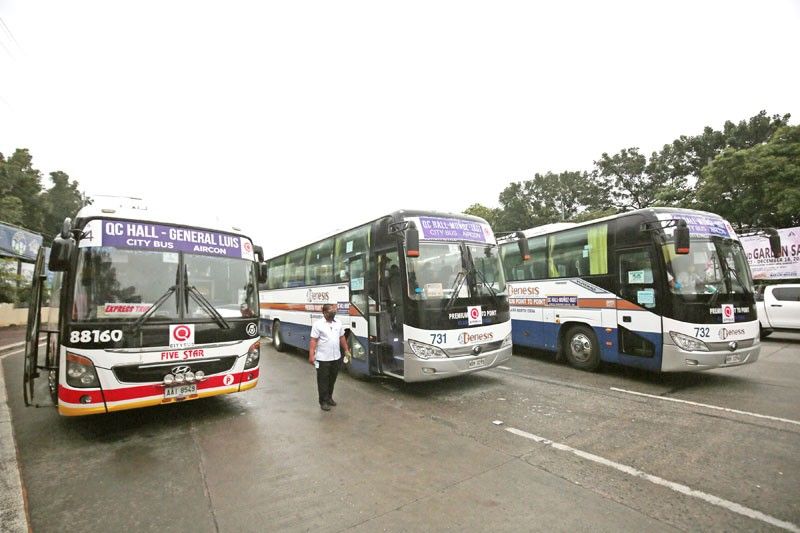 Passenger buses wait for commuters along the Elliptical Road yesterday during the launch of the Quezon City government's Bus Augmentation Program, which offers free rides through eight routes in the city. The program is intended to ease the lack of public transportation and make commuting faster and safer for passengers.
Michael Varcas
Free rides: Quezon City government rolls out bus augmentation program
MANILA, Philippines — To address the lack of public transportation amid restrictions enforced for the safety of commuters during the pandemic, the Quezon City government yesterday rolled out 85 buses that will serve at least eight routes.
Starting yesterday, commuters have been allowed to make use of buses under the augmentation program from the Quezon City Hall to Cubao, Litex/IBP Road, General Luis, Mindanao Avenue/Quirino, Gilmore, C5/Ortigas Avenue Extension and Muñoz, as well as the Welcome
Rotonda to Aurora Blvd. route.
The first trip starts at 5 a.m. while the last trip is at 9 p.m.
The bus augmentation program – earlier made after the city government entered into an agreement with the Land Transportation Franchising and Regulatory Board (LTFRB) – grants provisional authority for public utility buses that will be selected among bidders or bus operators to ply the eight routes.
"We have studied these routes and pick-up points thoroughly so we could make commuting easier for our commuters," Mayor Joy Belmonte said in a statement.
"We are hoping that this program could help ease the lack of public transportation and to make commuting faster and safer for commuters on the way to their destinations," she added.
According to City Administrator Michael Alimurung, the program is open to the public during its initial run but will eventually require passengers to present the QCitizen ID Card.
He added that the program would not contribute to traffic congestion, noting that buses under the program would only stop at designated pick-up and drop-off points and that this would reduce the number of private cars.
Alimurung stressed that basic health and safety protocols would be implemented.