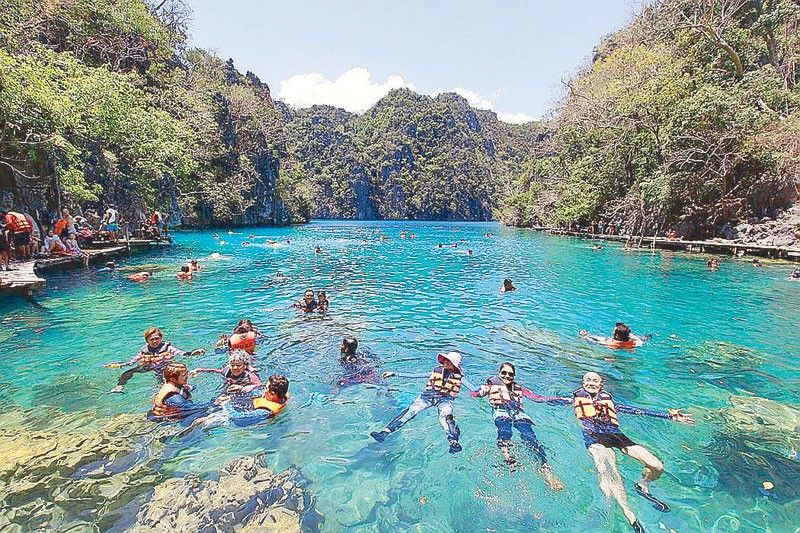 Tourists take a dip in Kayangan Lake in Coron, Palawan in a 2018 file photo. Visitors need to hike up a mountain to reach the lake, a top tourist spot in Coron.
Andy Zapata Jr.
Coron tourism reopens; El Nido accepts more visitors
MANILA, Philippines — The Department of Tourism (DOT) is welcoming the reopening of Coron, Palawan to tourists this week, as it will help bring back lost jobs on the island.
El Nido, also in Palawan, is entering the second phase of its gradual reopening as more hotels and resorts are authorized to accept tourists starting today.
"We're grateful for the decision of the local government officials and tourism stakeholders of Coron to finally welcome local visitors from all over the country," Tourism Secretary Bernadette Romulo-Puyat said over the weekend.
Coron is allowing local tourists, aged 15 to 65, to enter the island under a test-before-travel policy starting tomorrow, Dec. 1.
"Known for the iconic Twin Lagoon, Coron has emerged as a popular site in Palawan due to its World War II wreck diving spots, beautiful rock formations, and unbelievably clear waters, such as those found in Kayangan Lake. Tourists can take a break at the Maniquit Hot Springs or watch the sunset from the top of Mt. Tapyas," the DOT said.
At present, there are 10 hotels and resorts in Coron that have been issued certificates of authority to operate (CAO) from the DOT.
Recently, the tourism office of Coron issued health and safety guidelines, requiring tourists to first acquire a negative reverse transcription-polymerase chain reaction (RT-PCR) result within 72 hours before entering the municipality.
They must also have a pre-arranged booking at DOT-certified to operate accommodation establishments and tour operators, as tour packages and travel itineraries need to be booked in advance, and must also register and fill-out the online health declaration form, which can be accessed at www.corontourism.ph.
Once the registration is approved, visitors will be given a unique QR code, which will serve as a pass upon entry and while in Coron. Upon check-in, they need to present the negative RT-PCR test, roundtrip ticket, and confirmed booking itinerary.
On the other hand, the tourism office of El Nido said there are now 22 hotels and resorts in El Nido that have secured a CAO from the DOT.
In a Facebook post, it said: "Tourists can now come visit El Nido from Manila! Island-hopping and scuba diving are now being allowed for Phase 2 of our gradual reopening."
"Please note that rules and regulations are fairly strict for now," it added.
Under El Nido's travel requirements, tourists must first book their accommodation at a hotel or resort with a CAO.
Apart from accommodation requirements, tourists will also have to book their tours with travel agencies or tour operators that are accredited by the DOT and have secured the LGU's Local Seal of Compliance.– Ghio Ong