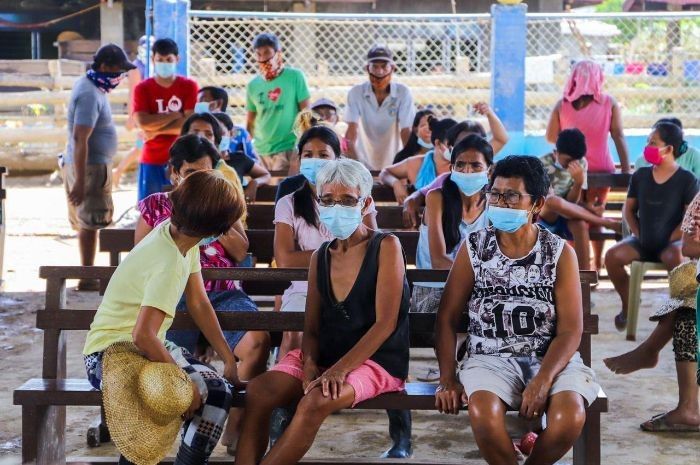 Photo taken on Nov. 16, 2020, shows residents of Barangay Marana 2nd, City of Ilagan waiting to receive relief goods. They were isolated during the onslaught of flooding wrought by Typhoon Ulysses.
Released/Isabela PIO
Philippines COVID-19 cases exceed 416,000, deaths now at 8,080
(Philstar.com) - November 21, 2020 - 4:00pm
MANILA, Philippines — Another 1,791 coronavirus infections were reported by the Department of Health on Saturday, bringing the national caseload to 416,852.
Of the total number of cases, 33,224 are classified by the health department as active, which means these patients are still undergoing treatment or quarantine.
On Friday, the country reached a grim milestone as the total number of coronavirus-induced deaths exceeded the 8,000-mark, landing on a total 8,025. Another 55 fatalities recorded Saturday brings the country's death toll to 8,080.
Another 328 individuals were reported to have survived the deadly virus, however, bringing the total recoveries to 375,548.
The Philippines positivity rate currently stands at 5.5%. This is based on the 25,430 people tested before 12 p.m. the day previous, 1,398 of whom tested positive.
The following areas posted the most number of cases per the health department's latest bulletin:
Tarlac with 211 new cases
Davao City with 115 more infections
Laguna with 74 new cases
Cavite with 69 more infections
Negros Occidental with 65 new cases
Worldwide, 57.49 million people have contracted coronavirus, a staggering 1.37 million of whom died as a result.
It has been 249 days since parts of the Philippines were first placed under community quarantine.
Since then, the country has reckoned with an onslaught of typhoons which have brought additional fatalities and fears that the spread of coronavirus will intensify in shelters where physical distancing and the implementation of minimum health standards pose a challenge.
A total of 45,906 families — or 183,644 individuals — are currently crammed into 1,257 evacuation centers, according to a National Disaster Risk Reduction and Management Council's situation report as of Nov. 20.
READ: Evacuee in Marikina tests positive for coronavirus | Experts urge more gov't funding for evacuation centers to prevent casualties, COVID-19 spread
— Bella Perez-Rubio
As It Happens
LATEST UPDATE: December 3, 2020 - 7:15pm
Follow this page for updates on a mysterious pneumonia outbreak that has struck dozens of people in China.
December 3, 2020 - 7:15pm
Iran on Thursday surpasses one million confirmed cases of COVID-19 infection, the health ministry says in the Middle East country hardest hit by the pandemic.
The Islamic republic has recorded 1,003,494 coronavirus infections since announcing its first cases in February, ministry spokeswoman Sima Sadat Lari says on state television.
The virus has claimed a total of 49,348 lives in Iran, according to official figures, which even the health minister acknowledges fall short of the true number due to screening protocol issues. — AFP
December 3, 2020 - 4:14pm
The Department of Health confirms 1,061 new COVID-19 cases, bringing the national tally to 435,413.
Of the confirmed cases, 27,642 are active. There are 10 more deaths and 328 new recoveries.
December 3, 2020 - 11:33am
The US death toll from the coronavirus surpassed 2,700 in one day as of Wednesday evening, the highest since April, Johns Hopkins University says.
The new tally of 2,731 fatalities raises the overall known death toll in America to 273,181 since the pandemic started late last year.
The number of new infections over the past 24 hours was 195,121, the university says. — AFP
December 3, 2020 - 9:54am
A monitor says the number of people being treated in US hospitals for COVID-19 topped 100,000 for the first time on Wednesday.
"There are 100,226 people currently hospitalized with COVID-19 in the US -- the first time hospitalizations have exceeded 100k," the COVID Tracking Project says in a tweet. — AFP
December 2, 2020 - 4:13pm
The Department of Health reports 1,438 additional cases of the coronavirus disease, bringing the total number of COVID-19 infections in the Philippines to 434,357.
Of these, 26,916 are active cases. There are 18 new fatalities and 232 more recoveries.