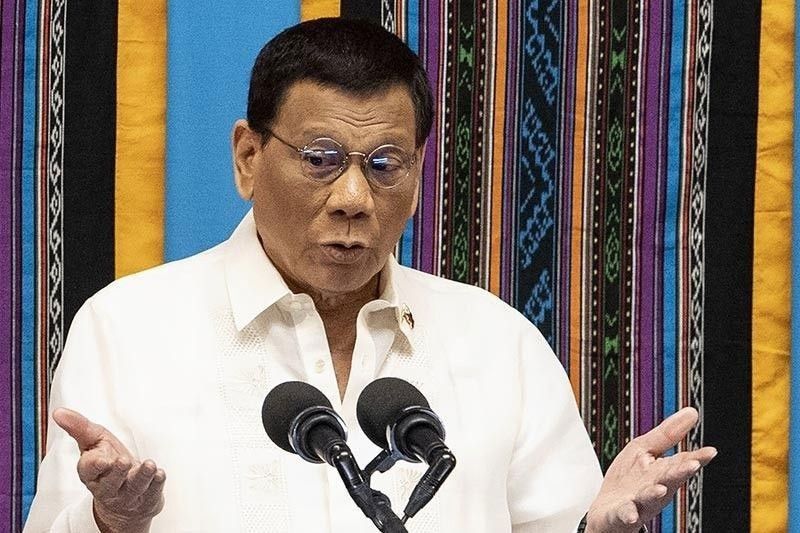 "I have here so many things to read, it's like this… 'yung mata ko hindi na masyado maganda (I have poor eyesight). And I read the 168, instead of 1.6, there is a point in between. So, it's 1.6. I thought it's straight 16," the President Duterte said. "I got wrong the number of people contaminated."
Noel Celis/AFP/File
Duterte on mistaken numbers: I have poor eyesight
MANILA, Philippines — Saying his eyesight is failing him, President Duterte stopped short of apologizing over his misread of the number of drug users in the country, which was actually 1.67 million, instead of 167 million.
"I have here so many things to read, it's like this… 'yung mata ko hindi na masyado maganda (I have poor eyesight). And I read the 168, instead of 1.6, there is a point in between. So, it's 1.6. I thought it's straight 16," the President said. "I got wrong the number of people contaminated."
The 75-year-old leader spoke about his poor eyesight during his address to the nation aired by government stations yesterday.
Duterte said he has difficulty reading small prints in documents that sometimes he gets the numbers mixed up. "You know, minsan pagka maliit na, ito mga ganito... hindi ko na mabasa 'yan sa ganoong distansya (sometimes when it's tiny… I can't read these anymore from that distance)," he said, pointing to documents on his desk.
Last year, the President admitted he has an eye condition called myasthenia gravis, a chronic auto-immune neuromuscular disorder that affects the muscles in his eyes. It causes one of his eyelids to droop.
"Pa-glance-glance lang ako kunwari para sabihin marunong, eh, nagkakamali (I just glance to pretend I know, but I was still wrong). But you know every dog is entitled to one bite," Duterte said on Monday.
The President also suffers from Barrett's esophagus, which affects his throat, and Buerger's disease caused by heavy smoking in his younger years. He also has migraines and some problems with his spine.
Duterte, who campaigned on the platform to eradicate illegal drugs, corruption and criminality in 2016, has been criticized here and abroad over his bloody drug war.
Last week, Duterte mistakenly said there are still 167 million Filipinos addicted to drugs but presidential spokesman Harry Roque Jr. pointed out there was a typo error when the Chief Executive made the remark and that he meant there were 1.67 million drug users.