AMLC, PDEA officials confirm no evidence implicating De Lima in illegal drug trade — lawyer
October 24, 2020 | 6:21pm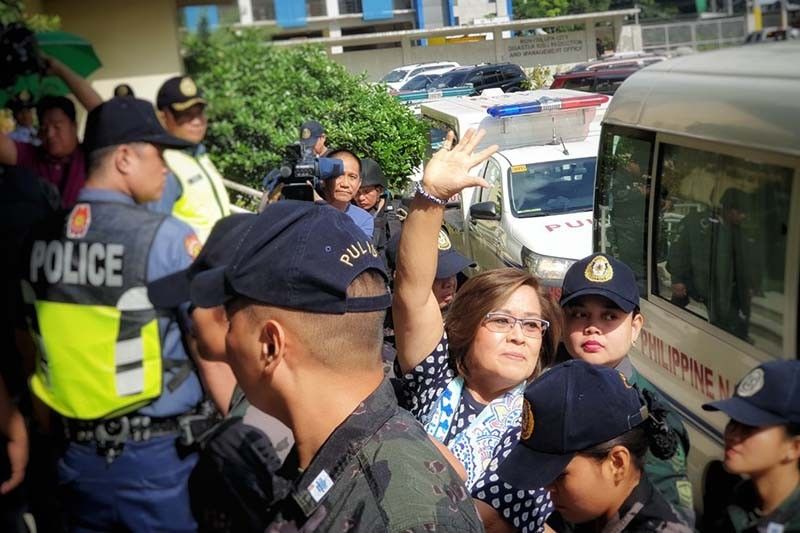 MANILA, Philippines — Officials from the Anti-Money Laundering Council and the Philippine Drug Enforcement Agency testified that Sen. Leila de Lima was not involved in any anomalous transactions linking her to the illegal drug trade inside the New Bilibid Prison, her lawyer said Friday.
Lawyer Boni Tacardon, De Lima's legal counsel, in a statement revealed that AMLC Financial Investigator Artemio Baculi Jr. and PDEA Digital Forensic Examiner Krystal Caseñas during a hearing "both affirmed that they found no suspicious transactions between De Lima and drug convicts."
The hearing was held at the Muntinlupa Regional Trial Court Branch 205 on Friday and was attended by De Lima — currently detained at the PNP Custodial Center in Camp Crame, Quezon City — via teleconference.
"Earlier, Mr. Artemio Baculi of AMLC presented Criminal Case 165 and he said that even though he heard Senator De Lima's name in the conversations, he never investigated the senator," Tacardon was quoted as saying in Filipino by De Lima's office.
According to Tacardon, the AMLC investigator also testified that there was no transaction between inmate Peter Co, Ronnie Dayan — who are co-accused in the case— and De Lima.
"It may be recalled that Baculi first appeared before Branch 205 last Sept. 25 wherein he admitted that his investigation of people suspected to have been involved in the Bilibid drug trade showed that no money flowed from the bank accounts which were the subject of his investigation to either De Lima or her co-accused in Criminal Case No. 17-166, Jose Adrian Dera," De Lima's office said.
READ: AMLC investigator testified De Lima not involved in Bilibid drug trade, her lawyer says
Co said he delivered P5 million twice to Dera. The money was supposedly meant to fund the senatorial campaign of De Lima who was then justice secretary. However, Tarcadon said that a PDEA official revealed "very crucial information" on this during the hearing.
"In Criminal Case No. 166, the prosecution presented Ms. Crystal Caseñas. What she said earlier is very important, because she admitted during our questioning, that in the cellphone extraction report released by the PDEA through Caseñas, there was no mention [of any drug related transactions] between Jad Dera... and Senator De Lima," Tarcadon explained in Filipino.
The lawyer further added that, in the drug lords' cellphones held by PDEA, there was no mention of De Lima being part of a drug transaction, according to the Caseñas.
"Caseñas' affidavit indicating that the cellphones she received from the Bureau of Corrections were Peter Co's property, meanwhile, was stricken off by the Court, as this was only her opinion," De Lima's office said. Tacardon also pointed out that Caseñas may have violated the Cybercrime Law when she examined Co's phones without proper warrant.
"De Lima recently filed two separate and distinct Motions for Bail for both Conspiracy to Commit Illegal Drug Trading cases, asserting that the Prosecution's evidence against her is not strong, and in fact confirmatory of her innocence of the charges. As of this writing, Judge Liezel Aquiatan has yet to rule on both Motions," her office said.
READ: Saying evidence against her is weak, De Lima seeks provisional liberty
— with reports from Kristine Joy Patag
As It Happens
LATEST UPDATE: September 13, 2023 - 6:03pm
Sen. Leila de Lima on Saturday marked the first year of her detention at the Philippine National Police detention center in Quezon City.
Ahead of the anniversary of her arrest, the Senate minority and various rights groups called on the Philippine government to release her immediately.
The Department of Justice initially charged De Lima for drug trading, but over the months, the state prosecutors filed motions to amend the charges and indict the senator on conspiracy to commit drug trading instead.
De Lima is known as one of the most outspoken critics of President Rodrigio Duterte's administration.
September 13, 2023 - 6:03pm
Detained former Sen. Leila De Lima expresses dismay over the Solicitor General's petition for certiorari agains her acquittal.
"I am, of course, greatly dismayed by the OSG's move in elevating to the CA the judgment of my acquittal in one of my 3 trumped-up drug cases," De Lima says in a dispatch.
"An acquittal is an acquittal, a final and conclusive disposition of the merits of the case which, under firmly settled case law, is no longer appealable, save for very exceptional grounds or circumstances, none of which can be legitimately invoked to question the 12 May 2023 Decision of the RTC-Muntinlupa, Br. 205 exonerating me and my co-accused," she adds.
"What is exceptional here is the persistence of my persecutors to perpetuate this travesty of justice by keeping me incarcerated," the former senator and justice secretary concludes.
July 12, 2023 - 12:18pm
The remaining drug case against former Sen. Leila De Lima was raffled off to the Muntinlupa Regional Trial Court Branch 206, sala of Presiding Judge Gener M. Gito, her legal team says.
June 30, 2023 - 6:19pm
The remaining drug case against detained former senator Leila De Lima will be handled by Muntinlupa Regional Trial Court Joseph Alcantara.

The case is re-raffled off to Court 26 after Judge Romeo Buenaventure inhibited himself two weeks ago.
De Lima is battling the drug case after years of being accused of receiving around P70 million from alleged illegal drug trade collection at the New Bilibid Prison in Muntinlupa City from 2013 to 2015.

June 12, 2023 - 2:47pm
Council for People's Development and Governance, a network of 60 non-governmental organizations, on Independence Day, called for the release of former Sen. Leila de Lima.
In a statement, CPDG has condemned the "injustices endured" by de Lima, including political prisoners and those behind bars waiting for their cases to be heard. This, they said, highlight "the disturbingly biased and problematic nature of the Philippine justice system -punishing mostly the powerless and targeted."
"It is a critical juncture in our nation's history, demanding that the Philippine government under [President Ferdinand "Bongbong" Marcos Jr.] genuinely upholds his promises to rectify the prevailing 'unfreedoms' within our society," they add.
May 30, 2023 - 3:38pm
Department of Justice prosecutors file an appeal on the Muntinlupa court's dismissal of the conspiracy to commit drug charge against former Sen. Leila de Lima.
The prosecution filed a Motion for Reconsideration before the Muntinlupa Regional Trial Court Branch 204 that acquitted De Lima on May 12—clearing her of her second drug case.
They say in their appeal: "With all due respect, the Prosecution most respectfully moves for the reconsideration thereof on the ground that jurisprudence dictates and the circumstances of the instant case reveal that the subsequent recantation of the witness Ragos was not able to vitiate his original testimony given in open court."
Prosecutors also argue "there are other pieces of evidence on record to prove all the elements of the crime charged, including the role played by both accused [De Lima and her ex-aide Ronnie Dayan] in the illegal drug trading inside the [Bilibid]." — Kristine Joy Patag