All hotels can operate 100%
October 22, 2020 | 12:00am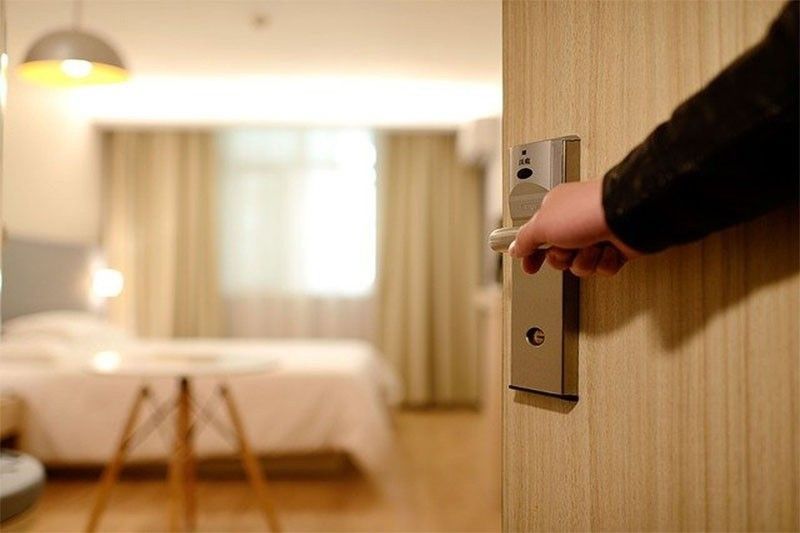 In GCQ, MGCQ areas, with DOT OK
MANILA, Philippines — Hotels in areas classified under general community quarantine and modified GCQ may now be allowed to operate at full capacity, Tourism Secretary Bernadette Romulo-Puyat announced yesterday.
In a statement, Puyat said the Inter-Agency Task Force (IATF) for the Management of Emerging Infectious Diseases authorized the Department of Tourism (DOT) to determine the allowable operational capacity up to 100 percent for hotels, including "staycation" hotels, in GCQ and MGCQ areas.
Puyat, however, said the decision to open at 100 percent operational capacity would be subject to the hotel management's decision and compliance with safety guidelines.
The DOT said this was made through the IATF's approval of Resolution No. 79 on Oct. 15.
The resolution replaces the provision that accommodation establishments in areas under GCQ may only operate with a skeletal work force, and now provides that such operations may be governed by the issuances of relevant national agencies such as the DOT.
Operational capacity is defined by IATF as such number of employees who can be permitted to physically report to work on-site.
Puyat said the DOT would issue the amended guidelines for the expanded operational capacity of hotels, including staycation hotels.
Hotel Sales and Marketing Association of the Philippines (HSMA) president Christine Ibaretta said they understand the need to adhere to the guidelines, which are yet to be released.
"We thank the secretary for her support to really slowly reopen business as it will benefit the establishments, along with employees going back to work," Ibaretta said.
"We fully understand the importance of sanitation, safety and strict adherence to the protocols which have been implemented since the start," she added.
The DOT earlier issued Administrative Order 2020-006-A or the "Amended Guidelines on the Operations of Accommodation Establishments for Staycation Purposes under a General Community Quarantine," which requires all accommodation establishments in areas under GCQ to secure a certificate of authority to operate for staycations (CAOS) from the DOT prior to accommodating any guests for staycation.
This was after the IATF approved earlier the operations of hotels for staycation purposes in GCQ areas as it allowed the recommendation of the DOT to explore various ways to restart tourism activities during quarantine, which includes staycations in GCQ areas.
Puyat said there are currently 10 hotels issued with a CAOS that are DOT star-rated.
These are the Grand Hyatt, Makati Shangri-La, Okada, Shangri-La at the Fort, Nobu Hotel City of Dreams, Joy Nostalg Hotel and Suites, EDSA Shangri-La, Solaire, Hyatt Regency COD and Nuwa COD.
The DOT reported that there are 28 star-rated accommodation establishments in Metro Manila in the four- and five-star categories. Of these, 16 are five-star and 12 four-star.
Puyat reminded hotels operating for staycation purposes to follow the guidelines and protocols set by the DOT to ensure a memorable and safe staycation of guests.
"While we all long for a little bit of fun with the family, it is the responsibility of hotel operators to make sure that the health and safety of their guests and employees are not compromised," Puyat said.
Apart from giving the DOT the authority to determine the operation capacity of hotels in GCQ and MGCQ areas, under Resolution 79, the IATF also approved the easing up of interzonal and intrazonal movement, in line with reviving domestic tourism.
Under the resolution, the interzonal movement of non-authorized persons outside residences (non-APOR) between areas placed under GCQ and MGCQ for any purpose should be permitted, subject to reasonable regulations imposed by the local government unit concerned, if any, and which should be submitted to the Department of the Interior and Local Government or, in the case of Boracay Island, subject to those imposed by the Boracay Inter-Agency Task Force.
"Along with this comes the need to ready the whole tourism value chain, which includes the accommodation, transportation and tour operation sectors. Allowing the accommodation sector to operate at full capacity will be most welcomed by tourism's workforce that has been greatly affected since the community lockdown," Puyat said.
No significant increase
While many are itching to travel abroad, it appears that not everyone is ready to fly just yet.
Local carriers said they did not see much improvement in international travel demand yesterday, the first day the government started allowing non-essential or leisure travel abroad.
"We have not seen a significant increase in international travel demand yet as other countries still have various restrictions imposed. However, we continue to hope this development will inspire more people to start traveling again," Cebu Pacific vice president for marketing and customer experience Candice Iyog said.
Philippine Airlines (PAL) spokesperson Cielo Villaluna said building up passenger traffic for tourist travel is a gradual process and will not happen overnight.
"There are parallel initiatives among travel and tourism stakeholders to entice and stimulate travel," she said.
"At the same time, the readiness of the flying public to travel out as tourists doesn't happen overnight after the go-signal on tourist travel. We are optimistic that in time, passenger numbers on non-essential travel will gradually build up," Villaluna said.
Last week, local airlines welcomed the decision of the government to start allowing Filipinos to do leisure travel abroad as it is seen to provide a much-needed boost to their long road to recovery.
They believe easing of restrictions on international outbound travel serves as an opportunity to build passenger traffic to destinations whose governments carry out parallel easing of restrictions.
Local airlines have been hit heavily by travel restrictions as a result of the COVID-19 pandemic.
During the months of April to June, PAL, Cebu Pacific and AirAsia Philippines flew only around 800,000 passengers as compared to 13.5 million passengers flown in the same period last year.
Passenger traffic for the months of July and August have remained low, with the implementation of a two-week modified enhanced community quarantine in Metro Manila disrupting further the restart.
"We are also looking forward to the reopening of more domestic destinations so we may restart tourism within our own country as well," Iyog said.
"We believe in implementing a multi-layer approach to safety as we work towards regaining the public's trust and confidence in air travel," she said.
Local airlines assure their passengers that they maintain the highest standards of safety during all phases of a flight. – Richmond Mercurio, Ralph Edwin Villanueva