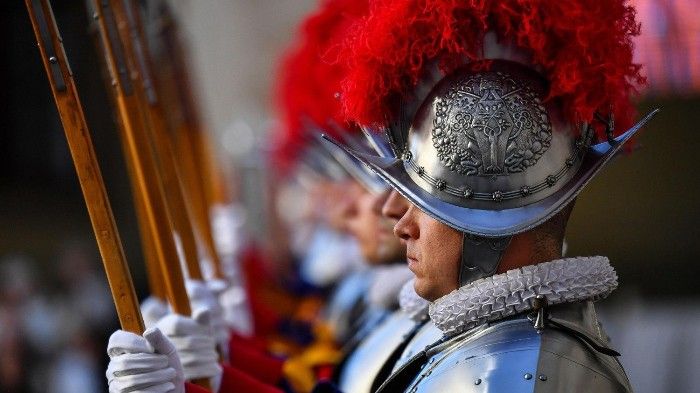 In a swearing-in ceremony on Oct. 4, 2020, Pope Francis receives 38 new members of the prestigious corps, telling them the oath they will take is also "a declaration of fidelity to your baptismal vocation."
ANSA via Vatican News
Fil-Swiss joins Vatican guard
MANILA, Philippines — A 21-year-old Filipino-Swiss is making history in the Vatican for being the first Filipino to join the Pontifical Swiss Guard, the elite corps of soldiers who has been protecting the pope since 1506.
In an article, the Catholic Bishops' Conference of the Philippines (CBCP) said Lt. Vincent Lüthi was one of the 38 new recruits who took their oath of allegiance to Pope Francis at the Vatican last Oct. 4.
Lüthi is the only child of a Swiss father and a Filipino mother who hails from Santa Fe town in Bantayan Island, Cebu province.
Lüthi's mother Marma Marigomen was not
available for comment yesterday, but expressed on her Facebook page that she is proud of her son.
She wrote "fidelity, loyalty, and honor" as a caption to two photos of her son while serving Pope Francis.
"Vincent is God's blessing to us as a Pontifical Swiss Guard, congratulations," Evelyn Monsanto, friend of Marigomen-Lüthi, said in a comment section of one of her Facebook posts.
The CBCP said the oath-taking ceremony for the new Swiss Guard was supposed to take place in May, but was postponed to this month due to the COVID-19 pandemic.
It added that the ceremony was also held privately due to current health restrictions in the Vatican.
Pope Francis thanked the parents of the newly-recruited Swiss guards for choosing to dedicate "a period of their youth in the service of the Successor of Peter" as he told them that their time spent in the Vatican "is a unique moment in your life."
"May you live it in a spirit of fraternity, helping one another to lead a meaningful and joyful Christian life," Pope Francis said.
"The presence of your family members expresses the devotion of Swiss Catholics to the Holy See, as well as the moral education and good example by which parents have passed on to their children the Christian faith and the sense of generous service to their neighbor," he added.