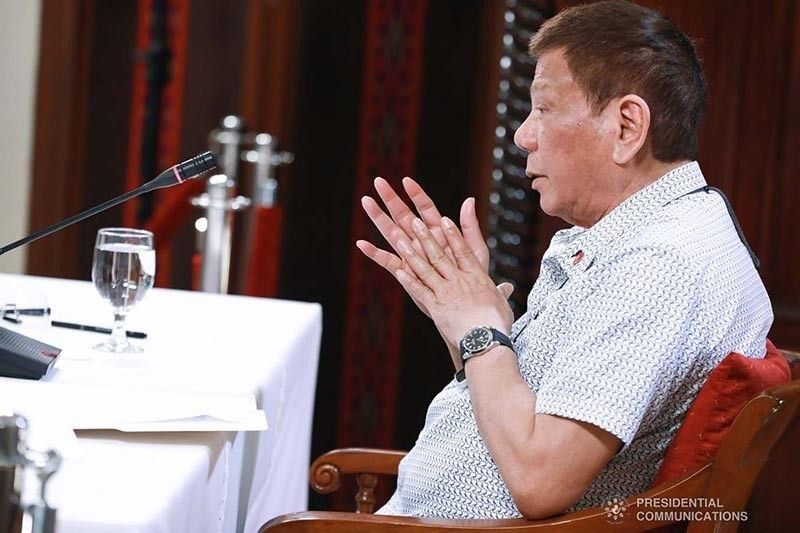 With the President being given powers to cut short the processes and forgo requirements needed for permits, Zubiri likened it to "a blanket authority, as you may say, across National Government agencies and LGUs."
Presidential photo/Ace Morandante
Senators to give Duterte authority vs red tape
MANILA, Philippines — Senators have agreed to vest emergency powers on President Duterte to cut red-tape and stem corruption in order to speed up the issuance of business permits, without having to amend the Ease of Doing Business law, it was revealed yesterday.
"We will give the President authority to change the system itself. We can do that through a law, without necessarily amending the Ease of Doing Business," Senate President Vicente Sotto III said, following Friday's meeting with several senators.
Sotto said Senate Majority Leader Juan Miguel Zubiri, Senate Minority Leader Franklin Drilon and Senators Panfilo Lacson and Ralph Recto agreed on some strategies to be able to meet the instruction of the President to provide an environment where investors will find it easier to do business in the country.
"Let's just wait for it to be drafted," he said of the measure which will give the President authority to address the gaps in securing licenses and permits to ensure investors will not be set back by bureaucratic stumbling blocks.
Zubiri said the President's powers during a state of emergency will give the Chief Executive the authority to shorten the prescribed time for government transactions, particularly business licenses and permits.
"It's like anti-red tape emergency powers during the duration of the state of emergency to allow the President to shorten the prescribed time for government transactions for licenses and permit as well allowing, during this time, to waive the requirements needed to secure these licenses and permits," he explained.
With the President being given powers to cut short the processes and forgo requirements needed for permits, Zubiri likened it to "a blanket authority, as you may say, across National Government agencies and LGUs."
Also, the measure will be drafted in a way to reiterate the power of the President to suspend and remove erring officials involved in red tape instead of logging it in the longer process of the Civil Service Commission (CSC) or the ombudsman, Zubiri said.
"So replacements and punishment can be done quicker," he said.
Sotto said once the draft measure is done, he will directly coordinate with the President and the leadership of the House of Representatives.
Earlier, Duterte met with Sotto and two of his closest allies in Congress – House Speaker Alan Peter Cayetano and Sen. Bong Go – to express his frustrations over the implementation of the Ease of Doing Business law and the function of the Anti-Red Tape Authority (ARTA).
Sotto revealed that, during the meeting, the President said he was willing to be summoned by Congress to explain the need to put more teeth to the Ease of Doing Business law.
Go said Duterte wants to significantly reduce corruption in the remaining days of his administration until 2022.
"With a year and nine months to go, he wants to reduce if not totally eliminate red tape and corruption," Go, told reporters in Filipino. "The President is willing to appear as a resource person if needed in both houses of Congress."