'Blended learning dry run a success in 500 schools'
August 14, 2020 | 12:00am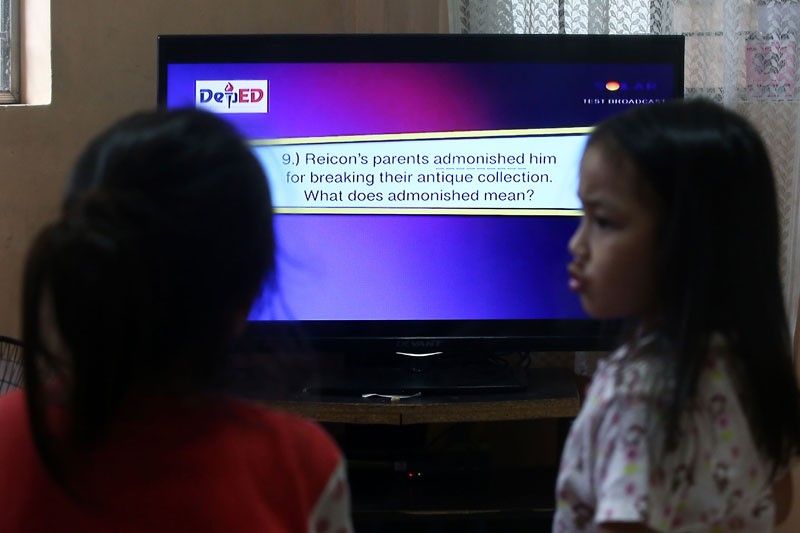 MANILA, Philippines — The Department of Education (DepEd) has successfully conducted blended learning simulations in over 500 public schools nationwide as the opening of classes will proceed as scheduled on Aug. 24.
Education Secretary Leonor Briones said preparations for the opening of classes are in full swing, with more than 23.2 million students expected to go back to school in less than two weeks.
"We have conducted more than 500 simulations. We are testing if blended education will work, and we see that it will, despite not having face-to-face (classes) at this time," she said in Filipino during a press briefing at Malacañang yesterday.
Following a delay of almost three months, the new school year will formally begin in more than 40,000 public elementary and high schools nationwide.
With a restriction on face-to-face classes for the rest of the year, classes will be conducted through different distance learning approaches, including the use of modules, internet, television and radio to deliver educational content.
Briones said more than 23.2 million students have enrolled for the coming school year, representing 83.58 percent of the enrollment last year.
Some 21.5 million have signed up in public schools, representing 95.57 percent of last year's enrollment, while only 1.59 million enrolled in private schools or around 37.1 percent of last year.
At an earlier press briefing on Monday, Briones said the simulations enabled them to resolve issues involving the blended learning setup.
"There were problems but these were resolved," she said, noting that they would not be caught by surprise in case an issue arises during the implementation of the blended learning approach.
She said their priority in the next weeks would be the production of modules and other learning materials that will be used by students.
Initial results of the learner enrollment survey showed that most parents prefer the use of printed or digital modules instead of other distance learning modalities.
Various groups and several senators have called for the postponement of classes amid concerns over the status of the preparation, particularly the printing of modules.
Data presented during a Senate hearing on Wednesday showed that 82 out of 214 school division offices have completed printing more than 50 percent of the modules needed for the first quarter of school year 2020-2021.
The remaining 132 division offices have printed less than half of the first quarter requirement.
DepEd said the priority is to have at least the first two weeks available on the first day of classes, with the rest released on a rolling basis.
The agency is also conducting the test broadcast of television classes to be used as educational supplement.
Correcting errors
A DepEd official admitted that there were errors in some of the television classes that underwent test broadcast, saying these would be subjected to further assessment by their quality assurance team.
Education Undersecretary for administration Alain del Pascua said the test broadcast on IBC-13 and Solar Learning was conducted to gauge DepEd's current capacity to broadcast educational episodes for the coming school year
"It focuses more on the technical aspects of broadcasting, from recording, file conversion, ingestion, mapping to actual broadcasting," he said in Filipino.
Meanwhile, the Commission on Higher Education (CHED) warned that 424 students in 17 higher education institutions (HEIs) may lose their scholarships due to the "pass all" policy adopted by their schools in the previous semester.
CHED chairman J. Prospero de Vera III called on academic institutions to provide numerical grades to the students that benefit under the agency's merit scholarship program.
Unlike other scholarship programs, De Vera said the merit scholarship is purely based on the scholastic performance or grades in priority degree programs of the government.
Beneficiaries are required to maintain at least 85 percent or its equivalent if they are a full scholar or 80 percent or its equivalent if half scholar.
"I made it very clear in CHED announcements that while the grading system of HEIs is determined and exercised by individual HEIs in the exercise of their academic freedom, any decision to adopt a 'pass all' policy must ensure that the interests of individual students are not compromised," he said.
"CHED has already warned HEIs last June that students who are on merit scholarship and need numeric grades will be severely affected by HEIs that do this," he added.
The 17 HEIs where the scholars were enrolled are Saint Mary's University, Bataan Heroes Memorial College, De La Salle University-Dasmariñas, STI College Rosario, University of the Philippines in Los Baños and Visayas, Cavite State University, Mary Help of Christians College-Salesians Sisters Inc. and Ateneo de Naga University.
Also included were Partido College, Pili Capital College Inc., Bicol State College of Applied Sciences and Technology, Polytechnic University of the Philippines-Sta. Mesa, University of Baguio and the Mindanao State University in Iligan, Naawan and Marawi.
De Vera said the HEIs have until Oct. 30 to provide numerical grades for the students.
Student group Samahan ng Progresibong Kabataan condemned the CHED decision to insist on the scholarship policy despite the ongoing pandemic.
It said the commission could have forgone the grade requirement given the current situation.
"Rather than allowing the hard-won mass promotion policy – which was fought for by thousands as the most compassionate option in the middle of a global pandemic – the CHED would rather repeal this small victory over a mere technicality," the group said.
"It is well within its power to be more lenient with scholarship requirements today, just as it was well within its power to implement a mass promotion policy for all higher educational institutions last semester," it added.