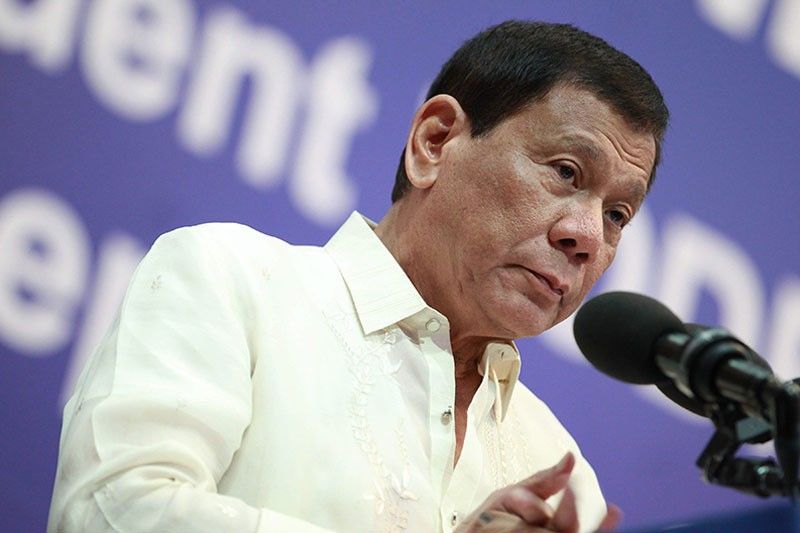 Presidential spokesman Harry Roque Jr. said Duterte was scheduled to return to Manila from Mindanao yesterday and meet with members of the Inter-Agency Task Force on Emerging Infectious Diseases.
STAR/File
Duterte set to announce new quarantine classifications
MANILA, Philippines – President Duterte is expected to announce new quarantine classifications tomorrow as Malacañang cautioned Metro Manila residents to temper their expectations because coronavirus disease 2019 (COVID-19) data do not seem to support the easing of restrictions.
Presidential spokesman Harry Roque Jr. said Duterte was scheduled to return to Manila from Mindanao yesterday and meet with members of the Inter-Agency Task Force on Emerging Infectious Diseases (IATF).
"It's possible that the classification of areas will be announced on Wednesday because the IATF still has a meeting tomorrow (July 14) for the final recommendation to the President," Roque said at a press briefing.
"I would like to clarify that while the President has not made a decision, we will look at the data to determine if we can ease restrictions. Maybe at this point, the data does not indicate that we can relax (quarantine measures) at least in Metro Manila, just to manage the expectations," he added.
Roque said he was referring to the case doubling rate and critical healthcare capacity of the capital region, which has the most number of infections in the country at more than 22,000.
Carlito Galvez Jr., chief implementer of the national policy on COVID-19, said restrictions in some areas might even be tightened.
"The IATF met last Thursday and Friday and it was agreed upon that there are areas (whose quarantine measures would be escalated) considering that we observed rising severe and critical cases and at the same time, the new cases are also increasing… We saw that some of the hospitals in (Metro) Manila are being filled up," Galvez said.
He declined to enumerate the areas but revealed that Metro Manila mayors want to remain under general community quarantine (GCQ), noting that the second phase of the government's action plan on COVID involves the rebalancing of health and economic objectives using the "hammer and dance" theory and localizing response.??
"As (Finance) Secretary (Carlos) Dominguez said, the economy is now in the tipping point, meaning the situation would be very difficult once we fail to recover. There is really a huge crisis. So, what we are doing is we visit all mayors of Metro Manila and we see how they implement the localized lockdown. In all battles, implementation is always at the ground level... If we empower our leaders, the implementation would be better because the response would be faster," Galvez noted.
Cities like Manila, Makati and Taguig only impose lockdowns on specific establishments to preserve their economic gains. Metro Manila, which contributes a third of the country's gross domestic product, has been under GCQ since June 1.
Under the scenario, the majority of businesses and some modes of transportation can operate partially but public gatherings remain limited.? ?
"If we implement ECQ (enhanced community quarantine) in the whole of NCR (National Capital Region), in an entire city, the economy will suffer. We have also seen that the ECQ has its limits. Implementation by local (governments) is better because they are closer to the people," Galvez said.
According to him, Metro Manila mayors are recommending a "hybrid" GCQ, wherein there would be restrictions in the movement of people but economic activity would continue provided that the private sector, including businesses, should take "equal responsibility" for containing the spread of the virus.
The capital region, Galvez added, should remain under a single quarantine classification because the NCR is interlocking.
Last Sunday, Cabinet Secretary and IATF co-chairman Karlo Nograles said Metro Manila may be downgraded to the most lenient modified GCQ if local governments can act swiftly to prevent the spread of the virus in their respective areas.

Under MGCQ, more modes of mass transportation and more sectors, including tourism, are allowed to operate and some limits on public gatherings are lifted.
Nograles has said the capital region may also remain under GCQ to give mayors more time to get used to relaxed protocols. The IATF has also asked local governments to lengthen localized lockdowns to 14 days, noting that the symptoms of the virus do not manifest immediately.
Only Cebu City remains under the strictest ECQ because of the spike in the number of COVID-19 cases that threaten to overwhelm its healthcare capacity. Only essential industries can operate and all forms of mass transportation are suspended under the lockdown scenario.
The Philippines has more than 56,000 COVID-19 cases as of yesterday.
Meanwhile, senators backed yesterday proposals for localized lockdowns to help contain the surge in coronavirus cases as the government continues to gradually ease quarantine restrictions.
Senate President Vicente Sotto III said localized lockdowns "can work without sacrificing the areas that are open for near normalcy already."
Senate Minority Leader Franklin Drilon said localized lockdowns can make the easing of restrictions, particularly in Metro Manila, much safer.
"As we have seen for the past four months, the shotgun approach did little to contain the virus. If anything, the strategy only crippled our economy and left thousands of Filipinos jobless. Hence, we need a more rational approach and one that will not cause too much damage to our already bleeding economy," he added.
Sen. Francis Pangilinan said the government must speed up and focus on improving its mass testing, contact tracing and isolation and treatment activities as it should have done since Day One.
He said, "repeating the ineffective and simplistic restriction of movement of citizens in the local level has proven to have failed to manage the spread." Paolo Romero
Related video: