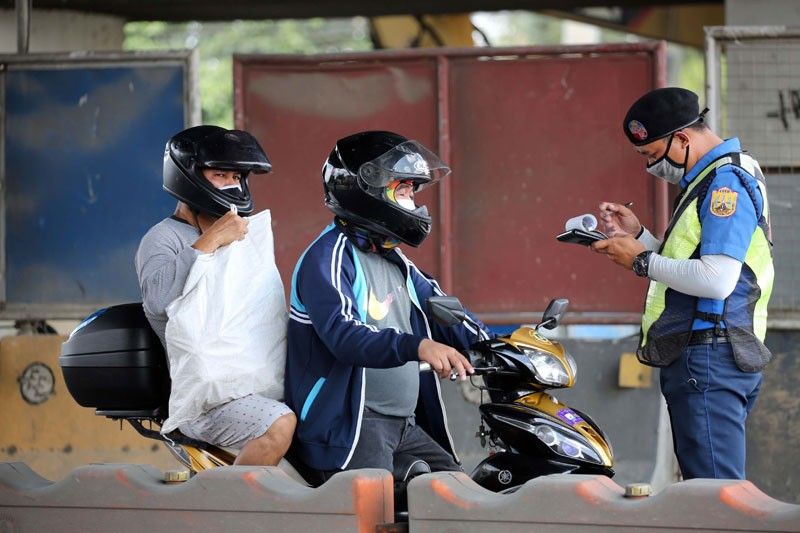 Eleazar said the government's decision allowing back-riding for couples is just a start.
Boy Santos, file
PNP: Back-riding will eventually be allowed for all
MANILA, Philippines — Philippine National Police (PNP) deputy chief for operations Lt. Gen. Guillermo Eleazar yesterday appealed for patience from motorcycle owners as he assured them that they would eventually be allowed to have back-riders like married couples and live-in partners.
Eleazar said the government's decision allowing back-riding for couples is just a start.
"Initially partners first, then families and eventually it will be for all," he said during a Laging Handa briefing.
The government has allowed couples to ride on motorcycles provided they have plastic barriers between them as protection against the coronavirus disease 2019 (COVID-19).
Aside from married couples, live-in partners and members of the lesbian, gay, bisexual and transgender community are allowed as long as they are living in one house.
According to Eleazar, the government is just being careful with their actions not allowing all motorcycle owners to have back-riders that could increase the number of COVID-19 infections.
He said many would take advantage if they suddenly allow back-riding for all.
Aside from the body shields approved by the government, motorcycle riders should also wear face masks and helmets, Eleazar said.
He reminded couples to bring their identification cards and other documents proving they are living in the same house.
Eleazar warned violators will face fines for not following health and safety protocols.
Barrier critics
Sen. Ralph Recto raised concern over the use of the barrier for couples riding a motorcycle, a measure that might not protect the couple from being infected with the COVID-19 virus.
"What's the use of a barrier when couples hold hands in going to the motorcycle and kiss each other goodbye after the ride?" Recto asked. "As a virus shield, it is as effective as installing a concrete road divider on the matrimonial bed."
"Isn't the protection offered them by the motorcycle barrier during the day canceled by their intimacy at night? There is also the question if such an untested modification will compromise the roadworthiness of the bike and the safety of driver and passenger," he noted.
Recto said the measure should also have a scientific basis before the government issues a policy about it.
"Please don't get me wrong, I do commend well-meaning initiatives to get breadwinners who ride pillion on motorbikes on the road again, but such should get the green light from science," he said. "Before we flag this off, can we please subject it to test runs and workshop review by experts?"
"Or can we just ask health experts if a couple who sleep together at night without masks can safely ride a motorcycle together with masks and helmets on?" he noted. Cecille Suerte Felipe