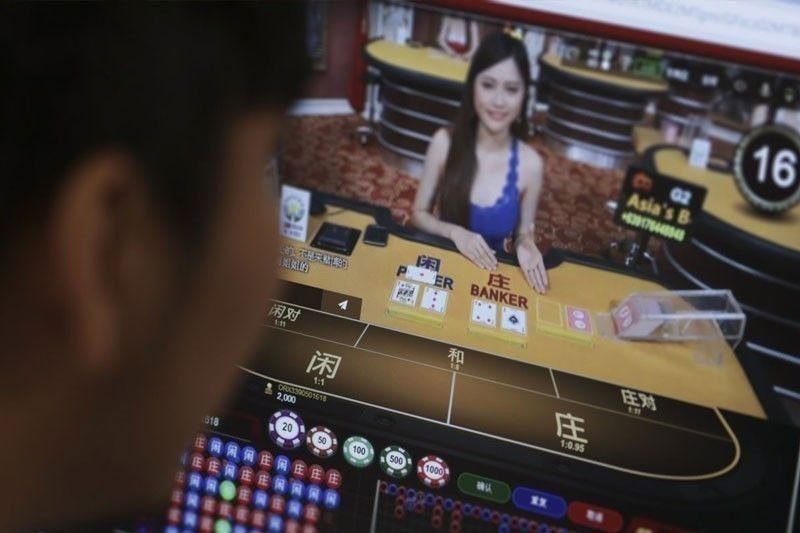 The committee in its hearings on POGOs uncovered irregularities involving the influx of illegal foreign workers which eventually was tied to the rise of the POGO sector in the country.
Tory Ho/AFP/File
Good riddance, senators tell departing POGOS
Paolo Romero
(The Philippine Star) - June 30, 2020 - 12:00am
MANILA, Philippines — Senators welcomed yesterday reports that Philippine offshore gaming operators (POGOs) have started to leave the country.
Sen. Joel Villanueva, who chairs the committee on labor and employment, said the report "just solidifies our position that POGOs have very little, if at all, economic contribution to the country, and especially with their unwillingness to pay the correct taxes."
He recalled that every time lawmakers called out POGOs for violating the country's laws, the government bent over backwards just to give them a chance to comply, and yet the firms "squandered all the opportunities given to them."
"POGOs won't be a loss to the Philippine economy. We should attract companies that invest in Filipino people. Good riddance," Villanueva said in a statement.
"The exiting POGO companies should still pay the taxes they owe us. Otherwise, we should blacklist them and name them publicly so that other countries will be warned about the behavior of these companies," he said.
Senate Minority Leader Franklin Drilon also welcomed reports that more POGOs will be leaving the country over tax issues.
"They're not a loss to us. Let's not ask they to stay. Pagcor should stop playing a lover to POGOs," Drilon said in a statement.
Villanueva said there was no sense in letting POGOs operate in the country if they do not follow Philippine laws, adding the firms do not create jobs.
As the state gaming regulator, the Philippine Amusement and Gaming Corp. (Pagcor) should have been circumspect in drawing up a regulatory framework for the POGO sector, and proactive in ensuring all applicable laws are followed by all their licensees, he said.
The committee in its hearings on POGOs uncovered irregularities involving the influx of illegal foreign workers which eventually was tied to the rise of the POGO sector in the country.
Despite lawmakers calling the attention of various government agencies, violations of labor, immigration, and taxation laws by the sector continued. The rise of the sector has also been linked to rising criminality and prostitution, among others, he said.
Villanueva said illegal POGO operations continued while the government enforced movement restrictions in mid-March due to the COVID-19 pandemic.
From April to early June, authorities busted at least six underground POGO operations in various parts of Metro Manila, arresting hundreds of foreigners and confiscating equipment, the senator said.
The Bureau of Internal Revenue (BIR) also disclosed to the committee that POGO firms owe the government at least P50 billion in unpaid taxes in 2019.
The bureau even crafted last month a set of guidelines for POGO firms to make payments and commit to settle past obligations just to be allowed to resume operations.
On the other hand, the Department of Labor and Employment disclosed that over the course of its labor inspections in 2019, it discovered some 6,678 illegal foreign workers in Pagcor-licensed POGO firms and service providers.
He said Pagcor has also admitted that there were about 100 to 120 illegal POGO firms operating in the country.
"They (Pagcor) were never clear what they intended to do about it, despite their mandate of regulating the gaming industry," Villanueva said. "Meanwhile, they left their job to various government agencies who were left to fend for themselves."
Villanueva called on the government to ramp up its efforts to boost long-term public investments to attract new foreign direct investments in the country "which in turn will result in the creation of massive employment for our people."
Sen. Risa Hontiveros said Pagcor should immediately revoke the license of POGOs for failing to settle their tax deficiencies amounting to at least P50 billion in 2019.
"Just cancel the license if they will continue to defy rules on paying taxes," said Hontiveros.
"Pagcor should exercise its regulatory powers and come down hard on tax-evading POGOs," she said, adding if there's neither penalty nor fine, why then would they bother to settle their tax obligations.
Hontiveros issued the call after the BIR reported delays in the reopening of POGOs due to non-payment of taxes and non-submission of notarized commitment to pay such debts.?Malacañang meanwhile was unfazed by the reported shutdown of some POGOs, saying the gambling entities should pay the right amount of taxes or close shop.
Presidential spokesman Harry Roque said while the government earns revenues from POGOs, the gaming operators should comply with existing regulations.
"We need them (POGOs), because we need the revenues but unless they pay up, goodbye," Roque said at a press briefing yesterday.?"Our position has been clear. If they want to stay, they have to pay the right taxes. They have to follow rules and regulations, health guidelines set by the IATF (Inter-Agency Task Force on Emerging Infectious Diseases)."
The government is still planning to go after offshore gaming operators who have left the country should it be proven that they have unsettled tax liabilities.
In a message shared by Finance Secretary Carlos Dominguez, the BIR said SC World Development Group Ltd., a POGO that has ceased operations, was unregistered with the BIR.
"It is an offshore licensee and it is not registered with the BIR. We still intend to go after its tax dues," the BIR said.
Meanwhile, the BIR said Don Tences Asian Services Solutions Inc., another POGO that has closed down, is a local licensee which has paid its franchise taxes.
However, the agency said the company would still be subjected to an investigation before being given clearance to close down by the BIR.
Earlier, Pagcor revealed that these two POGOs have sought the cancellation of their gaming licenses. Fourteen other service providers have also decided to cease their operations in the country.
POGOs have been tied to unlawful activities like money laundering, prostitution, tax evasion, human trafficking, kidnapping, and bribery of immigration personnel.
President Duterte previously claimed that POGOs are "clean" and contribute billions to state coffers. Officials, however, have vowed not to tolerate unlawful acts linked to offshore gaming operations. Alexis Romero, Cecille Suerte Felipe, Mary Grace Padin