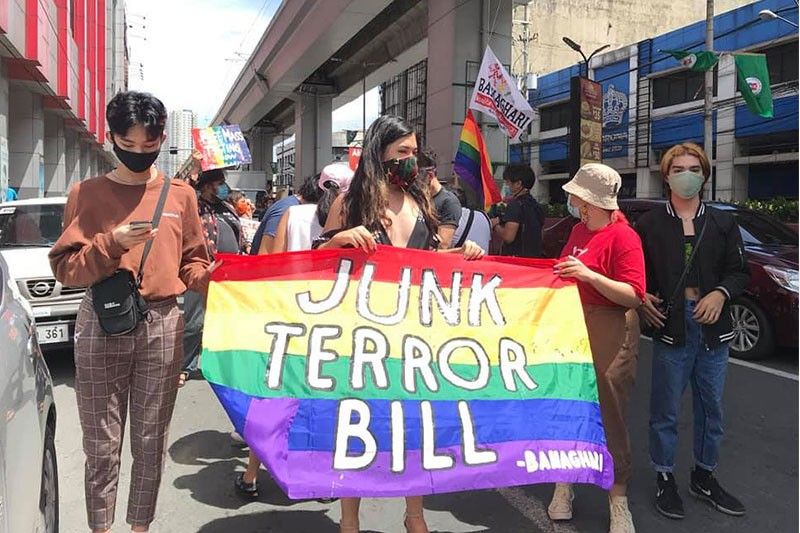 This photo shows members and allies of the LGBTQ+ community protesting against the anti-terror bill.
League of Filipino Students
20 arrested at Pride march against anti-terror bill in Manila
MANILA, Philippines (Updated 6:36 p.m.) — Police arrested 20 protesters on Friday during a lesbian, gay, bisexual, transgender and queer (LGBTQ+) community-organized protest against the controversial anti-terror bill in Mendiola Street, Manila.
This was confirmed by Police Lt. Col. Carlo Manuel, Manila Police District spokesperson, to GMA News.
Rights group Karapatan said 20 individuals from groups Bahaghari, Gabriela and the Children's Rehabilitation Center, were arrested — 13 of whom are members of the LGBTQ+ community.
Bahaghari also confirmed that Rey Valmores-Salinas, the group's campaign spokesperson, was among those arrested.
In a video posted by Twitter user JL Javier, police are seen refusing to answer the media when asked which quarantine guidelines were violated by the protestors being arrested.
Inaresto ng mga pulis 'yung mga nagrarally sa Mendiola galing sa @Bahaghari_Natl at iba pang organisasyon kahit walang masabing violation. pic.twitter.com/Kk7qvcWKVw

— JL #OUSTDUTERTE (@jltjavier) June 26, 2020
"They were not informed of any charges when they were accosted. What a way to commemorate pride in [the Philippines, national police!]" Karapatan Secreteray Cristina Palabay said.
Police Brig. Gen. Rolly Miranda, MPD chief, later told GMA News that the protesters were arrested for not having a rally permit and for violating general community quarantine (GCQ) guidelines.
Bahaghari said in a tweet that they were complying with social distancing and minimum health standards issued by the government against COVID-19.
Rep. Sarah Elago (Kabataan party-list) slammed the arrests, saying the right to peaceful assembly is not suspended during public health emergencies.
The Commission on Human Rights made a similar statement on June 10, saying authorities cannot "halt fundamental rights including freedom of peaceful assembly and activism" even amid community quarantine.
Police also attempted to arrest an intern of independent news group Manila Today who was covering the protest.
The College Editors Guild of the Philipines (CEGP) said cops also took protesters' car keys.
PNP spokesperson Brig. Gen. Bernard Banac told PSN that they are monitoring reports on the incident from the National Capital Region Police Office (NCRPO).
Palabay in a statement pointed out that today's arrests were "not the first time that the police and other law enforcement officials attacked the LGBTQ+ community under the guise of enforcing lockdown measures."
She was referring to an incident reported by Rappler, wherein three members of LGBTQ+ community in Brgy. Pandacaqui in Mexico, Pampanga were ordered to kiss each other and to inappropriately dance in front of a minor for violating the city's curfew.
As It Happens
LATEST UPDATE: October 14, 2020 - 2:35pm
President Rodrigo Duterte signed the Anti-Terrorism Law on July 3 despite opposition from rights groups and civil society groups that it could be used to stifle human rights.
A petition against the law has been filed at the Supreme Court and other groups are preparing pleadings of their own.
Follow this page for updates. Photo courtesy of The STAR/Michael Varcas
October 14, 2020 - 2:35pm
The Anti-Terrorism Council has aproved the Implementing Rules and Regulations for the Anti-Terrorism Law, Justice Secretary Menardo Guevarra confirms.
The implementing guidelines were crafted by a technical working group led by the DOJ, he also says.
"We will disseminate copies to the Congress and to law enforcement agencies as required under the law, and will publish the IRR online and in a newspaper of general circulation in the next few days," he says.
August 30, 2020 - 12:47pm
Desaparecidos, an organization made up of families of victims of enforced disappearances, is worried that more may go missing under the anti-terrrorism law.
"We fear that Duterte's terror law will enable State forces to resort to extraordinary measures such as abductions and enforced disappearances like what they did to my daughter to instill fear on its critics and activists as the government spins out of control because of the pandemic and the ailing economy," Erlinda Cadapan, Desaparecidos chairperson and mother of missing University of the Philippines student Sherlyn Cadapan, says in a statement.
She says that Section 29 of the Anti-Terrorism Act allows detention without charges for up to 24 days "practically opens up the option for State forces to resort to enforce disappearance rather than complying with legal requirements to detain suspects."
August 25, 2020 - 9:30am
The Free Legal Assistance Group, which represents senators and media practitioners in a petition against the Anti-Terrorism Act, urges the Supreme Court to issue a temporart restraining order against the new law.
The group says the statement of Armed Forces of the Philippines chief Gilbert Gapay to regulate social media is "repression in broad daylight."
"At the very least, the foregoing statements of the AFP Chief of Staff confirm that the ATA is both so overbroad and vague that it is susceptible to being used for an unconstitutional end, that is a weapon against free speech and dissent," the motion read.
August 24, 2020 - 12:57pm
Solicitor General Jose Calida asks the Supreme Court to cancel the oral arguments on the petitions against the anti-terrorism law.
Calida cites logistical restrictions and health threats posed by the COVID-19 pandemic, noting that oral arguments would entail the presence of members of the Court, at least 300 petitioners and their counsels, 16 OSG lawyers and support staff.
"Further, the sheer number of participants will make it difficult, if not impossible, to maintain social distancing within the En Banc Session Hall. In this regard alone, even puttig the matter of the age and health vulnerabilities of some of the participants aside, it is submitted that their physical presence for in-court oral arguments is inadvisable," Calida says in his urgent motion.
August 3, 2020 - 2:47pm
It is not the intention of the anti-terror bill to regulate social media, says Rep. Ruffy Biazon (Muntinlupa), co-author of the anti-terrorism bill that is now a law, on Twitter.
Biazon is reacting to a statement from the military that what it calls a "very, very good law" that is "comprehensive" be applied to social media.
The controversial Anti-Terrorism Law is now being challenged by more than a dozen petitioners at the Supreme Court as it is seen to have vague provisions allowing abuses against rights to free speech, due process and privacy.