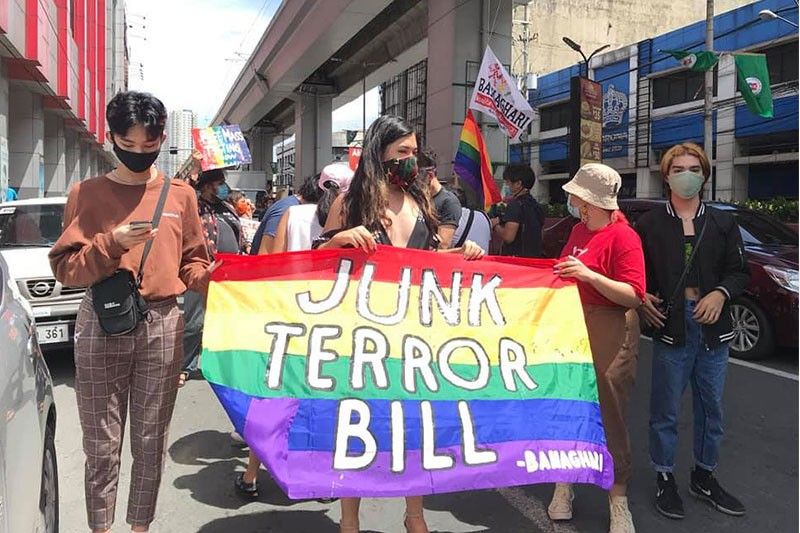 This photo shows members and allies of the LGBTQ+ community protesting against the anti-terror bill.
League of Filipino Students
20 arrested at Pride march against anti-terror bill in Manila
MANILA, Philippines (Updated 6:36 p.m.) — Police arrested 20 protesters on Friday during a lesbian, gay, bisexual, transgender and queer (LGBTQ+) community-organized protest against the controversial anti-terror bill in Mendiola Street, Manila.
This was confirmed by Police Lt. Col. Carlo Manuel, Manila Police District spokesperson, to GMA News.
Rights group Karapatan said 20 individuals from groups Bahaghari, Gabriela and the Children's Rehabilitation Center, were arrested — 13 of whom are members of the LGBTQ+ community.
Bahaghari also confirmed that Rey Valmores-Salinas, the group's campaign spokesperson, was among those arrested.
In a video posted by Twitter user JL Javier, police are seen refusing to answer the media when asked which quarantine guidelines were violated by the protestors being arrested.
Inaresto ng mga pulis 'yung mga nagrarally sa Mendiola galing sa @Bahaghari_Natl at iba pang organisasyon kahit walang masabing violation. pic.twitter.com/Kk7qvcWKVw

— JL #OUSTDUTERTE (@jltjavier) June 26, 2020
"They were not informed of any charges when they were accosted. What a way to commemorate pride in [the Philippines, national police!]" Karapatan Secreteray Cristina Palabay said.
Police Brig. Gen. Rolly Miranda, MPD chief, later told GMA News that the protesters were arrested for not having a rally permit and for violating general community quarantine (GCQ) guidelines.
Bahaghari said in a tweet that they were complying with social distancing and minimum health standards issued by the government against COVID-19.
Rep. Sarah Elago (Kabataan party-list) slammed the arrests, saying the right to peaceful assembly is not suspended during public health emergencies.
The Commission on Human Rights made a similar statement on June 10, saying authorities cannot "halt fundamental rights including freedom of peaceful assembly and activism" even amid community quarantine.
Police also attempted to arrest an intern of independent news group Manila Today who was covering the protest.
The College Editors Guild of the Philipines (CEGP) said cops also took protesters' car keys.
PNP spokesperson Brig. Gen. Bernard Banac told PSN that they are monitoring reports on the incident from the National Capital Region Police Office (NCRPO).
Palabay in a statement pointed out that today's arrests were "not the first time that the police and other law enforcement officials attacked the LGBTQ+ community under the guise of enforcing lockdown measures."
She was referring to an incident reported by Rappler, wherein three members of LGBTQ+ community in Brgy. Pandacaqui in Mexico, Pampanga were ordered to kiss each other and to inappropriately dance in front of a minor for violating the city's curfew.
As It Happens
LATEST UPDATE: May 13, 2021 - 9:06am
President Rodrigo Duterte signed the Anti-Terrorism Law on July 3 despite opposition from rights groups and civil society groups that it could be used to stifle human rights.
A petition against the law has been filed at the Supreme Court and other groups are preparing pleadings of their own.
Follow this page for updates. Photo courtesy of The STAR/Michael Varcas
May 13, 2021 - 9:06am
The Anti-Terrorism Council has designated 29 people, including alleged members of the Communist Party of the Philippines-New People's Army, as terrorists in two resolutions.
Designation allows the Anti-Money Laundering Council to freeze the assets of those on the list.
April 27, 2021 - 2:59pm
Solicitor General Jose Calida tells the Supreme Court that the Philippines must have an Anti-Terrorism Act because of international obligations.
Calida says "supervening events warrant ouright dismissal of petitions." He notes there are already cases involving ATA, such as case against farmers Japer Gurung and Junior Ramos, and three individuals in Negros Occidental.
He says petitioners do not have standing to question the law since they are not directly affected by it.
April 21, 2021 - 5:53pm
Oral arguments on petitions against the Anti-Terrorism Act will resume on April 27 at 2:30 p.m..
According to a Supreme Court advisory, the arguments will be carried out through videoconferencing due to the pandemic.
March 22, 2021 - 3:11pm
Oral arguments on the Anti-Terrorism Act of 2020 scheduled on March 23 is suspended due to the "alarming increase of COVID cases."
Supreme Court Clerk of Court Edgar Aricheta says the oral arguments will resume on April 6 at 2:30 p.m.
March 15, 2021 - 1:03pm
The oral arguments on the petitions against the controversial Anti-Terrorism Act of 2020 will resume on March 23.
The Supreme Court announces that the oral arguments scheduled on March 16 is suspended.
Oral Arguments on the Anti-Terrorism Act of 2020 (RA 11479) will resume on March 23, 2021 at 2:30pm. #ATAOrals pic.twitter.com/y4uOE4nxLX

— Philippine Supreme Court Public Information Office (@SCPh_PIO) March 15, 2021