20 arrested at Pride march against anti-terror bill in Manila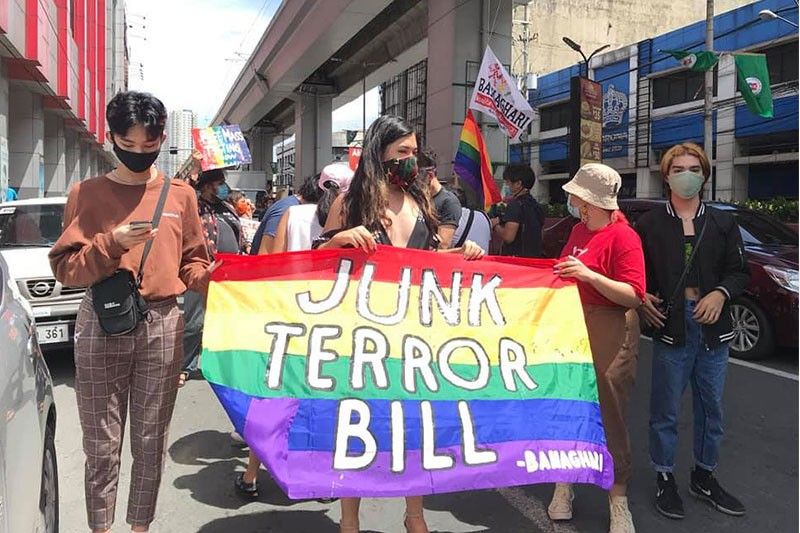 MANILA, Philippines (Updated 6:36 p.m.) — Police arrested 20 protesters on Friday during a lesbian, gay, bisexual, transgender and queer (LGBTQ+) community-organized protest against the controversial anti-terror bill in Mendiola Street, Manila.
This was confirmed by Police Lt. Col. Carlo Manuel, Manila Police District spokesperson, to GMA News.
Rights group Karapatan said 20 individuals from groups Bahaghari, Gabriela and the Children's Rehabilitation Center, were arrested — 13 of whom are members of the LGBTQ+ community.
Bahaghari also confirmed that Rey Valmores-Salinas, the group's campaign spokesperson, was among those arrested.
In a video posted by Twitter user JL Javier, police are seen refusing to answer the media when asked which quarantine guidelines were violated by the protestors being arrested.
Inaresto ng mga pulis 'yung mga nagrarally sa Mendiola galing sa @Bahaghari_Natl at iba pang organisasyon kahit walang masabing violation. pic.twitter.com/Kk7qvcWKVw

— JL #OUSTDUTERTE (@jltjavier) June 26, 2020
"They were not informed of any charges when they were accosted. What a way to commemorate pride in [the Philippines, national police!]" Karapatan Secreteray Cristina Palabay said.
Police Brig. Gen. Rolly Miranda, MPD chief, later told GMA News that the protesters were arrested for not having a rally permit and for violating general community quarantine (GCQ) guidelines.
Bahaghari said in a tweet that they were complying with social distancing and minimum health standards issued by the government against COVID-19.
Rep. Sarah Elago (Kabataan party-list) slammed the arrests, saying the right to peaceful assembly is not suspended during public health emergencies.
The Commission on Human Rights made a similar statement on June 10, saying authorities cannot "halt fundamental rights including freedom of peaceful assembly and activism" even amid community quarantine.
Police also attempted to arrest an intern of independent news group Manila Today who was covering the protest.
The College Editors Guild of the Philipines (CEGP) said cops also took protesters' car keys.
PNP spokesperson Brig. Gen. Bernard Banac told PSN that they are monitoring reports on the incident from the National Capital Region Police Office (NCRPO).
Palabay in a statement pointed out that today's arrests were "not the first time that the police and other law enforcement officials attacked the LGBTQ+ community under the guise of enforcing lockdown measures."
She was referring to an incident reported by Rappler, wherein three members of LGBTQ+ community in Brgy. Pandacaqui in Mexico, Pampanga were ordered to kiss each other and to inappropriately dance in front of a minor for violating the city's curfew.
As It Happens
LATEST UPDATE: June 22, 2022 - 8:18am
President Rodrigo Duterte signed the Anti-Terrorism Law on July 3 despite opposition from rights groups and civil society groups that it could be used to stifle human rights.
A petition against the law has been filed at the Supreme Court and other groups are preparing pleadings of their own.
Follow this page for updates. Photo courtesy of The STAR/Michael Varcas
June 22, 2022 - 8:18am
National Security Adviser Hermogenes Esperon moves to block access to several websites, including news sites of alternative news orrganizations Bulatlat.com and Pinoyweekly.org.
In his letter to the National Telecommunications Commission, he only says the websites are "affiliated to and are supporting these terrorists and terrorist organizations."
No other basis to back up his allegation was cited in the letter.
Citing the designation of the CPP-NPA-NDF as terrorists, NSA Hermogenes Esperon moves to block access to several sites.

In Esperon's letter to the NTC, he included news sites @bulatlat and @pinoyweekly; sites of other progressive groups RMP and Save our Schools. @PhilstarNews pic.twitter.com/nAzMITJFsS

— Kristine Patag (@kristinepatag) June 22, 2022
December 12, 2021 - 1:10pm
The Commission on Human Rights says it "partly welcomes" the Supreme Court decision that some parts of the controversial Anti-terrorism Law are unconstitutional.
CHR spokesperson Jacqueline de Guia says the commission remains hopeful that the remaining contentious provisions of the law will be clarified by the high cour in the full text of the decision.
"At the same time, our commitment remains in guarding against possible human rights violations arising from the implementation of the anti-terror law. We steadfastly remind the government that countering terrorism and protecting human rights are not competing values but are, in fact, mutual and complementary," De Guia says in a statement.
December 7, 2021 - 7:10pm
The Supreme Court has deliberated and voted on the controversial Anti-Terrorism Act but the decision will be released "at the soonest time possible."
"However, considering that there were numerous issues resolved in the case, as well as the fact that each Justice had to vote on each issue, there is a need to accurately confirm and tally the vote of each Justice in order to ensure the correct resolution of the Court per issue," SC spokesperson Brian Hosaka says.
July 19, 2021 - 8:33am
The Anti-Terrorism Council designates the National Democratic Front of the Philippines, the panel that negotiates for communist rebels during peace talks a terrorist organization.
Previous designation of the Communist Party of the Philippines and New People's Army led to the designation of supposed members of the CPP's Central Committee. Among those designated as terorrists were peace consultants.
Designation gives the Anti-Terrorism Council the authority to investigate and freeze the accounts of designated persons.
May 13, 2021 - 9:06am
The Anti-Terrorism Council has designated 29 people, including alleged members of the Communist Party of the Philippines-New People's Army, as terrorists in two resolutions.
Designation allows the Anti-Money Laundering Council to freeze the assets of those on the list.