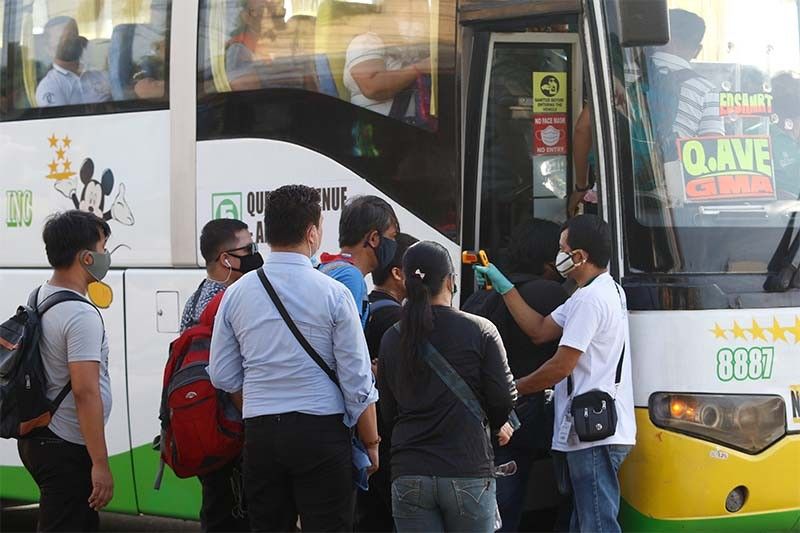 A bus conductor (R) takes the temperature of passengers about to board a bus in Manila on June 23, 2020.
AFP/AC Dimatatac
Coronavirus cases in Philippines reach 33,069; death toll at 1,212
MANILA, Philippines (Updated, 5:27 p.m.) — The country now has 33,069 cases of coronavirus disease (COVID-19) and 1,212 deaths related to the severe respiratory illness, the Department of Health reported Thursday.
The DOH logged 778 additional infections, with 415 labeled as "fresh" or were detected in the last three days. The other 363 were part of the agency's validation backlog.
Metro Manila accounted for 250 of the fresh cases, followed by Central Visayas with 72. The remaining 93 infections were from elsewhere.
Of the late cases, 202 were detected in the capital region, while 34 were logged in Central Visayas. Other regions accounted for 127 of these cases.
Health Undersecretary Maria Rosario Vergeire said Thursday the spike in the number of infections was due to the increase in the country's testing capacity and eased community quarantine measures.
While Metro Manila is still considered the epicenter of the nation's coronavirus outbreak, the DOH is also closely monitoring the situation in Cebu City, Cebu province, Ormoc City, Southern Leyte, Leyte and Samar. These areas were identified as emerging hotspots after seeing rise in COVID-19 cases.
"With the increasing number of cases in Cebu City, the department has immediately provided technical assistance and supplies to ramp up their testing. The national task force with Sec. Roy Cimatu as overseer is also strictly implementing our minimum public health standards together with our local government units in Cebu," Vergeire said.
Total recoveries in the country also reached 8,910 after 255 more patients survived the severe respiratory disease.
But eight more people succumbed to the disease, raising the death toll to 1,212. As of Tuesday, the country's case fatality rate stood at 3.73%, which is below the global average of 5.22% but higher than the average in Southeast Asia of 2.94%.
Currently, there are 65 licensed laboratories nationwide. Only 580,667 individuals have been so far tested for coronavirus in the country.
At least 9.4 million people have now been infected with COVID-19 worldwide since it emerged in China late in 2019, and more than 482,000 people have died.
Related video: