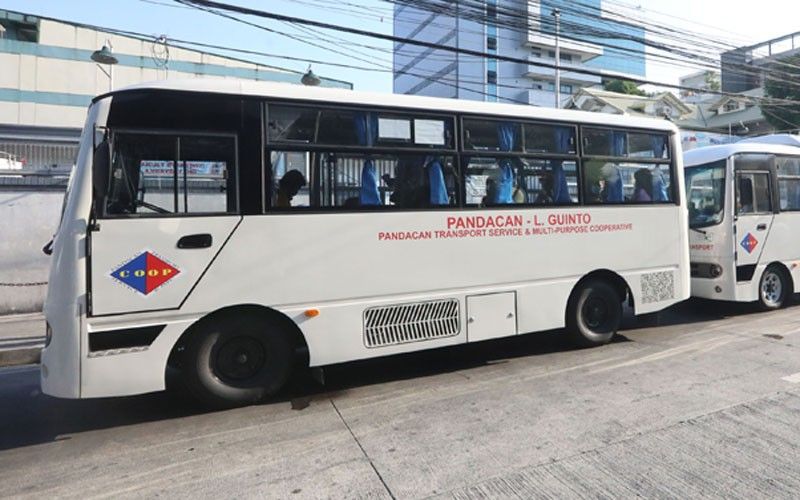 This is in addition to the 308 modern jeepneys compliant with the omnibus franchising guidelines that were allowed to operate in the 15 initial routes opened last Monday.
Edd Gumban
More modernized jeepneys fielded today in Metro Manila
MANILA, Philippines — More modern jeepneys will be allowed to ply the roads today as nine additional routes in Metro Manila are set to open.
In an interview with "The Chiefs" on Monday night on One News/TV 5, Department of Transportation (DOTr) senior transport consultant Alberto Suansing said 165 modern jeepney units would be added to serve the nine new Metro Manila routes opening today.
This is in addition to the 308 modern jeepneys compliant with the omnibus franchising guidelines (OFG) that were allowed to operate in the 15 initial routes opened last Monday.
"Based on the studies, that is the number of units needed. We will adjust the number as the day progresses, depending on the actual demand," Suansing said.
Under current guidelines, the passenger load of each jeepney must not exceed 50 percent of its seating capacity in order to observe physical distancing.
"What the DOTr is doing is calibrated and gradual resumption of public transport," Suansing said.
The additional public utility jeepney (PUJ) routes that will be opened today are Bagong Silang-SM Fairview, Malanday-Divisoria via M.H. del Pilar, Parang in Marikina-Cubao, Eastwood in Libis-Capitol Commons, Gasak-Recto via Dagat-dagatan, PITX-Lawton, Alabang-Zapote, PITX-Nichols and PITX-SM Southmall.
On Friday, 10 more new routes will be opened by the Land Transportation Franchising and Regulatory Board (LTFRB).
Only modern PUJs, or those units that have complied with the requirements set by the OFG, will be allowed to ply the identified routes.
Covered are operators of OFG-compliant PUJs that have already consolidated themselves as juridical entities under the Public Utility Vehicle Modernization Program with valid and existing Certificate of Public Convenience (CPC) or have been granted Provisional Authority (PA) for OFG-compliant PUJs operating in NCR, and those that will be entering Metro Manila from nearby provinces.
At present, traditional jeepneys and UV Express services are still not allowed to operate.
"LTFRB is working overtime to finanize guidelines for their operation. Our estimate is before the end of the month they will be able to run. But I have to qualify that statement because not all of them can run. Only a number can run, first of which are those compliant with the omnibus franchising guidelines. That has something to do with PUV (public utility vehicle) modernization," Suansing said.
From its original deadline of June 30, LTFRB chairman Martin Delgra said filing for consolidation of jeepney operators is extended until Dec. 31 this year.
"If they fail to consolidate, their CPC is cancelled but they may file for PA, which is good for one year, renewable for a similar period of one year, until they, or some transport service cooperative or corporation, would qualify (consistent with the requirements of the PUV Modernization Program or PUVMP) to run the route," he added.
Suansing said that operators don't necessarily have to purchase new vehicles as the national government's PUVMP begins with the consolidation of franchises.
He added that they also have to determine the optimum number of vehicles that can operate in order to ease traffic congestion.
The DOTr said operators have already been given a transition period of three years, since 2017, to consolidate as either a cooperative or a corporation to come up with proper fleet management and modernized units.
The agency said old or traditional jeepney units would still be allowed to run as long as they pass road-worthiness standards.
Mar Valbuena, president of the Samahang Manibela Mananakay at Nagkaisang Terminal ng Transportasyon, is asking the government to allow traditional jeepneys to return so that they can earn a living, as well as delay the implementation of the modernization program.
Meanwhile, Freddie Hernandez, chairman of the Taguig transport cooperative, said they have been benefiting from the modernization program despite the limited passenger capacity currently affecting their income.
The Taguig transport cooperative, one of the first cooperatives to have undergone the modernization program back in November 2017, currently has around 150 drivers and 88 modern units.
Modernization 'ill-timed'
With thousands of commuters still bearing the brunt of lack of transport options, Sen. Francis Pangilinan yesterday urged the government to immediately allow traditional jeepney and UV Express drivers to get back on the road.
Pangilinan said that insisting on modernization in this time of pandemic is "insensitive and ill-timed."
"Ordinary workers sacrifice every day. When PUJs and UV Express are allowed on the street, two problems will be solved, vehicles for ordinary commuters and jobs for jeepney and UV Express drivers," Pangilinan said.
He explained that unlike jeepneys and UV Express, the allowed P2P buses can only run on major highways, forcing commuters to walk for kilometers from their homes to bus stops.
Allow backriding for kin
Allowing kin back-riding on motorcycles will not only get people to their places of work faster but will also reduce stranded passengers amid the lack of public transportation, Sen. Grace Poe said.
Poe, chair of the Senate committee on public services, was quick to add that riders must strictly adhere to health and safety protocols, including existing policies such as wearing of helmets, to avoid the spread of the COVID-19 infection.
From the viewpoint of shielding the virus, Poe also said that it would be safer for a spouse to ride with her partner than to walk, take a tricycle or other public transportation, which could expose her to infection.
'Inflated condom'
Foreign Affairs Secretary Teodoro Locsin Jr. suggested on Monday retaining the "iconic" traditional jeepney, which used to be the "king of the road," with improved engines instead of replacing it with the modernized jeepney that he says looks like an "inflated condom."
The jeepney, he said, is iconic and "it shows what Filipinos can do with next to nothing after a world war" and a "testament to Filipinos' resourcefulness." Cecille Suerte Felipe, Pia Lee-Brago, Paolo Romero, Christian Imperio