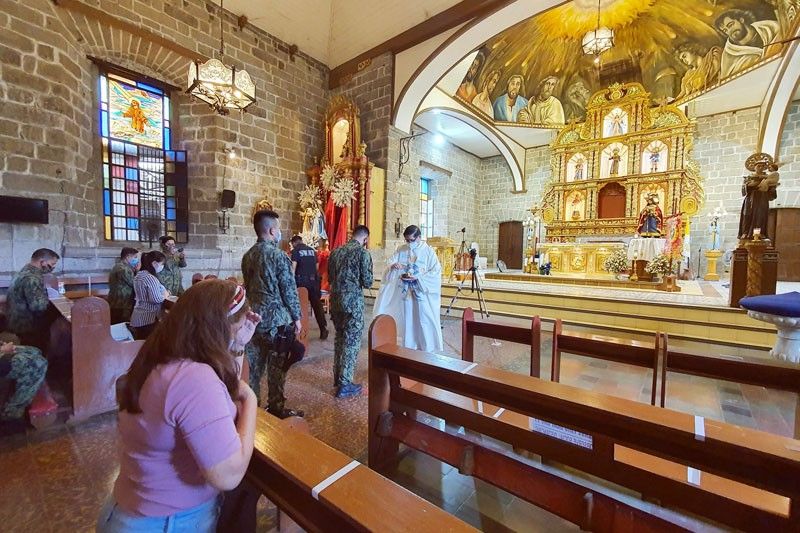 Police officers take part in the dry run of a mass held under quarantine protocols at the St. Francis of Assisi Church in General Trias, Cavite yesterday. The dry run was held in anticipation of the entire province being eased into a modified general community quarantine, when churches will be allowed to hold masses at 50 percent capacity.
Edd Gumban
Online masses not enough, bishop says
MANILA, Philippines — While masses have been celebrated online, virtual is not enough for Catholics who have been deprived of the Holy Eucharist which they receive only when physically present at church, Archdiocese of Manila apostolic administrator Bishop Broderick Pabillo said.
In his homily yesterday during the celebration of the Feast of Corpus Christi (Solemnity of the Most Holy Body and Blood of Christ), Pabillo said Catholics have been deprived of receiving the body of Christ during holy communion.
Being unable to receive communion is one of the sacrifices Filipino Catholics have had to endure for the past three months or since the start of community quarantine.
"We have been deprived of the holy mass. Yes, we have these online masses but this is not the sacrament of the Holy Eucharist… We make do with this very temporary arrangement of online mass because of the extraordinary situation we are in, but it is not the mass itself," Pabillo said.
The government imposed restrictions on mass gatherings as a way to observe physical distancing and curb the spread of coronavirus disease 2019.
"Participating in this online mass… helps you spiritually; you hear the words of God; it helps you to pray; you become part of the worshipping community but deep down you know it is not the mass," he said. "Our celebration with God and our relationship with Him is something that is real, actual and cannot be reduced to virtual. We all long to go back to participate in the mass in a church. Virtual is not enough, we want the real thing."
The prelate explained that receiving the Holy Eucharist is important for Catholics since Jesus had said that those who partake of his flesh – meaning holy communion – would be granted eternal life.
For this reason, Pabillo reiterated his appeal to the Inter-Agency Task Force on Emerging Infectious Diseases to consider religious activities as essential services, adding that religious services should not be categorized as mass gatherings along with entertainment establishments such as movie houses and beauty salons. Religious activities should not be limited to 10 persons only, whether the church is the sze of a chapel or cathedral, he said.