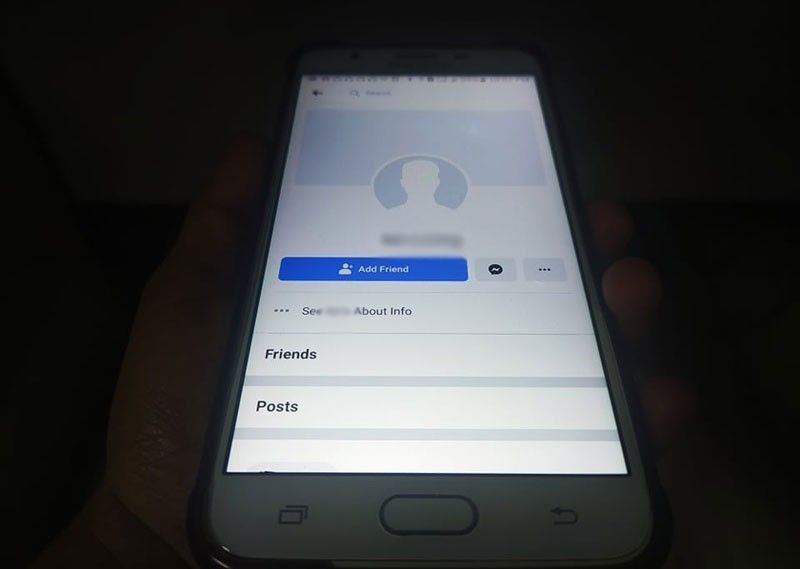 At least three reporters of Philstar.com have found duplicate accounts of themselves on Facebook as well.
Philstar.com/Irish Lising
Fact check: NBI claims Facebook clones a result of 'glitch'
MANILA, Philippines — Circulating reports of clone accounts on Facebook are in all likelihood the result of a technical glitch, the National Bureau of Investigation said Monday, just hours after they were first instructed to investigate the sudden influx of reports.
Speaking in an interview with dzMM Teleradyo, NBI Cybercrime Division chief Victor Lorenzo on Monday morning pointed out that a glitch was in the realm of possibility because Facebook's protocols prohibit the mass creation of accounts within a short period of time.
"What we're looking at right now is that in all probability, this was just a glitch, because it's very hard to create an account on Facebook these days, especially if you're creating multiple accounts under one ID, one cellphone number, one location," he said in Filipino.
"It's just a machine anyway. It's not impossible that a glitch can happen. We still have questions on the technical side," he added.
Lorenzo went as far as saying that the glitch could somehow be a result of social unrest from Black Lives Matter protests in the United States.
This pronouncement comes less than 24 hours after the Department of Justice Office of Cybercrime was directed to coordinate with the bureau's cybercrime unit. No updates on the investigative proceedings were disclosed before Lorenzo's statement, and it is not clear how he arrived at that conclusion.
As of this writing, Facebook has not released its position on the matter yet, though it has told the public that it had begun investigating. Facebook has also urged the public to continue reporting alleged duplicates.
At least three reporters of Philstar.com have found duplicate accounts of themselves on Facebook as well.
Theories on cloning gone political
Whether technical malfunctioning figured in the sudden influx of accounts or not, a clear pattern has taken shape since they first emerged: Many of those who reported having clones were critical of the government on the social networking platform.
It was first activists who were arrested at the peaceful protest held at the Cebu campus of the University of the Philippines who reported being "duplicated," though reports of similar have soon included non-student activists in Manila.
To recall, the NBI earlier arrested Ronnel Mas, a public school teacher in Zambales who posted a reward on Facebook to kill President Rodrigo Duterte.
Users on social media have linked the accounts to pro-administration troll farms after reporting that some of the purported duplicate accounts went as far as sending death threats to their namesakes.
Militant groups have cast fear that the proliferating accounts were a form of harassment targeted at dissenters critical of the anti-terrorism bill. Sen. Francis Pangilinan has also said that: "Students are worried that these accounts may be used to plant bogus evidence that would implicate them in crimes outlined in the anti-terror bill."
For his part, House deputy minority leader Carlos Zarate (Bayan Muna Party-list) said: "Even activists with no FB accounts now have 5 or more poser accounts. Are troll farms now harvesting names on online petitions so that their bots would not be detected and then use these fake accounts to spread fake news and get the real name owner into trouble?"
"This is online tanim-ebidensiya (planting of evidence) and identity theft if this persists. If the proposed terror bill is enacted into law, real name owners of these fake accounts can be easily sent to jail for being framed by such means," Zarate added.
The Kilusang Magbubukid ng Pilipinas in its own statement also said that "only well-oiled machinery with so much resources like the (National Task Force to End Local Communist Armed Conflict) and the AFP Cyber group are capable of carrying out such malicious actions directed at ordinary citizens, activists, journalists."
Though he did not corroborate the assertion, the NTF-ELCAC, an attached agency under the Office of the President, has been caught on more than one occasion peddling disinformation against journalists and activists critical of the administration.
Other agencies
In separate statements issued Sunday evening, both the Department of Information and Communications Technology and the National Privacy Commission said that both agencies were investigating the matter and urged the public to continue reporting suspect fakes.
Like Facebook, no updates were given on their respective courses of action moving forward.
"The DICT does not condone these acts and is strongly against these abuses on social media and other online platforms," the department said.
The Philippine National Police, whom Justice Secretary Menardo Guevarra said the DOJ's cybercrime office has been instructed to coordinate with, continues to dodge requests for comment as of this publishing.
In his latest press statement, Police Gen. Archie Gamboa, PNP chief, said: "During the ECQ period, we observed receding patterns of traditional crime trends that saw the crime volume dipping to unprecedented levels. But what is more encouraging is the continued slump in crime trends through the opening days of the MGCQ/GCQ under the new normal."
According to Lorenzo, the NBI is looking into whether the accounts were created deliberately and if they mainly targeted students.
Facebook, in its latest communication, told Philstar.com in an email Monday that there is "nothing further to share at this time." — with reports from Kristine Joy Patag and Prinz Magtulis