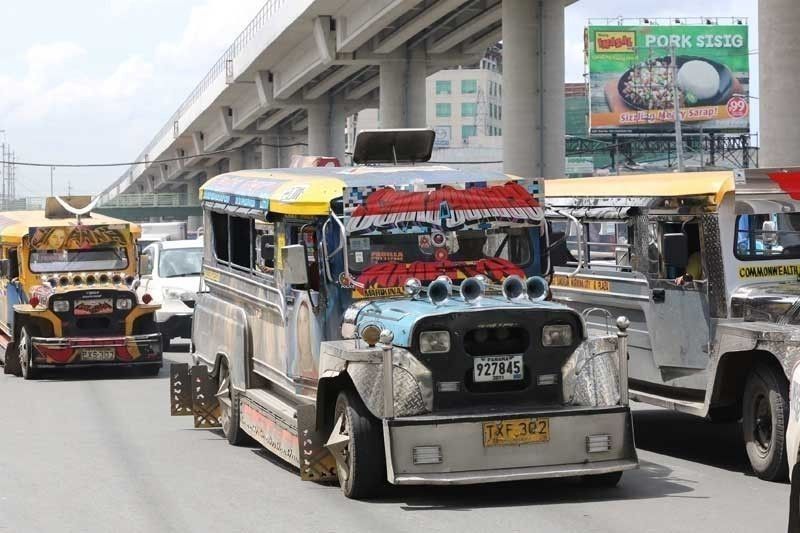 Jeepney operators and drivers will have to face the reality that their days are numbered with the looming phaseout of old jeepneys, a transport official said on Monday night.
STAR/ File
Traditional jeepney phaseout to proceed
MANILA, Philippines — With still no clear timeline as to when they can resume operations amid the coronavirus disease 2019 (COVID-19) pandemic, the Philippines' traditional jeepneys, dubbed "king of the road," may no longer be plying major thoroughfares in Metro Manila.
Jeepney operators and drivers will have to face the reality that their days are numbered with the looming phaseout of old jeepneys, a transport official said on Monday night.
In an interview with "The Chiefs" on One News, Alberto Suansing, senior consultant for the Department of Transportation (DOTr), said the phaseout of old jeepneys would push through this year.
"It's true that there is a plan to phase out traditional jeepneys and they knew it will come because since 2017 we have been talking with the jeepney operators and their leaders," Suansing said.
He said jeepney operators had all the time since 2017 to comply with the government's public utility vehicle (PUV) modernization program.
"Before the COVID-19 situation, they were given until June 30 to consolidate their franchises and start forming a legal entity like a cooperative. The LTFRB will issue one franchise for them. We told them if they can't consolidate their franchise, then they lose the chance of being given another franchise to operate in that route," Suansing said.
Suansing, however, said old jeepneys would still have the chance to operate this year as the deadline for them to consolidate has been extended until December.
He said there are more than 2,000 modernized jeepneys in Metro Manila.
Jeepneys were not allowed to operate in Metro Manila after all forms of public transportation were suspended last March due to the enhanced community quarantine.
Under the DOTr's two-phased approach for the resumption of public transportation in Metro Manila, jeepneys would only be allowed to operate starting June 22, but only if higher capacity vehicles would not be enough.
Even by then, modern jeepneys will be prioritized over the old jeepneys, according to transport officials.
Suansing said the June 22 schedule is not set in stone as the DOTr may allow vehicles that are only allowed to operate under phase two such as public utility buses, modern PUVs and UV Express to operate earlier if the need arises.
"We will do certain adjustments. One of the considerations is to implement phase two at an earlier period," he said.
The situation in terms of stranded commuters improved yesterday compared to Monday as the government fielded more buses, DOTr Assistant Secretary Goddess Libiran said.
Libiran said said the agency opened two city bus routes: Angat-Quezon Avenue and Dasmariñas-PITX.
"We also coordinated with other government agencies for the provision of free rides. Bus augmentation services were put in place along railway lines and more P2P buses were allowed to operate," she said.
Transport strike
Six members of the militant transport group PISTON were taken into police custody after holding a protest action along EDSA in Caloocan yesterday.
At least 30 jeepney drivers held a rally in Monumento, demanding aid while jeepneys are not allowed to operate under quarantine restrictions.
PISTON deputy secretary general Ruben Baylon, who was among those arrested, said they were only invited by the police for questioning, but were charged for disobedience and social distancing violations. Mass gatherings are banned during quarantine.
George San Mateo, the group's national president, said they would prepare a legal defense for the drivers who were nabbed.
"They were arrested while airing their grievances. The police should be sensitive enough to understand that these drivers, who are jobless for three months already, have legitimate demands," San Mateo said. Marc Jayson Cayabyab