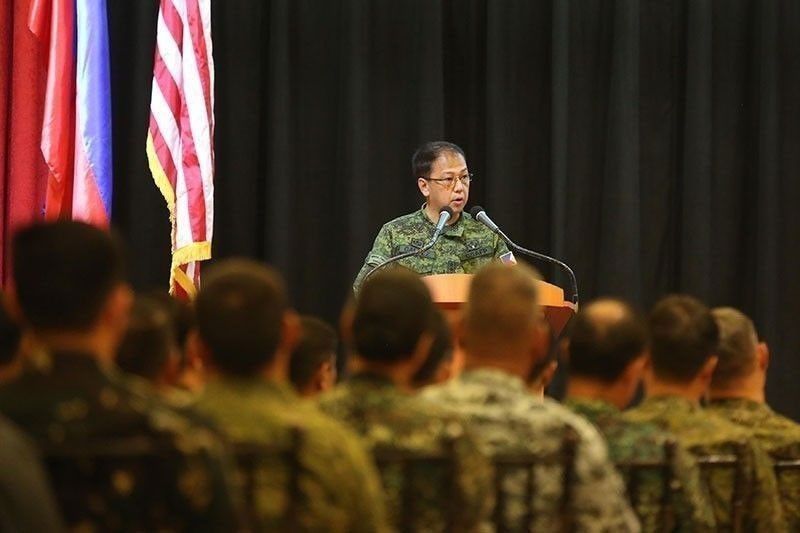 "We have what we call rapid response, wherein we can place a building under lockdown, or maybe one block or two barangays," task force chief implementer Carlito Galvez Jr. said at a briefing.
STAR/Boy Santos/File
Buildings with 2 or more COVID cases face lockdown
MANILA, Philippines — Buildings that have at least two occupants with coronavirus disease 2019 (COVID-19) will be placed under lockdown.
This was according to the National Task Force against COVID-19, which stressed that the same approach – called localized lockdown – would be resorted to barangays and subdivisions where two or more residents would be found positive for the disease.
"We have what we call rapid response, wherein we can place a building under lockdown, or maybe one block or two barangays," task force chief implementer Carlito Galvez Jr. said at a briefing.
Such buildings or barangays would be covered by regulations for enhanced community quarantine (ECQ). Metro Manila began its transition to a less-restrictive general community quarantine (GCQ) on Monday.
Galvez said the government is not letting its guard down despite the easing of quarantine restrictions in most parts of the country, including Metro Manila.
He said localized lockdown would sustain or protect gains achieved during the ECQ.
Under GCQ, some modes of public transportation have been allowed to operate to enable employees to report for work.
"The opening of businesses in GCQ will also put some breathing space to have economic activity, considering that millions of our workers are being affected by the lockdown. Then we will localize the lockdown in barangays. We have what we call segmented and surgical and we could prevent widespread transmission," Galvez said.
"We are protecting our people to prevent a second wave. That's why we also develop our testing capacity in Metro Manila. We already have 25 testing centers in Metro Manila," he added.
Galvez said the government expects to further increase its testing capacity by the end of the month, particularly in the National Capital Region (NCR).
"We will have higher testing capacity before the end of June. NCR has regular testing and we gave the local government units (LGUs) with quota. We are using our mega swabbing areas in Metro Manila," Galvez said.
"Except for some minor logistical concerns which are now being addressed, the government is well underway in achieving its target of conducting at least 30,000 tests a day," he pointed out.
Galvez earlier visited some malls in Metro Manila to gauge their management's capability to handle the influx of mall-goers.
"We are happy that the LGUs and the business sector have higher awareness and are even stricter in implementing protocols. We are working together to prevent the spread of COVID-19," he said.
The Philippine National Police (PNP) announced meanwhile that it will no longer require travel authority for trips within Metro Manila or within provinces under GCQ or modified GCQ.
"Since we are now implementing general community quarantine and modified GCQ and also indispensable travels are similar to the case of the LSIs (locally stranded individuals), then travels within National Capital Region and within the province shall be permitted without the travel authority," PNP deputy chief for operations Lt. Gen. Guillermo Eleazar said in a statement.
He said only people from the provinces returning to Metro Manila and vice versa are still required to secure travel authority. To expedite the process, local police commanders have been tasked to issue such document.
"For those whose travel is outside Metro Manila, the issuance of the travel authority is delegated to the directors," he said.
For trips to another province within the same region, travel pass would be issued by chiefs of police.
Members of the Inter Agency Task Force on Emerging Infectious Diseases (IATF) are set to meet with President Duterte tomorrow in Davao City. The President is expected to address the nation later in the day. The President arrived in Davao City via private jet Friday night.
"Now that he's in Mindanao, he's not only there for a reunion [with his family]. He will also check on Mindanao's situation," presidential spokesman Harry Roque Jr. said.
"The President will hold official functions in Davao City. This includes his report to the nation and his meeting with some IATF members in Davao City," he said. Edith Regalado, Emmanuel Tupas