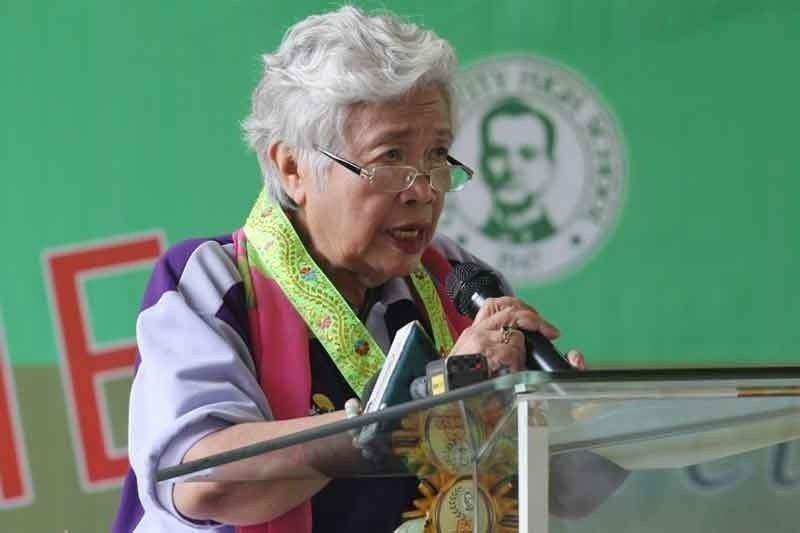 Education Secretary Leonor Briones said the number of parents and learners that had contacted or communicated with their class advisers via mobile communications, text and voice calls, as well as social media messaging was high, indicating massive support among parents and their learner-children.
The STAR/Michael Varcas, File
Remote enrollment off to good start — DepEd
MANILA, Philippines — Education Secretary Leonor Briones declared that remote enrollment for school year 2020-2021 for public school children an effort to prevent crowds from going to public schools was successful on its first day yesterday.
Briones said the number of parents and learners that had contacted or communicated with their class advisers via mobile communications, text and voice calls, as well as social media messaging was high, indicating massive support among parents and their learner-children.
"Congratulations to all," Briones said in Filipino in an online press conference.
The number of parents and their children that coordinated through phone, text and messaging apps, she said, showed the support for the remote enrollment as well as for DepEd's efforts at reopening school by August.
"This shows that the central value – the most important value to us Filipinos – is the value for education. We hold it highest in priority," Briones said in a mix of Filipino and English.
Anne Sevilla, education undersecretary for finance, said that for the remote enrollment, they made sure that the DepEd workforce had funds for communications.
She said that DepEd will issue the cash allowance of P3,500 for teachers this June, which she said they can tap for their communications expenses.
Jesus Lorenzo Mateo, DepEd undersecretary for planning, human resource and organizational development, and field operations, as well as chairman of Oplan Balik Eskwela (OBE), said the remote enrollment was critical considering the concerns on mass gatherings or congregations due to the coronavirus disease 2019 (COVID-19).
"Last year the enrollment was 27 million, but given the current conditions and concerns of some parents, this might change. We hope that with the combined efforts of stakeholders and partners, we can bring them all to continue their education," Mateo said.
Clean, beautify, disinfect
DepEd officially launched the "virtual" National Schools Maintenance Week, better known as Brigada Eskwela (BE), along with its OBE program to assist schools and stakeholders around the country in preparation for school year 2020-2021.
Briones said that the OBE and BE programs have been reconfigured to be virtual as the DepEd continues to comply with movement restrictions and directives at maintaining strict physical distancing throughout the country.
"The purpose of the reconfigured Brigada is to continue the spirit of Bayanihan in the context of COVID-19," said Mateo.
Mateo said that the actual BE goal of cleaning and sprucing up, as well as disinfecting public schools will take place when restrictions on social or mass gatherings are eased or lifted. The program will, in the meantime, prioritize preparations and strengthening partnership engagement to ensure that quality basic education will continue despite the challenges posed by COVID-19.
Stakeholders can support the initiative by donating thermal scanners; hand sanitizing equipment or materials; and printing of COVID-19 and sanitation/proper hand washing hygiene information materials to aid BE and OBE in introducing protection and health protocols to learners and teachers.
For questions, the public may call DepEd at (02) 8636-1663; (02) 8633-1942; 0919-456-0027; 0995-921-8461; or email action@deped.gov.ph; or visit www.deped.gov.ph/obe-be.
House OKs Rody's say on school opening
Amid uncertainties and confusion, two committees of the House of Representatives have approved a measure that will allow President Duterte to set the date of the reopening of classes beyond the Aug. 24 initial schedule of DepEd.
The House committees on basic education and culture, along with that of higher education, gave approval to a substitute bill after adopting the version the Senate approved on second reading last week.
Rep. Roman Romulo of Pasig City heads the House committee on basic education while Baguio City Rep. Mark Go heads that of higher education.
The bill allows the Chief Executive to set the date during a state of calamity or state of emergency, especially during this time of pandemic.
The measure seeks to amend Republic Act 7797 (An Act to Lengthen the School Calendar from 200 days to not more than 220 class days) which provides that the school year may open as early as the first Monday of June but not later than the last day of August.
Under Senate Bill 1541, the new school year opening will be based on the recommendation of the DepEd secretary. The measure covers all basic education schools, including foreign or international schools.
Senate also gives thumbs up
The Senate approved on third and final reading a bill that also gives the President the authority to postpone the opening of classes beyond August.
With 23 affirmative votes, no negative vote and abstention, Senate President Vicente Sotto III said the chamber approved Senate Bill No. 1541, a measure amending Section 3 of RA 7797.
Sen. Win Gatchalian, co-author and sponsor of Senate Bill No. 1541, thanked his colleagues for recognizing the urgency of the proposed measure and giving their approval before the sine die adjournment.
Lower tuition
Meanwhile, Davao del Norte Rep. Pantaleon Alvarez urged DepEd and private schools to lower their tuition considering the implementation of the Blended Learning Program.
"With school classes set to resume in August, the DepEd confirmed that no face to face classes will be held. Rather, the curriculum shall be converted into a distance/blended learning program using online modular learning materials. This is a good move which, although it does not solve all the problems, is nonetheless a welcome step towards the right direction," Alvarez said in a statement yesterday.
Alvarez said the shift to an online platform will, by necessity, also reduce the operating costs of schools. For example, power, water, internet and other operating costs will decrease.
And this in mind, it is respectfully recommended that schools reduce their tuition and other fees, Alvarez added. Delon Porcalla, Cecille Suerte Felipe, Edith Regalado