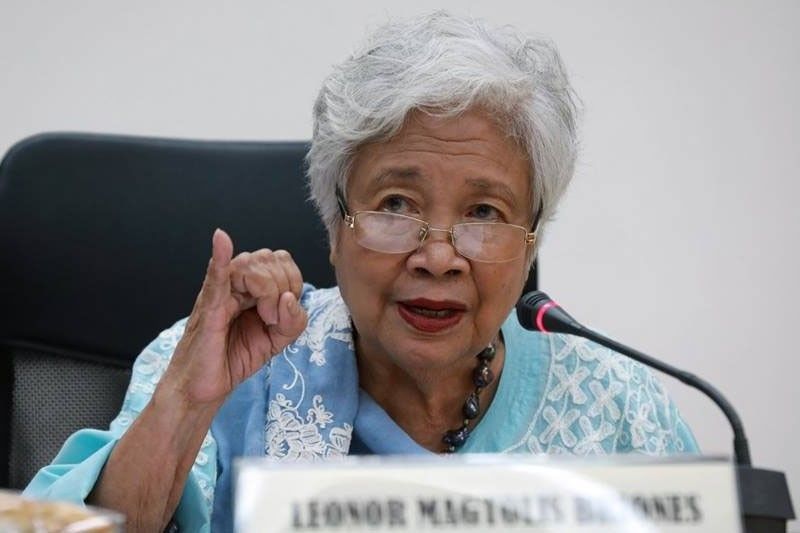 Education Secretary Leonor Briones assured Duterte during the Inter-Agency Task Force on Emerging Infectious Diseases (IATF) meeting on Thursday that all health protocols would be observed when the new strategy for education is implemented.
DEPED FB Page
Duterte OKs alternative learning strategy
MANILA, Philippines — After saying he would not allow students to go to school if a vaccine for coronavirus disease 2019 (COVID-19) is not yet available, President Duterte has given his nod to the resumption of classes via alternative means of learning by August.
Education Secretary Leonor Briones assured Duterte during the Inter-Agency Task Force on Emerging Infectious Diseases (IATF) meeting on Thursday that all health protocols would be observed when the new strategy for education is implemented.
"I'm impressed with the simplicity of the program, ma'am. And I believe that all that you have said is really feasible. Radio kung walang (if there is no) television and all of these things," Duterte said.
Believing that the program is "very workable," the Chief Executive told Briones that he supports the resumption of classes provided there is limited physical interaction or none at all.
Briones stressed that DepEd could provide learning opportunities to students via a "blended and distant learning" program that does not necessarily require physical school attendance.
This program includes online education as well as the use of TV and radio for far-flung areas. Learning modalities could also be distributed to homes with the help of the barangays and local government units.
For the online learning platform, Briones said the DepEd Commons – which now has over seven million subscribers – is ready. It contains the lessons, homework, quizzes as well as tips to learners and teachers and is accessible to parents.
In a way, she also allayed the fears of parents of having to send their children to school, saying there will be no face-to-face class instructions until a vaccine is available or when it is already safe to do so.
"It is the first and the most important principle when we worked out our learning community plan with all the details. We stated this also: the first and foremost concern is the health and safety of all learners and our teachers," Briones said.
She also pointed out during the meeting that distance learning is not something new.
"We have many universities and schools which offer distant learning in many ways. We now call it blended learning because various approaches which are adjusted to the actual situation of the communities will be applied," she added.
After giving the gosignal, the President urged schools to allow parents to pay tuition on installment. The Social Security System (SSS) and Government Service Insurance System (GSIS) are also considering offering educational loans to its members.
No physical enrollment
Education Undersecretary Nepomuceno Malaluan said there is no need for parents to go to schools to enroll their children, noting that it would be the teachers' task to reach out to students.
"No child or parent should go out on June 1 to enlist a student in the upcoming school year," Malaluan said in Filipino in an interview with The Chiefs aired on One News/TV5 on Thursday night.
"If they are enrolled in the previous school year, what they should do is to wait for their previous advisers to contact them… to confirm if they would enroll in the coming school year," he added.
If a student intends to enroll in the upcoming school year, the advisers would ask the parent or guardian to answer an enrollment and survey form through phone call, text messaging or an online-based platform such as social media or messaging application.
Malaluan said the conduct of physical enrollment should only be the last resort, citing their guidelines mandating that no face-to-face enrollment shall be conducted in the first two weeks of June.
"We'll see what the results are and we will make the necessary adjustments along the way," he said. "This will be one of the first litmus tests of the learning continuity plan of the Department of Education."
Incoming kindergarten students, transferees, returnees should communicate their intent to enroll directly to the schools.
Malaluan urged parents and guardians of such prospective students to wait for the contact details of schools, which would be released during the enrollment period.
In the event that parents or guardians are not able to submit enrollment data through the established remote platforms, schools may set up physical platforms such as kiosks or booths in coordination with the local government unit as a last resort.
"This shall be done in strict compliance with the minimum health and safety standards," read the guidelines.
DepEd said physical submission of enrollment data should be done only in the third week of the enrollment period.
In the advisory it released yesterday, DepEd also said all public school teachers should work from home from June 1 to 5 except those authorized to be part of the skeleton workforce of their respective schools.
To help schools and teachers transition to the blended learning modalities that would be adopted next school year, Education Undersecretary for finance Annalyn Sevilla said they would issue guidelines on the use of cash allowances and operating expenses.
She said DepEd would release the P3,500 cash allowance for teachers next month, which they can use for expenses related to their functions and responsibilities.
Meanwhile, San Jose Nueva Ecija Bishop Roberto Mallari, chairman of the Catholic Bishops' Conference of the Philippines-Episcopal Commission on Catechesis and Catholic Education, reminded DepEd that the intention of online classes should not leave out students in far-flung areas.
Advocacy group Salinlahi Alliance for Children's Concerns also urged DepEd to issue clear and concrete guidelines for the blended education program.
The Alliance of Concerned Teachers (ACT) launched a hotline where teachers can easily raise their concerns during the program implementation.
Sen. Imee Marcos, for her part, warned that the prices of laptops, personal computers, smartphones, pocket WiFi and other equipment might spike as schools and universities start to shift to online education. Janvic Mateo, Mary Grace Padin, Robertzon Ramirez, Rhodina Villanueva, Helen Flores, Edu Punay, Paolo Romero
Related video: