2-phase resumption of public transport bared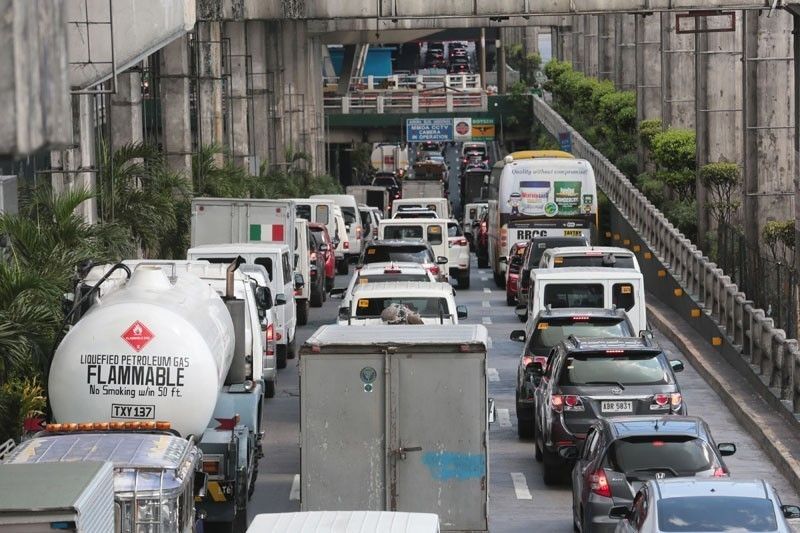 MANILA, Philippines — Resumption of public land transport in areas under general community quarantine (GCQ) starting Monday – including Metro Manila – will be done in two phases.
Based on updated guidelines and protocols released by the Department of Transportation (DOTr), trains, taxis, transport network vehicle service, shuttle services, point-to-point buses and bicycles will be allowed to operate with limited passenger capacity under phase one from June 1 to 21.
Tricycles will also be allowed, subject to the approval of local government units.
No provincial buses would be allowed to enter Metro Manila during phase one, the DOTr said.
Under phase two from June 22 to 30, public utility buses, modern PUVs and UV Express will be allowed to operate with limited passenger capacity.
"While the mandate of the Department of Transportation is to provide transportation, mobility and convenience among the population, we are vested with the responsibility that we must help in preventing the spread of COVID-19," Transportation Secretary Arthur Tugade said in his report to President Duterte Thursday night.
"The approach of DOTr is partial, gradual and calculated and, more importantly, by phases," he said.
"Let us not expect train operations to be 100 percent. As I said, we have to balance our mandate to provide transportation with our responsibility to help (contain) the spread of the virus," Tugade said.
"Therefore, the capacity will also be limited, gradual and calculated. It will be an average of 10 to 12 percent on LRT at MRT while the PNR (Philippine National Railways) will operate on 35 percent capacity," he added.
Duterte described Tugade's presentation as "terrific."
Asked about the fate of jeepneys, DOTr Assistant Secretary Goddess Libiran said "we will observe the hierarchy of transport." Under such "hierarchy," high capacity units like trains and buses are on top, she said.
"As mentioned before, if the number of buses and modern PUVs would not be enough, that's the time they will be allowed to operate. The priority is those on top of the hierarchy – trains, buses, modern PUVs," she pointed out.
"As IATF mentioned, companies should provide shuttle services to their employees. LGUs may also help provide vehicles for their constituents," Libiran said.
The DOTr said a one-meter social distancing rule would be strictly enforced inside all PUVs. Furthermore, automatic fare collection system for cashless payment transactions as well as electronic toll collection would also be implemented for road-based transport to minimize physical contact or face-to-face interaction.
Dedicated lanes for buses and bikes would be set along EDSA. Pedestrian crossing and bus boarding areas at strategic places would be put up on EDSA, Metro Manila's principal thoroughfare.
International gateways
As Metro Manila gradually moves toward less strict GCQ, Tugade has revealed plans to designate as international gateways the airports in Clark, Cebu and Davao to decongest the Ninoy Aquino International Airport (NAIA).
Tugade also batted for gradual opening of airports as the DOTr has taken steps to check the spread of the coronavirus disease 2019 (COVID-19).
Tugade said the department wants quarantine facilities and treatment centers to be strategically located near the airports, as part of the so-called new normal.
In transitioning from modified enhanced community quarantine (MECQ) to GCQ, Tugade said the plan is to decongest the NAIA terminals 1, 2, 3 and 4.
"What we will do, once we transition from MECQ to GCQ, is to expand the international aviation gateways to include Clark, Cebu and Davao," he said.
During the transition, Tugade said more international gateways would likely be opened, specifically in Zamboanga, Iloilo, Bacolod and Bohol.
"This is one way of decongesting what is happening right now at NAIA Terminal 1, 2, 3 and 4 and putting it in the provinces and regions," he said.
He cited the need for the government to spread "the aviation centrum of operations to other parts of the country, other parts of the region" to ensure smoother implementation of COVID-19 measures, especially on arriving passengers.
Tugade also said domestic flights between GCQ areas would eventually be allowed.
Test centers should be set up at airports, Tugade said, adding that laboratories in Cebu and Clark were nearing completion.
The DOTr is coordinating with the Department of Health (DOH) and the Philippine Red Cross for the accreditation of test laboratories.
"While we put up the testing laboratories, there are already accredited hospitals which can do the testing in Clark and in Cebu. These international gateways can be used as we wait for the accreditation from Red Cross or the DOH," he said.
Despite the easing of quarantine restrictions, Filipino nationals are still prohibited from leaving the country based on guidelines of the Inter-Agency Task Force on Emerging Infectious Disease (IATF), according to immigration chief Jaime Morente.
Under IATF guidelines, only foreigners, overseas Filipino workers (OFWs) and Filipino permanent residents or holders of student visas in their countries of destination are allowed to leave.
Allowed to enter the country are OFWs, Filipino citizens and their spouses and dependents, permanent residents and foreign diplomats.
"Nonetheless, we assure the public that we are always ready to resume full, normal operations in our international airports once the government decides to ease or lift these travel restrictions," Morente said.
BI acting port operations chief Grifton Medina said the NAIA is currently serving an average of 20 to 30 flights daily, one third of which are special flights that ferry medical supplies and other kinds of cargo into the country.
Medina added that most inbound international flights are those carrying repatriated OFWs and chartered sweeper flights that bring foreigners stranded in the Philippines back to their homelands.
The Manila International Airport Authority (MIAA) is keeping its facilities and equipment ready for full operations.
Manila International Airport Authority (MIAA) general manager Ed Monreal said NAIA terminal facilities – including chairs, electronic gadgets, counters, tables and toilets – are thoroughly sanitized every two hours to protect airport users and employees from viruses.
"We could say that we are ready for the reopening of domestic and international flights for the new normal as we observe social distancing and sanitizers are everywhere, including footbath," Monreal said.
Finalizing schedules
Flag carrier Philippine Airlines (PAL) and budget airlines Cebu Pacific and AirAsia Philippines said they are finalizing flight schedules in coordination with authorities.
PAL "welcomes the opportunity to resume regular commercial operations," said spokesperson Cielo Villaluna.
"As soon as these are finalized, we shall inform the public of the flights and routes we shall operate," she said.
She maintained PAL aircraft undergo "intensive disinfection" before and after every flight as part of measures to check the spread of COVID-19 and other diseases.
"We have High Efficiency Particulate Air (HEPA) filters in all our aircraft. Our crew are each provided their own PPE," she said.
"We are currently checking with aviation authorities and respective LGUs for their own guidelines regarding the opening of local airports, as some may still be closed in June," AirAsia head of communications David de Castro said.
"New set of measures includes contactless boarding procedures, disinfection of all aircraft and facilities and the use of HEPA filters inside AirAsia aircraft," he said.
Cebu Pacific spokesperson Charo Logarta-Lagamon said passengers would as much as possible be seated apart.
"Those traveling together like families will be seated together," she said. "We need to strike a balance between the economic viability of the flight. There are other measures we are implementing to mitigate risks," she added.
Airlines globally have opposed proposed measures to leave middle seats empty, saying that doing so is not necessary due to layers of biosecurity measures in place, and that it would only increase ticket prices.
Meanwhile, Public Works Secretary Mark Villar said work on infrastructure projects under the government's Build, Build, Build program in various parts of the country has resumed.
"The resumption of civil works, although challenging, will be beneficial to our stakeholders, both motorists and pedestrians, as we cope with the new normal," Villar said.
He said resuming key infrastructure projects "is vital in keeping up with economic growth, target completion dates and in minimizing additional cost due to delays." Christina Mendez, Rudy Santos, Robertzon Ramirez, Paolo Romero
Related video: