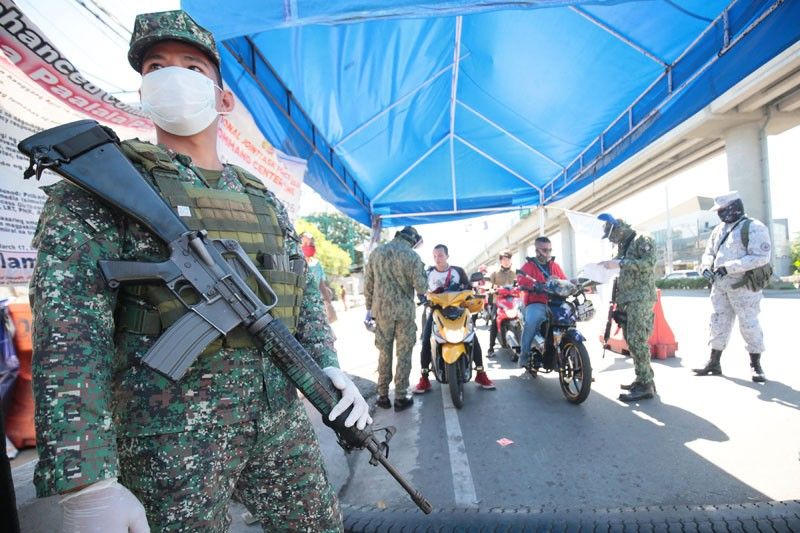 In Resolution No. 37 dated May 15, the Inter-Agency Task Force for the Management of Emerging Infectious Diseases (IATF) placed Cebu City under enhanced community quarantine (ECQ) until May 31, removing it from the less restrictive "modified" ECQ (MECQ) status that it originally shared with Metro Manila and Laguna.
Michael Varcas
Cebu, Mandaue still under ECQ
Several Luzon areas join MM on modified ECQ list
MANILA, Philippines — Cebu City and the nearby Mandaue City will remain under strictest quarantine since the number of cases of coronavirus disease 2019 (COVID-19) remains high, even as restrictions in business and travel in many parts of the country begin to ease.
In Resolution No. 37 dated May 15, the Inter-Agency Task Force for the Management of Emerging Infectious Diseases (IATF) placed Cebu City under enhanced community quarantine (ECQ) until May 31, removing it from the less restrictive "modified" ECQ (MECQ) status that it originally shared with Metro Manila and Laguna.
Mandaue City was originally under general community quarantine (GCQ), based on an earlier IATF resolution.
"All executive orders pertaining to the ECQ in Mandaue City shall remain in full force and effect," Mayor Jonas Cortes posted on the city's Facebook page. He said his constituents will continue to receive stay-at-home kits.
The IATF, in its resolution, expanded the list of areas under MECQ or "transitioning high-risk provinces" to include Bataan, Bulacan, Nueva Ecija, Pampanga, Zambales and Angeles City.
The rest of the country will be under GCQ, said Health Sec. Francisco Duque III and Cabinet Sec. Karlo Alexei Nograles, IATF chairman and co-chairman, respectively.
Presidential spokesman Harry Roque Jr. made it clear there are no areas in the Philippines classified under MGCQ and the new normal categories.
Roque said the government would be distributing the second tranche of cash subsidy under the Social Amelioration Program to qualified individuals in MECQ areas, after the release of regulations by the Office of the Executive Secretary.
At their meeting last Friday, the IATF also approved amended omnibus guidelines for the implementation of community quarantine in the Philippines.
The decision on quarantine classification was based on the "validation by the IATF sub-technical working group on data analytics, which updated case numbers and health systems," and upon the request of the concerned local government units.
The task force defined the MECQ as the transition phase between ECQ and GCQ. Under MECQ, stringent limiting of movement and transportation of people, strict regulation of operating industries, provision of food and essential services and heightened presence of uniformed personnel to enforce community quarantine protocols become less necessary.
MGCQ refers to the transition phase between GCQ and "new normal," or when rules are relaxed on movement of people and transportation, regulation of operating industries and the presence of uniformed personnel to enforce the community quarantine protocols.
"New normal" refers to emerging behaviors, situations and minimum public health standards that will be institutionalized while the disease is not totally eradicated through means such as widespread immunization.
Under MECQ, the IATF said work in all government offices shall operate with a skeleton force and with the rest under alternative work arrangements as deemed proper by agencies. Concerned agencies shall abide by the rules laid down by the Civil Service Commission.
Diplomatic missions and international organizations shall be advised to operate under a skeletal workforce, without prejudice to alternative work arrangements that missions may deem proper.
Under the MECQ, the task force also ruled that any person below 21 years old and those who are above 60 years old, pregnant women and those with immunodeficiency, comorbities or other health risks are advised to stay at home at all times. Exemptions are provided to those obtaining essential goods and services and for work-related activities in industries allowed and identified by the IATF.
Roque said unauthorized public gatherings and non-work essential or entertainment-related congregations such as movie screenings, concerts and sporting events will remain prohibited under MECQ. Religious gatherings are highly restricted and shall be limited to not more than five persons.
Residential or face-to-face classes at all levels shall be suspended for the duration of the MECQ.
The IATF also ruled that operations of public transportation are suspended, except for commissioned shuttle services for employees for permitted offices and establishments and point-to-point transport services provided by the government.
Priority is also given to transportation servicing healthcare workers.
Private transportation including company shuttles and personal vehicles used by authorized persons are allowed subject to guidelines of the Department of Transportation.
The use of bikes and other non-motorized transportation is strongly encouraged.
The government said operations remain suspended in entertainment industries such as cinemas, theaters and karaoke bars; tourist destinations such as water parks, reservation service and related services; kid amusement industries such as playroom and kiddy rides; libraries, archives, museums and cultural centers; gyms, fitness studios and sports facilities and personal care services such as massage parlors, sauna, facial care and waxing.
Meanwhile, COVID-19 response deputy chief implementer Vince Dizon said monitoring or enforcing compliance with quarantine restrictions remains a big challenge to government.
"The private sector should have their own monitoring and enforcement of safety guidelines that we also have to impose even during the modified ECQ," Dizon told The Chiefs on One News TV.
"Under a modified ECQ, technically all of us should stay in the house. Few have been relaxed, especially in the business and different sectors of the economy. We should gradually re-start. I think that is really the main purpose of a slow shift from ECQ to modified ECQ and MECQ to general community quarantine," Dizon said.
"The whole country must set up the badly needed infrastructure. What we are building up are testing places, it is actually infrastructure. We need to finish our capacity to trace, test and treat to ensure that we are protected from possible surges of incidence of COVID-19," Dizon said. Jose Rodel Clapano