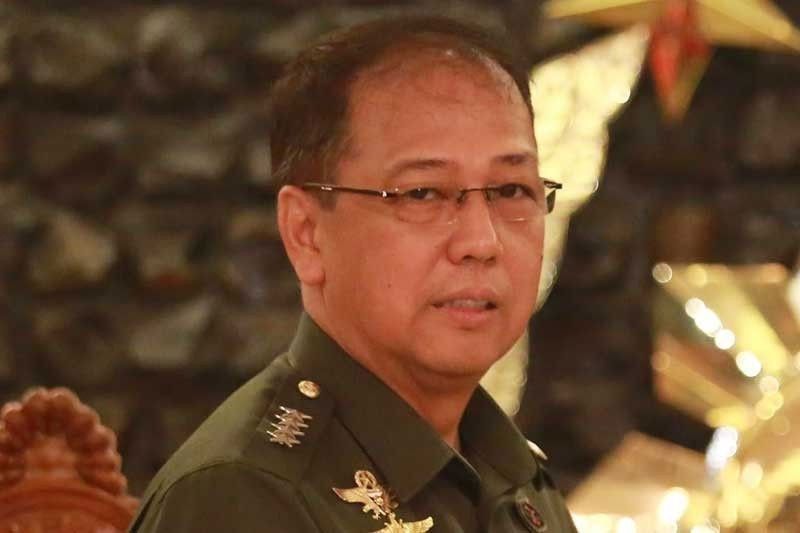 "Out of this number, 3,660 have tested positive for the disease. As you can see, only 18 percent tested positive. This is a good sign because it showed that only few are positive. But we should not let our guard down," he said.
Michael Varcas/File
'Recent cases show government winning fight vs COVID'
MANILA, Philippines — Recent cases of the coronovirus disease 2019 in the country show signs that the government is winning the fight against the disease, according to the chief implementer of the National Task Force against COVID-19's National Action Plan, Carlito Galvez Jr.
Citing Department of Health (DOH) data, Galvez said on Monday night that 20,092 people have undergone COVID-19 testing.
"Out of this number, 3,660 have tested positive for the disease. As you can see, only 18 percent tested positive. This is a good sign because it showed that only few are positive. But we should not let our guard down," he said.
Galvez, who is also presidential adviser on the peace process, said the extension of the Luzon-wide enhanced community quarantine is a big help in preventing the further spread of COVID-19.
"But (the decrease in the number of COVID-positive cases) is not enough to say that we are now safe. That is why I am asking our countrymen to continue staying at home. Wear face masks if you have to leave your houses to buy food and other necessities," Galvez said.
Four in every five confirmed cases of COVID-19 in the country come from the National Capital Region (NCR), Health Secretary Francisco Duque III reported yesterday.
At a press briefing, Duque noted that around 80 percent of the 3,764 cases documented by the DOH are located in NCR.
"Majority of the cases are in NCR because of the heavy volume of (international) flights arriving in the region. It is where we recorded our first cases," he said.
Duque added that there are only a few cases in the Visayas and Mindanao and this is primarily due to the "local transmission coming from the NCR."
Outside of Luzon, Davao region and Central Visayas have the most cases at 79 and 39, respectively.
DOH data showed that as of Tuesday, 177 have died of the disease while 84 have recovered.
Duque appealed for public adherence and cooperation after the enhanced community quarantine in Luzon was extended up to April 30. The lockdown was supposed to end midnight of April 12.
"It will be a big help if you will continue to cooperate and understand these actions. You are our first line of defense. If the fight against COVID-19 will start in your households, there is a big chance that we will defeat our enemy soon," he said.
The health chief has reiterated calls for the public to practice social distancing, especially if a member of the family is at risk, like the elderly and those with pre-existing conditions; wash hands regularly; observe proper cough etiquette and build immunity.
"Remember, COVID-19 should stop at your doorstep. Our home is our frontline," he said.
Duque also announced the launch of telemedicine consultations in NCR as hospitals and other healthcare facilities are congested due to the COVID-19 crisis.
He said trained and certified health professionals would provide consultation services to patients who may need medical advice on COVID-19 matters and other types of primary care.
The DOH has partnered with Telimed Management Inc. and Medgate to undertake the program.
Residents in NCR may call 24/7 telemedicine hotline at 8424-1724; DOH COVID-19 hotline at 8942-6843; Global Telehealth Inc. (KonsultaMD) at 7798-8000 and NCMH Crisis hotline at 0917-8998727 and 989-8727 for mental health concerns.
Duque said they expect the program to ease the congestion in hospital facilities as the system allows the delivery of remote healthcare service to patients even if they are in their homes or workplaces.
'.5 M infections in MM'
Unless strong interventions are put in place, up to half a million people may be infected by COVID-19 in Metro Manila alone, projections released by a team of experts from the University of the Philippines showed.
The UP COVID-19 Pandemic Response Team, composed of experts from various fields, estimated a "peak by end of April to June with approximately 140,000 to 550,000 people infected in Metro Manila."
The team said a significant portion of those infected would not be detected unless they are tested.
It added that the estimates can guide testing capacity and hospital requirements for the succeeding months, citing data showing that five percent of those infected turn out to be severe cases.
"Epidemic duration estimates can help decision-makers make informed decisions and craft appropriate strategies to calibrate interventions over the short- to long-term," the analysis and recommendations made by the team read.
"Other groups have conducted their own simulations using different parameters and assumptions, which reveal much higher numbers of infected persons, ranging from 1.5 million to four million for Metro Manila and 23-29 million for the whole country," it added.
UP experts said their simulations show that non-medical interventions such as work and school shutdown, requirement of face masks, washing of hands and social distancing can reduce the spread of the virus and help flatten the curve.
It recommended exploring a modified, location-specific quarantine scenario in light of public healthcare realities and possibility of different peak periods across the country.
The team also highlighted the need to provide adequate support for Filipinos living below the poverty line and those who cannot work under the current circumstances.
"The government should continue to pursue these actions for the country. We also urge the government to get detailed real-time information for improved science-based decisions to address our current crisis," the report read.
"COVID-19 is not an invisible enemy. It leaves behind traces of itself, which we can use to get ahead of the curve and stop it in its tracks. But to get there, we have to gather – and share – as much data as possible, apply the best science available, and ultimately listen to what the numbers could tell us," it added.
Zamboanga doctor possible COVID
A male physician listed as a person under investigation (PUI) died on Monday night while confined at one of the hospitals in Zamboanga City for symptoms of COVID-19, according to a DOH regional official here.
Dr. Joshua Brillantes, DOH assistant regional director, said the death of the 38-year-old physician has brought to six the number of PUIs listed in this city.
"Again, we are saddened to note and to inform you that we had again one fallen doctor who is labeled as PUI," Brillantes said during a virtual press briefing.
Brillantes said that while the fatality was not assigned as a medical frontliner, he was the first doctor who had succumbed from suspected COVID-19.
He added that the victim, who was assigned as a pediatrician at a state-run hospital in Zamboanga City, had traveled to Manila and returned to the city on March 11 and immediately underwent self-quarantine for 14 days upon arrival.
After completing home quarantine, the doctor went out to see some patients, but on March 26, he developed cough and fever and was admitted to one of the private hospitals in Zambaonga City on April 3 because of difficulty in breathing, insomnia and other symptoms of COVID-19, according to Brillantes.
"After that, the symptoms aggravated and (on April 6), the doctor passed away," he said. – With Sheila Crisostomo, Janvic Mateo, Roel Pareño, Cecille Suerte Felipe