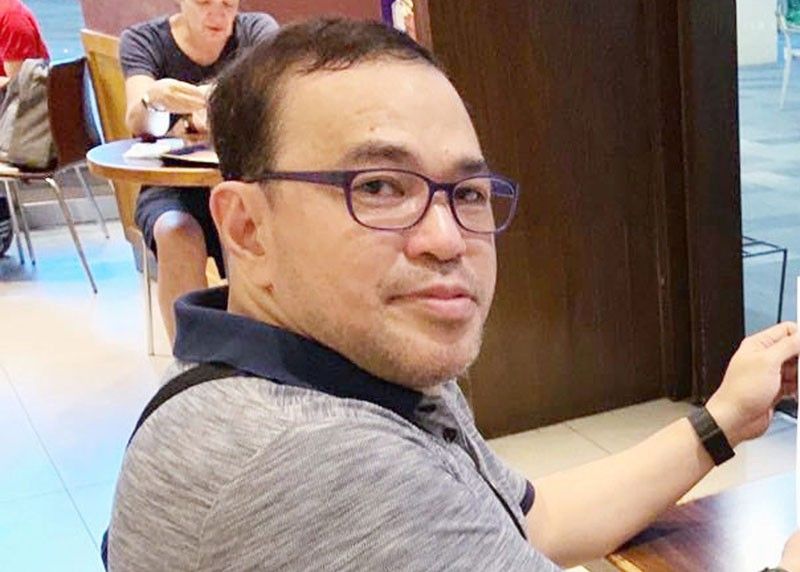 PACC commissioner Manuelito Luna says he will continue supporting the President even after being fired.
STAR/File
PACC official fired for seeking Robredo probe
MANILA, Philippines — President Duterte fired Presidential Anti-Corruption Commission (PACC) commissioner Manuelito Luna on Friday night for urging the National Bureau of Investigation (NBI) to probe Vice President Leni Robredo's efforts to help people affected by the coronavirus disease 2019 (COVID-19) pandemic that supposedly is competing with government relief operations.
As far as the President is concerned, he sees nothing wrong with Robredo's efforts, stressing that there is a need to keep politics away from the efforts to contain COVID-19 in the country.
"Mayroon talagang taong gago. (There are really people who are stupid). Leni was calling the private sector for help. She sought for help. That's right. She is asking for assistance for her fellowmen, for those who are poor," Duterte said.
"Now, there is a lawyer from PACC, commissioner Manuelito Luna. He wants Leni investigated. Son of…. So, when I learned that, I said: Fire him. As of this moment, he's no longer connected with government," Duterte said in a late night address to the nation on Friday.
"I don't have anything against Leni, I know she is just working. There are times when I criticize but at this time, the Vice President has no fault. She's helping, why call for an investigation?" Duterte added.
He also called on the NBI to exercise caution before launching probes against any person or individual. "Tsaka 'yung NBI mag-imbestiga niyan, pati kayo mag... Isali ko kayo sa (I might include you in the) dismissal. Ignorante kayo. What is wrong in calling?" Duterte said.
The office of Robredo yesterday expressed gratitude to President Duterte for his statement supporting their efforts to help those affected by the COVID-19 outbreak.
"We are thankful for the statement of the President that it is not an offense to help fellow Filipinos in times of crisis," Robredo's spokesman Barry Gutierrez said.
Gutierrez described the call for investigation as ridiculous, inappropriate and out of touch.
In his latest statement, the Vice President's spokesman reiterated their call for donations for personal protective equipment (PPE) and other support for doctors, nurses and other frontliners.
He said the latest information about their shuttle routes and dorms for health workers are available on their social media accounts.
"We are filled to capacity right now but we are hoping that we will get more support from the private sector and that we would be able to provide more help," added Gutierrez.
Robredo earlier called on the government to address the needs of the frontliners, noting the number of requests they have received since the start of their COVID-19 response initiative.
"We are ready to do everything we can to ensure the safety and security of our frontliners," she said.
"We continue to work hard to meet all of these requests. With the help and generosity of private citizens, we are doing our best to provide for those who need it. But our resources are limited and the demand is huge," she added.
The Office of the Vice President has so far raised over P40 million to provide PPEs for healthcare workers and other frontliners.
The budget would be able to cover over 90,000 PPE sets. Some 33,000 sets have already been delivered to over 100 hospitals and communities nationwide.
Luna earlier called on the NBI to investigate Robredo for competing with the government in providing relief goods and PPE to doctors, nurses and other frontliners in the fight against COVID-19.
Luna claimed that Robredo's actions were undermining the national government – causing a backlash against the PACC.
PACC's Dante Jimenez and Greco Belgica have both distanced from Luna's move, saying the latter acted on his own.
Luna still expressed his support to Duterte even after he was fired.
"I support the President, and always will. He knows best," Luna said.
Meanwhile, in a separate statement, the PACC said it would comply with Duterte's directive to fire Luna.
"We work at the pleasure of the President and for the interest of the Filipino people. Whatever the President says, we will implement," the statement read.
The PACC also reminded all its officials and employees to avoid politicking and instead work hard to extend assistance to the people most affected by the COVID-19 crisis.
"The President is watching and wants nothing but the best for the Filipino people. Let's do our jobs well. Do not fool around or play politics," the PACC said.
"There is still a lot of work to be done. The Filipino people are waiting for relief and government assistance. Let us all work together... Let us heal as one," it added.