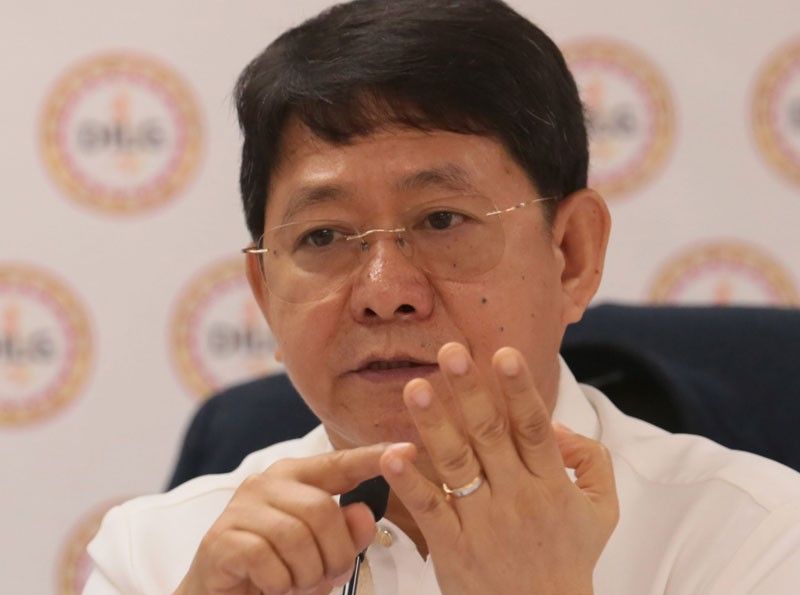 Año said that while the Inter-Agency Task Force for the Management of Emerging Infectious Diseases will still discuss possible measures once the 30-day lockdown is over, an extension is not recommended.
Michael Varcas
Año on extension of quarantine: Not advisable
MANILA, Philippines — Interior Secretary Eduardo Año said that the extension of the enhanced community quarantine over Luzon is not "advisable," as he noted that the ECQ is already working to curb the further spread of COVID-19 in the country.
Año said that while the Inter-Agency Task Force (IATF) for the Management of Emerging Infectious Diseases will still discuss possible measures once the 30-day lockdown is over, an extension is not recommended.
"It's not advisable to extend the lockdown because our economy will suffer greatly. Let's take the remaining two weeks seriously so we can solve this," he said in Filipino in an interview with dzBB.
A longer lockdown period may be considered if there is exponential increase in novel coronavirus-positive cases and fatalities, especially in Visayas and Mindanao.
Año added that the IATF will determine the COVID-19 case threshold and other factors that could possibly mean an extension of the lockdown.
He said that strict implementation of preventive measures, such as lockdown curfews, social distancing and wearing of masks, should be observed in the last two weeks of the ECQ so that its positive effects could really be seen.
"For the next two weeks as we implement the mask and social distancing, and lockdown, it (cases of infection) should go down. From there, the IATF and national task force will discuss the measures that need to be done for us to have zero cases," Año said.
The Department of the Interior and Local Government chief said that the ECQ, which has reached midpoint, is working to flatten the curve of the pandemic.
He noted that initial projections without the lockdown, considering data from other COVID-19 stricken countries such as Italy and Spain, pointed to 20,000 cases in the country by this point.
"If we hadn't done the lockdown we could have reached 20,000 cases right now. Our lockdown is truly working," Año added.
Año himself is in self-quarantine as he was in contact with at least four COVID-19 positive individuals, most of whom are ranking government officials.
He noted that once the 30-day lockdown is over, there could be other measures such as an incremental opening of establishments to ensure that the government can positively respond amid the public health crisis.
ECQ violators apprehended
Meanwhile, Brig. Gen. Froilan Quidilla, director of Police Regional Office 9 (PRO), said since the ECQ implementation on March 17, at least 445 individuals were apprehended for violation of curfew hours in the Zamboanga peninsula.
Quidilla said 39 others were arrested for disobedience, violating protocols at checkpoints and non-compliance with the ECQ.
He added that crimes in the region have gone down by almost 50 percent, compared to the same period last year, since the strict enforcement of the ECQ. Automotive incidents also went down to eight, compared to 51 in the same period last year.
In Dagupan City, at least 18 persons were rounded up on Sunday in different areas in Pangasinan for violating the ECQ.
Nabbed for violation of Articles 148 and 151 of the Revised Penal Code were three each in Dagupan City and Basista, eight in Villasis, one each in Urdaneta City and Anda, and two in Malasiqui.
In Barangay Poblacion, Sual, Pangasinan, seven men who came from Taguig City were nabbed after they rode on a 10-wheeler truck. The individuals allegedly begged for a ride going into town and intentionally evaded several checkpoints.
Ease mental suffering
Sen. Leila de Lima said yesterday that measures to ease the mental, emotional and psychological burden that people endure during the ECQ period should be part of the government's crisis response plan.
After about three weeks of ECQ, the senator said proper and effective implementation of Republic Act 11036 or the "Mental Health Act" should be an integral part of the national strategy against COVID-19.
"Let's please check on one another, even those who we think are the strong ones. While obliged to keep physical distance from each other, may we not be socially disconnected from one another," she added. – With Roel Pareño, Eva Visperas, Cecille Suerte Felipe