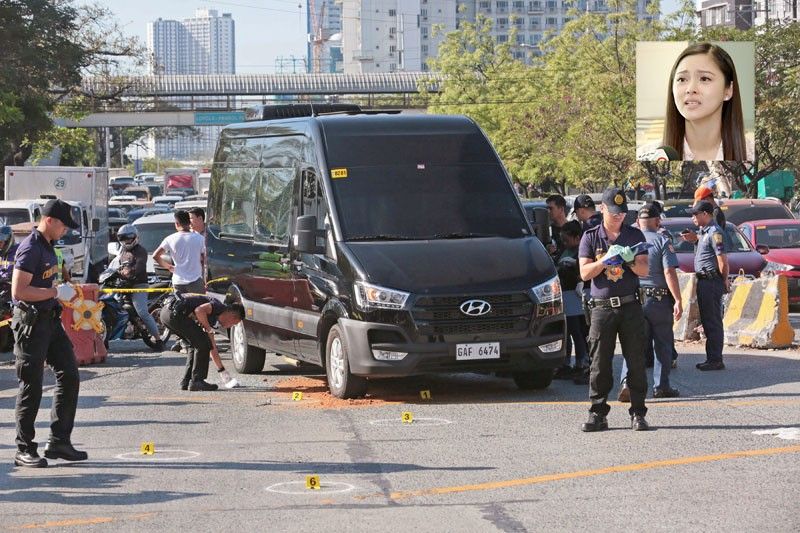 Police officers secure the scene of an ambush on actress Kim Chiu (inset), whose van was shot at by motorcycle-riding assailants along Katipunan Avenue in Quezon City yesterday morning.
Michael Varcas
Kim Chiu, driver unhurt in Quezon City ambush
MANILA, Philippines — There was a real-life shooting before Kim Chiu faced the camera for the reel-life shoot of her ABS-CBN series "Love Thy Woman" in which she is paired with boyfriend Xian Lim.
"I leave it all to God," a badly shaken Chiu said during a meeting yesterday afternoon with ABS-CBN executives, including News and Current Affairs head Ging Reyes, Star Magic head Johnny Manahan, chairman Mark Lopez, chief operating officer of broadcast Cory Vidanes and president/chief executive officer Carlo Katigbak.
Chiu, 29, and her companions survived an attack by armed men riding a motorcycle who shot her vehicle in Quezon City yesterday morning.
Chiu was on her way to the taping of her television series when her Hyundai H350 van was peppered with bullets – with one piercing the vehicle's driver side – at the corner of Katipunan and C.P. Garcia Avenues in Barangay UP Campus around 6:15 a.m.
An initial report from the Quezon City Police District (QCPD) said two men wearing helmets and jackets were involved in the attack.
Probers said the back rider pulled out a handgun of unknown caliber and shot the actress' vehicle at least six times. The suspects then went straight to Katipunan Avenue in Barangay Old Balara.
Eight spent bullet casings were recovered from the crime scene, but the van sustained only seven bullet marks, according to crime scene operatives.
Chiu, her personal assistant Mayrin Nasara and driver Wilfredo Taperla were all safe.
In an interview with radio dzMM, Taperla, 45, said they were at an intersection when gunshots rang out. He and Chiu's personal assistant ducked for cover to avoid getting hit.
The actress, on the other hand, was asleep at the back of the vehicle when the attack took place. She and her personal assistant proceeded to work.
"Thank God I wasn't hit," Chiu said in a post on her Instagram. "I was lying down."
Taperla said thhey at first did not notice that they were the target. Only when they got out of the vehicle did they panic when they realized they were the target.
For Chiu, who until late last night did not have a clue why somebody would harm her, the incident could have been a case of mistaken identity.
"I had no idea what was the possible motive behind the attack," Kim told ABS-CBN News. "I was so scared. I don't know how to feel right now. Wala naman akong kaaway (I don't have any enemy) or ka-atraso. Why me?"
"I don't have an idea what really happened. Mistaken identity? I guess napag-trip-an (we were fooled around with)? This is a bad joke," Chiu added.
The police have yet to establish the motive behind the shooting, but the QCPD said it created yesterday a special investigation task group to find leads.
Chiu is known to be among local showbiz's nicest and most lovable stars without having been involved in any controversy.
The actress said she is leaving the fate of the two attackers to God, saying what is important is that all of them are safe.
"Bahala na ang Diyos sa inyong dalawa... In the end, I'm thankful that nobody got hurt. God protected us," she said, addressing the suspects. – With Neil Jayson Servallos