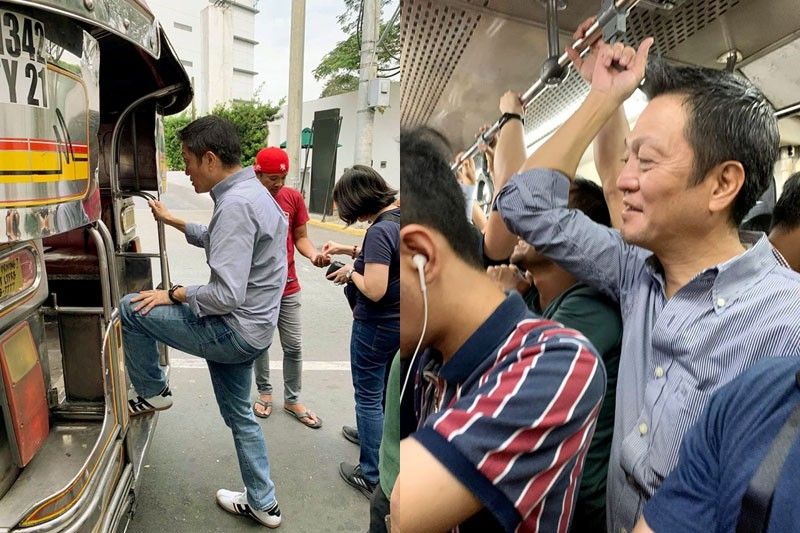 Images posted on Facebook show newly installed Toyota Motor Philippines president Atsuhiro Okamoto riding a jeepney, the MRT and a tricycle to understand the daily struggles of the Filipino commuter
Toyota Philippines boss commutes around Metro Manila
(The Philippine Star) - February 29, 2020 - 12:00am
MANILA, Philippines — Newly installed Toyota Motor Philippines (TMP) president Atsuhiro Okamoto tried out various modes of mass transportation in Metro Manila in order to fully understand what Filipino commuters go through every day.
Only on his first week in the country, Okamoto said he took a round trip on the MRT, queued for a long time for a UV Express ride and took a tricycle to Tondo.
"I decided to do 'Genchi Genbutsu,' or to 'go and see' the daily struggles of Filipino commuters," he said.
After his commute, Okamoto said he realized that the Philippines' mass transport system is not enough to accommodate the huge number of daily commuters, unlike in his native Japan or Singapore.
Upon experiencing the status of the country's mass transport system, Okamoto said that he would like Toyota to take part in this big challenge to upgrade the quality of life of many Filipinos.
"For me, it's a good learning experience," he said.
Last year, presidential spokesman Salvador Panelo took on the challenge of his critics to commute in order to experience what ordinary Filipino commuters have to endure every day.
Panelo made the decision after Bayan secretary general Renato Reyes Jr. said the current situation of the mass transport system is already considered a crisis.