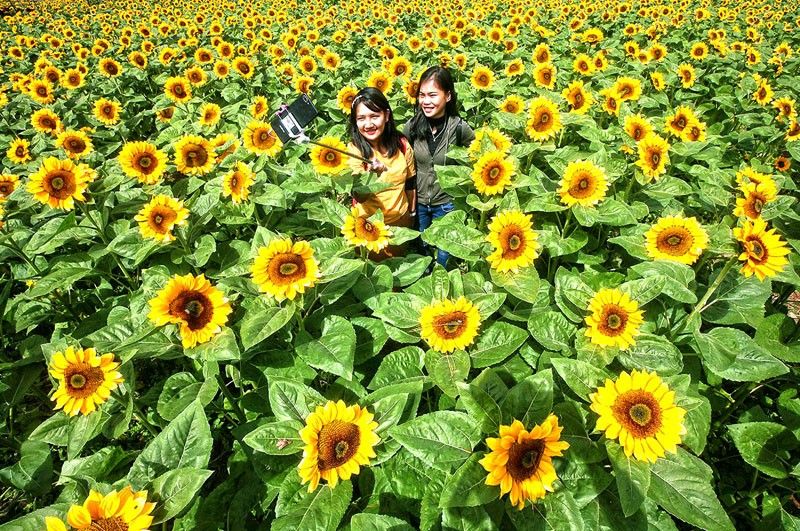 Visitors take selfies in a field of some 12,000 sunflowers at DarJane's Garden in Shilan, La Trinidad, around 40 minutes away by car from Baguio City. Tourists regularly visit the farm, which charges an entrance fee but also serves free unlimited sweet potato and local barako coffee.
Andy Zapata Jr.
'South Korea travel ban needs careful study'
MANILA, Philippines — Authorities are mulling a ban on travel to and from South Korea where the number of confirmed cases of coronavirus disease (COVID-19) has reached 763, the Department of Health (DOH) said yesterday.
DOH Assistant Secretary Ma. Rosario Vergeire said the Inter-Agency Task Force on Emerging Infectious Diseases (IATF), which is eyeing the ban, has been monitoring COVID-19 situations around the world.
Philippine tourism industry stakeholders have called for deeper examination of the possible impact of the planned restriction.
"At this point, we have to study this very carefully as there may be some adverse ramifications if this is done haphazardly," Tourism Congress of the Philippines (TCP) president Jose Clemente III told The STAR.
"It is the IATF that is studying if there is a need to impose travel ban. There are certain criteria that are being used in making this decision," she noted at a press conference.
Last Sunday, the Korean government raised the highest alert for COVID-19 after cases jumped by 160 during the weekend. The outbreaks were associated with a branch of the Shincheonji Church of Jesus and a hospital in Cheongdo county.
Data of the Korean Center for Disease Control and Prevention showed there were 763 COVID-19 cases in South Korea as of yesterday morning, including seven deaths.
Vergeire added that the task force would also be discussing the possibility of restricting travel to and from Singapore where there are now 89 cases.
"We have standard guidelines and it's going to apply for all countries aside from what we have right now for China, Hong Kong and Macau," she pointed out.
She added there are four criteria for imposing a travel ban. These are the "volume of travelers coming to Manila from that country, the burden of infection in that country."
Also being considered are "the risk of exposure and the stringent protocols on infection control being implemented in that country," she explained.
Currently, the Philippine government is implementing a travel ban in China while travel restrictions for Taiwan, Hong Kong and Macau have been lifted.
The plan to include Singapore in the ban came in the wake of a report from the Department of Foreign Affairs (DFA) that a Filipino national in the island state had tested positive for COVID-19.
Citing a report from the Philippine embassy in Singapore, the Filipino is now in an isolation room in one of Singapore's hospitals.
"Personal details of the patient were not shared by the Ministry of Health in line with its privacy policy," the DFA said in a statement.
The embassy is in close coordination with the Ministry of Health of Singapore and stands ready to provide all consular assistance to the patient as needed.
All Filipinos in Singapore are encouraged to maintain their vigilance by observing proper hygiene, avoiding crowds or large gatherings and frequently monitoring personal health. Those who develop fever, cough, sore throat and difficulty in breathing are advised to see a doctor immediately.
'Proceed with caution'
Commenting on the possible ban, "We need to proceed with caution but maintain the safety of our country as well."
"Perhaps we need to look at how other countries are dealing with this situation and see if we can strike a balance between safety and maintaining good relations with South Korea," he added.
South Korea has been the country's top source market of foreign arrivals since 2010. In 2019, the Philippines registered a total of 1.98 million arrivals from South Korea, a 22.48 percent increase from the year before.
"We are monitoring the situation and hoping it will be contained," Tourism Secretary Bernadette Romulo-Puyat said when asked if foreign arrival numbers are expected to further decline due to the growing number of COVID-19 cases in South Korea.
"Meanwhile, we continue to follow the necessary preventive and precautionary measures to ensure the safety and well-being of all locals and visitors," Puyat added.
The Philippines earlier imposed a temporary travel ban on China and its special administrative regions Hong Kong and Macau due to the COVID-19 outbreak.
In an earlier joint statement, the DOT and the TCP assured the public, especially foreign and domestic tourists, that the Philippines remains a safe destination for travel.
"All preventive and precautionary measures are being put in place by the national government to contain the spread of the novel coronavirus (nCoV), including the temporary entry ban for tourists coming from China, its Special Administrative Regions (SARs) Hong Kong and Macau, Taiwan and the 14-day quarantine for Filipinos coming from the said places," the joint statement read.
The DOT emphasized that even before the temporary ban, the tourism sector already implemented safeguards in light of the COVID-19 problem, noting that it earlier released guidelines for handling guests in tourism enterprises during this global emergency.
"In our airports and some tourism establishments, temperatures are taken via infrared thermometers before allowing guests to enter, and more hand sanitizers have been made available for use," it added.
Both the DOT and the TCP emphasized that the safety of the public, especially tourists and employees in the tourism sector, remains the country's priority.
"As we monitor the situation closely, we remind the public to maintain proper hygiene. Wash your hands regularly, wear a surgical mask when going to crowded areas if you have a cough or a cold, and stay indoors or seek medical help if you have a fever," the DOT and the TCP said earlier. – With Catherine Talavera, Pia Lee-Brago