Hong Kong, Macau travel ban lifted
February 19, 2020 | 12:00am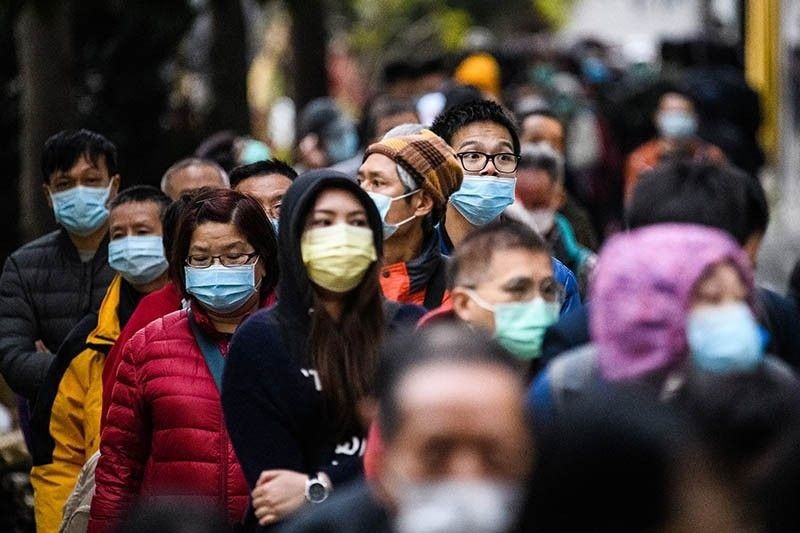 • For OFWs, not Pinoy tourists
• HK Pinay positive for virus
MANILA, Philippines — Filipino workers were allowed to return to their jobs in Hong Kong and Macau yesterday after the government partially lifted the travel ban on China's two special administrative regions (SARs).
"Today, DFA (Department of Foreign Affairs) Sec. (Teodoro) Locsin's advocacy has come true. OFWs returning for work in Hong Kong and Macau have been exempted from the outbound travel ban by the IATF-EID, subject to certain procedural formalities," DFA Undersecretary for civilian security and consular concern Brigido Dulay said in a post on Twitter.
Hong Kong and Macau were included in the travel ban on China issued by the Philippines due to the coronavirus disease 2019 (COVID-19) outbreak.
The Inter-Agency Task Force on Emerging Infectious Diseases (IATF-EID) issued yesterday a resolution allowing travel to Hong Kong and Macau for permanent
residents of the respective SARs, Filipinos leaving abroad for study and overseas
Filipino workers (OFWs), "provided that the travelers sign a declaration signifying their knowledge and understanding of the risks involved."
Earlier, Locsin urged the government to allow domestic workers to return to their employers in Hong Kong, noting that "HK has better facilities to contain virus."
Pinay DH with COVID-19 confirmed
The partial lifting of the travel ban to China's SARs comes on the heels of another reported case of COVID-19 infection in Hong Kong.
A Filipina migrant worker has tested positive for COVID-19, the Philippine consulate general there said yesterday.
The consulate general said it received the official notice confirming the Filipino COVID-19 case earlier in the day.
It immediately sent a team to the hospital to check on her condition.
"Rest assured that the Philippine government will render all necessary assistance to the Filipino national."
According to the Pamela Youde Nethersole Eastern Hospital in Chai Wan, it is the first reported case involving a domestic worker in the city.
Seven Filipinos in Hong Kong had been placed under quarantine, three of whom have been discharged and are said to be healthy and asymptomatic.
Hong Kong so far has 61 confirmed cases and one death due to COVID-19, according to the South China Morning Post.
There is evidence of community transmission of the COVID-19 in Hong Kong, health authorities said.
"In order to stop ongoing spread and prevent the disease from taking root locally, Hong Kong should continue to maintain the current strategy of isolating cases, quarantine of close contacts and medical surveillance of other contacts," they said.
Allowed, with restrictions
Bureau of Immigration Commissioner Jaime Morente clarified that the travel ban on Filipinos going to Hong Kong and Macau "as tourists" remains in effect.
"This is a welcome development for our kababayans who wish to return to their work abroad. They (OFWs, students and permanent residents) may now be allowed to depart to Hong Kong and Macau," Morente said in a statement yesterday.
"However, the ban on Filipinos going to both the countries as tourists is still in effect," he added.
The travel ban on mainland China also remains in effect. Morente said that the lifting of the travel ban is an expansion of an earlier directive allowing members of the diplomatic corps to enter the Philippines from Hong Kong and Macau along with Filipino nationals, including their foreign spouse and children.
The decision for a partial lifting of the ban on China's SARs came a few days after the government also lifted the travel ban on Taiwan, citing it is undertaking stringent measures to contain local transmission of the disease.
"Those OFWs going back will have to make a written declaration that they know the risk going to their place of work," said presidential spokesman Salvador Panelo after speaking to Health Secretary Francisco Duque III.
The families of Filipinos from Macau and Hong Kong can now "come back, as well as those having permanent residence and the members of the diplomatic corps," Panelo added.
Over the weekend, government officials said the lifting of travel ban in Macau will depend on the assessment of the Department of Health (DOH) and key government agencies on the protocols implemented there to containing the disease.
The travel ban restrictions will be lifted upon review of health protocols as well as the report on local transmission and actual number of persons affected by COVID-19.
Panelo gave assurance yesterday that the returning Filipinos from affected countries, who may later turn out to be positive for COVID-19, will be assisted by the government.
"Definitely, the government will always protect and provide support and assistance to all Filipinos whether here or abroad," he said.
Fate of 538
With regard to the 538 Filipinos undergoing quarantine at the Diamond Princess cruise ship off Yokohoma, Japan, the IATF also resolved that those who request for repatriation will be accommodated by the government, in accordance with the guidelines of the DOH.
Duque said they will follow "strict infection control and quarantine procedures to ensure the safety of our repatriates and health workers who will man the quarantine facility."
"We ensure our kababayans aboard the M/V DIamond Princess that your health and wellbeing is of utmost importance to President Duterte and this government," he added.
Labor group concerns
Migrante International asked the government to clarify what it meant by "certain procedural formalities," which includes a "written declaration," to avoid confusion among OFWs.
Migrante said OFWs and migrants should never be required to sign waivers or provide medical certificates or undergo any other additional process that will prolong their stay just to comply with these so-called "certain procedural formalities."
"The government should not impose additional burdens on stranded migrants. OFWs deserve to obtain clearer information and details from the government regarding the travel ban exemption and migrants should not be obligated by any means to surrender their right to demand and receive government assistance," the group said.
Taiwan flights resume
Budget carrier AirAsia is set to resume its flights to Taiwan this week following the lifting of the travel ban.
AirAsia said it will resume select flights to Taipei and Kaohsiung starting Thursday following the relaxation of travel restrictions imposed by the Philippine government in light of the global COVID-19 outbreak.
"More flights from AirAsia Philippines' hubs in Manila, Clark, Cebu and Kalibo will gradually resume in phases by Feb. 24, Feb. 25, March 1 and March 30," the low-cost carrier said.
Flag carrier Philippine Airlines said earlier that it will resume flights to Taiwan starting Feb. 21, while Cebu Pacific resumed flights last Monday.
'Right thing to do'
Senate President Pro Tempore Ralph Recto welcomed the decision of the government to allow Filipinos to return to their work in Hong Kong and Macau, saying this is a step in the right direction.
Recto said the lifting of the travel ban to Hong Kong and Macau will save the jobs of thousands of Filipinos who were vacationing in their home country when the government imposed a travel ban to those two places.
"The lifting of the ban, in effect, rescues these stranded workers from unemployment and their families from penury," Recto said.
Reopening
Macau's casinos will reopen Thursday after authorities lifted a city-wide two-week closure aimed at stopping the spread of COVID-19.
The resumption comes after the city reported no new infections in the last two weeks, with the number of confirmed cases at just 10.
The former Portuguese colony took the unprecedented step of shutting down almost all of its lucrative entertainment sector earlier this month, including casinos, nightclubs and many bars. – With Sheila Crisostomo, Rudy Santos, Christina Mendez, Robertzon Ramirez, Mayen Jaymalin, Richmond Mercurio, Cecille Suerte Felipe, Paolo Romero