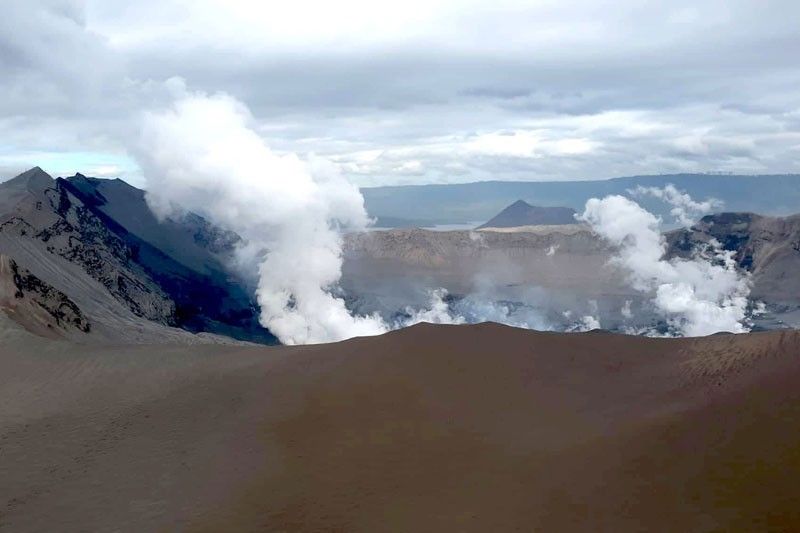 Taal Volcano's crater is pictured from a helicopter in Batangas in photo provided by the Department of National Defense. Although emissions have weakened, the high number of quakes recorded could indicate continued subsurface volcanic activities, including the rising of magma, Phivolcs said.
MANILA, Philippines — While Taal Volcano appears calm on the surface, activity underneath remains "intense" – and with no sign of weakening since the volcano's steam explosion seven days ago, the Philippine Institute of Volcanology and Seismology (Phivolcs) reported yesterday.
Phivolcs director Renato Solidum Jr. said at a press briefing that although sulfur dioxide emission has weakened, the high number of quakes recorded in Taal could indicate continued subsurface volcanic activities, including the rising of magma.
Alert Level 4 remains up, Phivolcs said.
"Based on our monitoring, the volcanic activities remain intense, the magma continues to rise which may lead to a hazardous explosion," he said.
"What we see on the surface is different from the situation underneath," Solidum said.
He said the Philippine Seismic Network has recorded a total of 666 volcanic earthquakes since 1 p.m. of Jan. 12, with magnitudes ranging from 1.2 to 4.1 and intensities ranging from 1 to 5.
Phivolcs said that in the last 24 hours or from 5 a.m. Friday up to 5 a.m. yesterday, 876 quakes were recorded, of which 32 were registered at magnitudes 1.5 to 3.3 while the rest were minor and unfelt.
"So, we maintain the Alert Level 4 as the possibility of a dangerous explosion is still present," Solidum said.
He reiterated that no person shall be allowed in areas within Taal's 14-kilometer danger zone and at the Pansipit River Valley area where huge fissures were observed.
Alert Level 4 is the second highest alert level in Phivolcs' warning system. It means that "hazardous explosive eruption is possible within hours to days," thus total evacuation of people within the identified high-risk areas is required.
"We have an extensive monitoring network. We will continue to closely observe the situation in Taal to determine if magma movements have already stopped or weakened," Solidum said.
"But as of now, using our volcano monitoring network, we don't see any definite trend that the activities have already weakened. As long as there are movements of magma, it means that the activities remain intense," he added.
Based on Phivolcs' latest bulletin issued yesterday, "activity in the main crater in the past 24 hours has been characterized by steady steam emission and infrequent weak explosions that generated white to dirty white ash plumes 50 to 600 meters tall."
Phivolcs said the "intense seismic activity likely signifies continuous magmatic intrusion beneath the Taal edifice, which may lead to further eruptive activity."
Furthermore, Solidum said hazardous explosion is possible not only from the main crater of Taal Volcano but also from the sides of the crater as new steam vents were observed following the phreatic explosions, also referred to as steam blasts, last Sunday.
'Remain vigilant'
"We have observed new steaming vents immediately after the series of explosions. This means that eruption is possible not only from the main crater but also in other areas. We appeal to the public to refrain from going back to the volcano island as the situation is very dangerous," Solidum said.
He also assured the public that even if it is within the 14-km radius danger zone, Tagaytay City – a popular tourist destination – is high enough not to be affected by a base surge in case of a major eruption. Nonetheless, everyone must remain vigilant, he said.
Phivolcs earlier described a base surge as a special class of pyroclastic density currents which "rush down the volcanic slopes or rapidly outward from a source vent at high speeds" following a volcanic eruption.
It added a base surge is usually a "mixture of fragmented volcanic particles, hot gases and ash" which can travel at car speed and can instantly burn properties and people, just like what happened during the Taal Volcano eruptions in 1754, 1911 and 1965.
"We're monitoring the possibility of steam explosions as frequent explosions may eventually lead to base surge," Solidum said.
Hazard pay
Meanwhile, labor group Trade Union Congress of the Philippines (TUCP) yesterday called for a 25-percent hazard pay for reporters and media workers covering the Taal Volcano eruption as well as employees of hotels and restaurants in Tagaytay.
In a statement, TUCP president Raymond Mendoza said any worker who faces hazards when fulfilling their job must be duly compensated.
"Hazard pay is a cash compensation to employees on top of their basic salary for rendering work under extraordinary conditions and circumstances that may result in death, serious injuries, sickness and disease and handicap or debility," he added.
Mendoza maintained that working under the "extraordinary dangerous situations" like an exploding volcano are "sufficient conditions for these workers to be provided with hazardous duty pay."
As evacuation from danger zones continues, Sen. Francis Pangilinan said the government must issue more regular Taal Volcano updates than the twice-a-day situationer.
"Considering that Phivolcs raised Alert Level 2 to 4 in just two hours last Sunday, we issue an urgent appeal to government to issue bulletins every one or two hours to prevent panic and keep the public informed and more aware," said Pangilinan.
"An informed people is an empowered people. Our countrymen can move more freely if they are fully aware of what's going on around them. Through our joint effort, we can be certain of zero or low casualty rate in the event of Taal eruption or whatever disaster hits us," he said in Filipino.
Phivolcs said nearly 700 volcanic earthquakes have been recorded since Taal emitted plumes of steam and ash seven days ago. – Cecille Suerte Felipe