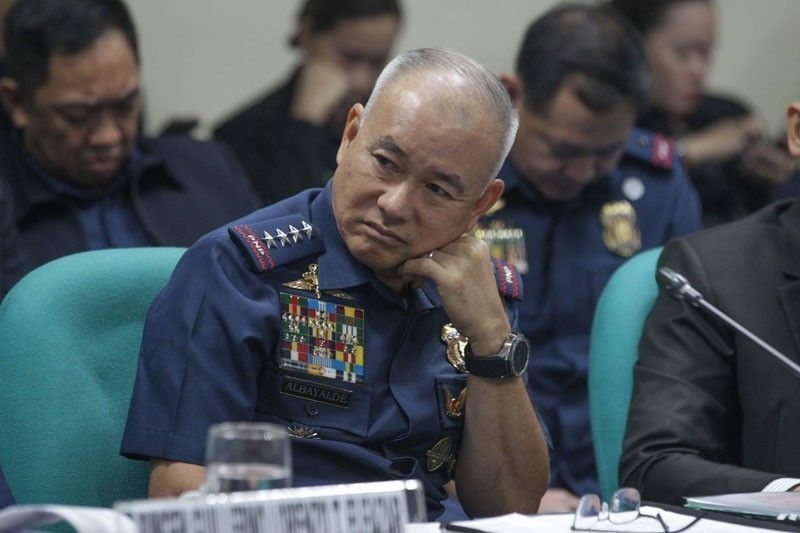 File photo shows PNP chief Gen. Oscar Albayalde.
The STAR/Mong Pintolo, File
DOJ charges Albayalde, 12 others over 'ninja cops' controversy
MANILA, Philippines — The Department of Justice found probable cause to indict retired top cop Oscar Albayalde and 12 "ninja cops" over the 2013 irregular Pampanga drug raid.
In a statement Thursday, the DOJ said the prosecution panel found probable cause to charge Albayalde with violation of the Anti-Graft and Corrupt Practices Act "for persuading, inducing or influencing another public officer to perform an act constituting a violation of rules and regulations in connection with the official duties of the latter, and for causing any undue injury to any party, including the government."
Central to the case is the 2013 drug raid in Mexico, Pampanga where the operating police are accused of making off with the shabu they seized. Albayalde, then heading the Pampanga provincial police force, is accused of protecting his previous subordinates who were linked to the drug raid.
The panel said the charges against Albayalde were based on their finding on Albayalde's "non-implementation" of the order to penalize the cops involved in the said operation.
Findings against the retired police general will be forwarded to the Office of the Ombudsman that has jurisdiction over graft cases.
'Ninja cops' also indicted
The prosecution also indicted 12 other cops, led by Police Lt. Col. Rodney Baloyo IV, with misappropriation, misapplication or failure to account for the confiscated, seized and/or surrendered dangerous drugs; planting of evidence in a drug case; and delay and bungling of prosecution of drug cases.
Others who are facing the drug charges are:
Police Lt. Joven Bagnot De Guzman, Jr.
Police Master Sergeant Lacap Maniago
Police Master Sergeant Donald Castro Roque
Police Master Sergeant Ronald Bayas Santos
Police Master Sergeant Rommel Muñoz Vital
Police Master Sergeant Alcindor Mangiduyos Tinio
Police Staff Sergeant Dindo Singian Dizon
Police Staff Sergeant Gilbert Angeles De Vera
Police Staff Sergeant Romeo Encarnacio Guerrero, Jr.
Police Master Sergeant Eligio Dayos Valeroso
Police Master Sergeant Dante Mercado Dizon
They are also facing charges for qualified bribery and graft charges.
"The Panel found that Baloyo, et al., misappropriated drugs when they declared that only 36.60 kg of shabu was seized during their operations, while the subsequent police investigation indicated that about two hundred (200) kilos of methamphetamine hydrochloride was actually recovered," the DOJ said.
The Justice department added: "The group likewise declared the cash they obtained from the operation to be only Three Hundred Thousand Pesos (P300,000.00) while contrary evidence indicated that said amount reached Ten Million Pesos (P10,000,000.00)."
Complaints against Police Corporal Anthony Loleng, supposed 13th member of the raiding team, were dropped for "insufficiency of evidence," Justice Undersecretary Markk Perete explained.
As It Happens
LATEST UPDATE: January 17, 2020 - 11:32am
Senate Minority Leader Franklin Drilon calls on the Department of Foreign Affairs to cancel the passport of Guia Gomez Castro, a former barangay official in Manila's Sampaloc district who has been tagged as a supposed "drug queen."
Castro, former barangay chairperson of Barangay 484 Zone 48 has been confirmed to have left the country on September 21 for Bangkok, Thailand.
This was days before her name was made public as in cahoots with 16 police officers in "recycling" seized drugs for sale ont the street. Nine of these lawmen have been killed by motorcycle-riding gunmen.
"It appears that Mrs. Castro does not intend to return to the country and face the warrants of arrest issued against her since 2002 for violation of Republic Act 6425 or the Dangerous Drugs Act. Hence, she is a fugitive from justice," Drilon says.
"The jurisprudence clarifies that mere commission of a crime and subsequent flight thereto sufficiently meets the definition of a fugitive," Drilon says.
"Hence, the DFA, to avoid miscarriage of justice and by virtue of the Philippine Passport Act, can validly and lawfully cancel her passport so we can restrict Castro's movement, and summon her back to the country to face charges against her," Drilon, a former Justice secretary, says.
January 17, 2020 - 11:32am
Baguio City Mayor Benjamin Magalong hopes justice will be served to the victims of "ninja cops," pilice officers who allegedly steal seized drugs to sell them again.
Magalong, former director of the police Criminal Investigation and Detection Group, who testified at the Senate against former Philippine National Police Gen. Oscar Albayalde hailed the former police chief's indictment by the Justice department as "a positive development", as he sees the importance that the Filipino people "are entitled to know what really transpired in Lake Shore, Pampanga in November 2013." -- The STAR/Artemio Dumlao
January 16, 2020 - 6:22pm
The panel of prosecutors who reinvestigated criminal complaints on the 2013 Pampanga drug raid finds probable cause to charge ex-PNP chief Oscar Albayalde and 13 other cops for violating graft laws.
JUST IN: DOJ finds probable cause to charge ex-PNP chief Oscar Albayalde with violation of graft laws over "ninja cops" controversy involving a Pampanga drug raid in 2013. @PhilstarNews pic.twitter.com/fVNtuZpnUc

— Kristine Patag (@kristinepatag) January 16, 2020
October 28, 2019 - 4:57pm
President Rodrigo Duterte will leave the criminal liability of the 'ninja cops', or police officers who allegedly sold drugs that were seized in a police operation, to the Office of the Ombudsman, News5 reports.
Duterte on ninja cops: For your criminal liability, it belongs to the Ombudsman.

— News5 AKSYON (@News5AKSYON) October 28, 2019
The police Criminal Investigation and Detection Group last Monday filed a criminal complaint against former Philippine National Police chief Oscar Albayalde by including him in an amended complaint against 13 so-called "ninja cops" from a controversial 2013 Pampanga drug raid.
Albayalde was accused of violating Section 27, Article II of Comprehensive Dangerous Drug Act (misappropriation, misapplication or failure to account for seized drugs), Section 3 (a) and 3 (e) of the Anti-Graft and Corrupt Practices Act, Article 171 (falsification by public officer) and Article 208 (negligence) of the Revised Penal Code.
The complaint was filed before the Department of Justice.
October 21, 2019 - 11:00am
Former PNP chief Oscar Albayalde is included in the list of respondents in the complaint filed before the DOJ over the 2013 "ninja cops" scandal.
Former PNP Chief Oscar Albayalde was included in the list of respondents in the complaint filed before the DOJ. This is in line with the alleged multi-million peso illegal drugs raid by Ninja Cops, in 2013 in Pampanga.?@PhilippineStar? pic.twitter.com/nD4cH4saZE

— evelynzmacairan (@EZMacairan) October 21, 2019
October 21, 2019 - 9:23am
The Philippine National Police places all key positions under probation for three months while all promotions are on hold as the agency undergoes an "internal cleansing on steroid."
"I have ordered the massive revamp beginning at the national headquarters down to the regional level. We expect fresh ideas, fresh enthusiasm and fresh resolve," PNP officer-in-charge Lt. Gen. Archie Gamboa announces in a media briefing Monday.