7 stores flagged for mask overprice
January 15, 2020 | 12:00am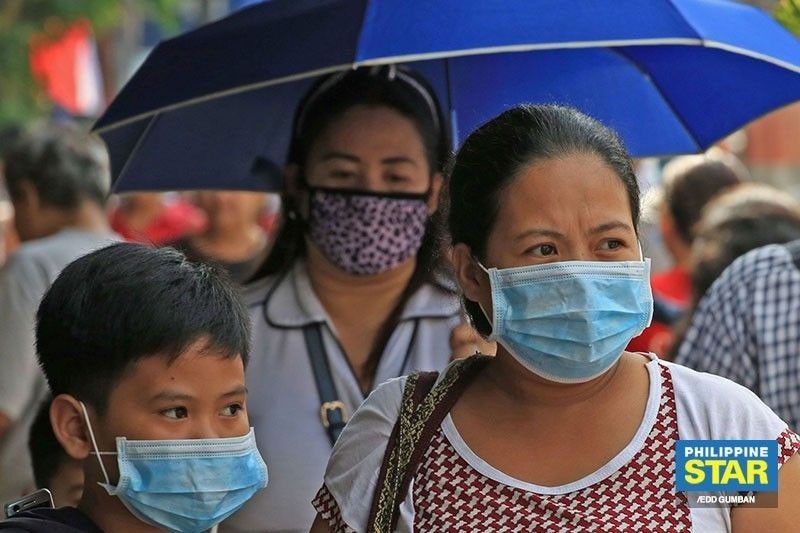 MANILA, Philippines — The Department of Trade and Industry (DTI) has issued notices of violation to seven stores found selling overpriced face masks used as protection from volcano ashfall.
Trade Undersecretary Ruth Castelo in a text message said the agency's Fair Trade Enforcement Bureau monitored stores yesterday and issued notices of violation against seven stores.
During the monitoring, she said there were N95 masks being sold at P85 to P150 per piece, when delivery receipts show these cost P65 per piece.
Regular surgical masks normally sold at P1 each were also being sold at P3.60 per piece, and a box of 50 pieces normally sold at P50 was found to be selling at P180.
"This is a clear case of profiteering where mark ups go way above the 10 percent allowable limit," Castelo said.
Profiteering is considered an act of illegal price manipulation under the Price Act.
Under that law, penalties range from P5,000 up to P2 million.
Castelo said profiteering is also considered an unfair or unconscionable sales practice under the Consumer Act and the law provides that criminal charges may be filed for such action.
"What aggravates the offenses is the fact that retailers take advantage of the buyers' general conditions, such as the urgent need to buy the masks to avoid the effects of the ashfall," she said.
Following reports received by the DTI of jacked up prices of face masks, the agency deployed teams to monitor retail prices.
There has been high demand for face masks as individuals want to protect themselves from possibly getting respiratory illnesses from Taal Volcano's ashfall.
DTI earlier warned retailers that selling gas masks, face masks and other similar items at unreasonably high prices is tantamount to profiteering and would be dealt with according to the law.
Manila Mayor Isko Moreno yesterday warned businessmen who jacked up the price of face masks at the height of the ashfall from Taal Volcano on Monday morning that their business permits would be cancelled if they are found guilty of profiteering.
Moreno ordered Manila Bureau of Permit chief Levi Facundo to issue show cause order against medical supply firms reported to have cashed in after increasing the price of N95 face masks due to extremely heavy demand.
"There was no need to increase the price because of the high demand since they have stocks," Moreno said.
On Monday, the price of N95 face masks soared to as high as P2,500 per box in the medical supplies stores in Bambang street, Manila.
Even ordinary surgical masks that were sold for P30 before the ashfall reached up to P100 apiece.
A pharmacist of a popular drugstore said their stocks had been depleted as early as Sunday afternoon, which caused the buyers to rush to Bambang.
A store employee in one of the firms said several buyers arrived on Sunday and bought all their stocks.
Respiratory ailments
Health Secretary Francisco Duque III said yesterday that six evacuees from communities affected by Taal Volcano last Sunday were brought to a hospital in Tagaytay City due to respiratory ailments.
Duque said the patients were brought to Ospital ng Tagaytay, their illnesses brought about by exposure to the heavy ashfall from the volcano.
"We have medical teams that were deployed in the affected areas, especially in evacuation centers, to closely monitor the situation there and to assist the evacuees with their health needs," he added.
The Department of Health (DOH) had also sent various supplies like eye drops and asthma medication, medical supplies including N95 and surgical face masks, collapsible water containers and jerry cans, water purification tablets and hygiene kits to the evacuees.
Eduardo Janairo, regional director of the Department of Health for Calabarzon, said the victims complained of difficulty in breathing, coughing and sore irritation, prompting the health workers to bring them to hospital.
Janairo gave assurance the victims are now in good condition.
Duque and public health expert Susan Pineda-Mercado said in an interview with The Chiefs on One News Cignal TV that residents living near Taal Volcano face short-term and long-term effects of ashfall from the volcano.
Mercado said the evacuees and those involved in the relief and rescue operations are primarily dealing with "irritants (to) any part of the body like the eyes, the skin and lung airways."
Health Assistant Secretary Maria Francia Laxamana said the fish caught in Taal Lake may contain hazardous chemicals caused by the eruption and magma formation from the volcano. Thus, the fish are not safe for human consumption.
Laxamana said people who consumed these fish should seek medical attention once they feel symptoms of poisoning such as stomach pains and diarrhea.
There are thousands of fish cages in Taal Lake, used as breeding pens for tilapia and bangus. Taal is also known for tawilis (freshwater herring) and maliputo.
Stomach pain is treated with antispasmodic medicine while those with diarrhea need to be rehydrated. Vomiting is also one of the symptoms.
At a briefing in Malacañang yesterday, Laxamana said the DOH will wait for advice from the Department of Environment and National Resources as well as the Bureau of Fisheries and Aquatic Resources (BFAR) "when it is best to resume eating fish."
Meanwhile, Philippine Institute for Volcanology and Seismology (Phivolcs) director Undersecretary Renato Solidum reiterated yesterday that no person should be going around the Taal Lake area, which is included in the 14-kilometer danger zone radius.
According to Solidum, possible cases of fishkill would likely happen due to lack of oxygen, not necessarily due to sulfur poisoning.
Meanwhile, Cagayan de Oro City Councilor George Goking said he will investigate the reported shortage of N95 face masks in the city following the panic buying in Metro Manila.
Goking, chairman of the council's committee on trade and commerce, said he will meet with local store owners and look into possible overpricing of medicines and other essential commodities.
He said that supplies of N95 masks were no longer available in hardware stores and pharmacies in Cagayan de Oro since Monday.
With Rey Galupo, Sheila Crisostomo, Christina Mendez, Gerry Lee Gorit