Typhoon Tisoy leaves trail of destruction
December 4, 2019 | 12:00am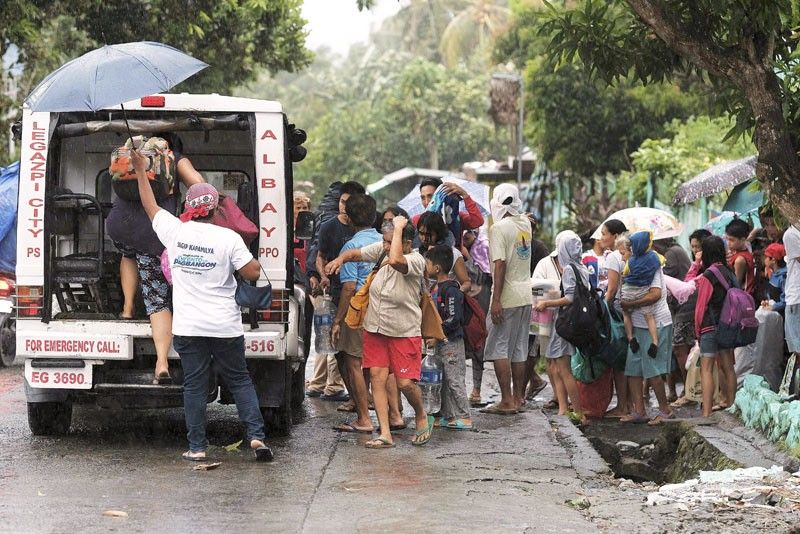 MANILA, Philippines — Typhoon Tisoy left a trail of destruction across the Philippines yesterday, bringing heavy rains and prompting preemptive halts in air travel, schools and government offices, with some 200,000 people evacuated after warnings of floods and landslides.
Tisoy (international name Kammuri) also left three people dead, according to local officials in the Bicol region and Oriental Mindoro, which were the most battered areas directly in the path of the typhoon.
Tisoy blew into Gubat town in Sorsogon before midnight Monday and then barreled westward through San Pascual, Burias Island, Masbate, in Torrijos, Marinduque and in Naujan, Oriental Mindoro, ripping off roofs, knocking out power and flooding low-lying villages.
Flooded roads, toppled electric posts and uprooted trees were all over the provinces of Albay and Sorsogon as well as in the island province of Catanduanes.
Tisoy made four landfalls in less than 24 hours, causing it to slightly weaken as it traversed other parts of Southern Luzon.
Tisoy also brought heavy rains and gusty winds in Metro Manila before noon yesterday as it passed over Mindoro province, prompting Malacañang to suspend afternoon work in government offices.
Metro Manila remained under signal No. 2 as of 5 p.m. yesterday.
The typhoon had maximum sustained winds of 155 kilometers per hour and gusts of up to 235 kph as it headed toward Mindoro and Lubang Island.
Tisoy continued to weaken early evening yesterday and was last spotted off the coast of Occidental Mindoro.
As of 4 p.m., the eye of Tisoy was located at 110 kilometers northwest of San Jose, Occidental Mindoro or 135 km north of Coron, Palawan.
It packed winds of 130 kilometers per hour near the center and gustiness of up to 200 kph, moving west at 25 kph.
State weather specialist Benison Estareja said "generally improving weather" is expected today in most areas affected by Tisoy, including Metro Manila.
"We can expect sunny periods in Metro Manila so we don't recommend the cancellation of classes," he said.
Mauled
Initial reports said a 59-year-old man died in Baco town in Mindoro after he was hit by a fallen tree. Another man died after he was hit by torn metal roof sheet in Pinamalayan town, according to Oriental Mindoro Gov. Humerito Dolor.
Dolor said the victims were clearing their respective homes when they were hit.
"It could have been more if there was no preemptive evacuation," he said over dzMM.
A 33-year-old man was electrocuted while fixing the roof of his house in Libmanan, Camarines Sur, the regional Office of Civil Defense also reported.
Sorsogon Gov. Francis Escudero said that while the province was "mauled" by Tisoy, the advanced disaster preparation paid off.
Tisoy initially made landfall in Prieto Diaz and Gubat town in Sorsogon but left no casualty in the province, according to Escudero.
Tisoy's pounding rain and wind damaged the airport in Legazpi City in Albay, collapsing a portion of its ceiling, scattering chairs at the arrival and departure areas and shattering glass panes.
The Ninoy Aquino International Airport (NAIA) was closed during the storm's peak, from midday to afternoon yesterday, before Tisoy blew out to sea later in the day.
Some 197 international and domestic flights were able to depart and arrive at the NAIA before officials implemented the 11 a.m. closure of the airport.
Officials warned of storm surges and prolonged heavy rain. More than 100,000 residents evacuated before the typhoon made landfall, abandoning homes in coastal and low-lying areas prone to flash floods and landslides, the National Disaster Risk Reduction and Management Council (NDRRMC) said.
As of yesterday, a total of 57,918 families or 225,768 individuals were evacuated in the Bicol region, Eastern Visayas, Calabarzon and Mimaropa (Mindoro, Marinduque, Romblon, Palawan).
Tisoy also forced the cancellation of sea travel, leaving 7,721 passengers, 1,506 rolling cargoes, 138 vessels and 66 motorbancas stranded in various ports in the Visayas, Bicol, Calabarazon and Mimaropa regions.
Initial reports said 29 transmission lines were damaged and affected by the typhoon in Southern Luzon, of which seven had been restored.
The National Grid Corp. of the Philippines (NGCP) said a total of 10 transmission lines in the Visayas were affected with five already restored.
"There are also 13 230-kilovolt (kV) transmission lines unavailable, affecting transmission services in Camarines Norte, Camarines Sur, Albay and Sorsogon," NGCP said.
"Inspection and restoration of lines in the affected areas will be in full swing as soon as the weather allows," it said.
Tisoy also forced the suspension of classes over 708 cities and municipalities in Ilocos region, Cagayan Valley, Central Luzon, Bicol, Eastern and Western Visayas, Calabarzon, Mimaropa, Cordillera Administrative Region (CAR), Caraga and Metro Manila.
Work in government offices were also suspended since Monday over 10 provinces in Central Luzon, Bicol, Eastern Visayas, Calabarzon and Mimaropa.
A tennis match in the Southeast Asian Games was cancelled after rains drenched an outdoor court. Organizers said wind surfing competitions have also been postponed and other events would be delayed if needed for safety but there was no plan to extend the 11-day SEAG which opened Saturday.
Tourists and residents were also advised to stay indoors in the island resort of Boracay in Aklan during the storm.
The Philippine Coast Guard (PCG) has ordered the suspension of all sea travel going to and from Boracay, officials said.
In Botolan Zambales, 25,000 participants of the 17th National Jamboree of the Boy Scouts of the Philippines were evacuated to higher ground.
The participants were evacuated to several school buildings and covered courts in the towns of Botolan and Cabangan, officials said.
The jamboree started last Sunday as Tisoy approached until it started to rain heavily yesterday at campsite, forcing the evacuation of participants.
Even President Duterte was not spared from the wrath of Tisoy.
Duterte said he was unable to take the usual route of crossing Pasig River through his barge to Malacañang from Bahay Pagbabago in Manila.
"Mahina, hindi pala kaya (It was risky, I cannot make it)," Duterte remarked as he apologized being late for his activities yesterday which included the ceremonial signing of the laws postponing the barangay and Sangguniang Kabataan elections and institutionalizing Malakasit Centers in government-owned hospitals.
Earlier in the day, Duterte suspended work at offices of the executive branch effective noon to allow them to go home early during the storm.
Losses and gains
The Department of Agriculture is estimating an initial P11.6 billion in losses for the farm sector in the wake of Tisoy.
Preliminary data from the DA's Disaster Risk Reduction Management Operations Center showed the P11.6 billion only covers the rice sector assuming that all hectarage in the affected areas will be damaged.
"This is under the assumption that 100 percent will not be recovered. But normally, around 60 to 80 percent will be affected," DA chief agriculturist Christopher Morales said.
DA data showed the total areas at risk are 218,938 hectares for rice and 25,915 hectares for corn from all regions to be affected.
However, crops at reproductive and maturing stage are the most vulnerable to strong winds and flooding with a total of 156,594 hectares for rice and 6,737 hectares for corn.
In preparation for Tisoy, a total of 156,549 hectares of rice have been harvested early from Central Luzon, Calabarzon, Mimaropa, Bicol and Eastern Visayas with an equivalent production of 610,541 metric tons amounting to nearly P12 billion.
As for corn, 2,309 hectares have been harvested with total volume of 7,135 MT and equivalent value of P104.3 million.
"This is because of the good coordination among institutions. If we did not issue bulletins and there was no quick response, then more than P11 billion could have gone down the drain," Agriculture Secretary William Dar said.
As for water supply, officials said the heavy rains from Tisoy have increased the supply of Angat Dam in Bulacan, which provides 97 percent of Metro Manila's water needs.
As of 4 p.m. yesterday, the water level at Angat was 190.02 meters.
PAGASA hydrologist Richard Orendain said Tisoy had dumped 220 millimeters of rain over the watershed which could raise its level to 197 meters, just 13 meters below its normal high water level of 210 meters.
Orendain, however, said Angat's level should be at least 212 meters before the end of the year to last until next year's dry season. - Jaime Laude, Emmanuel Tupas, Christina Mendez, Cet Dematera, Ramon Efren Lazaro, Ric Sapnu, Mayen Jaymalin, Jennifer Rendon, Ed Amoroso, Robertzon Ramirez, Sheila Crisostomo, Raymund Catindig, Danessa Rivera, Evelyn Macairan, Rudy Santos, Janvic Mateo