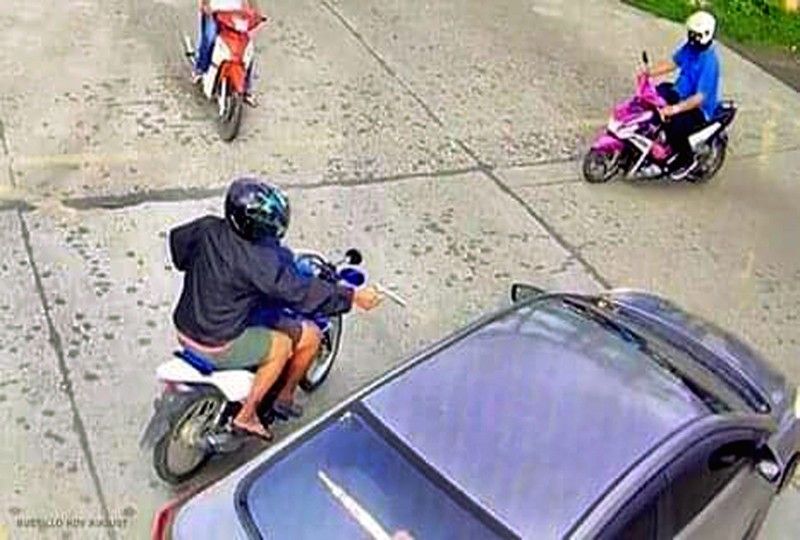 The Presidential Task Force on Media Security, led by executive director Joel Egco, presents police Cpl. Roger Rubio (left photo, highlighted) during a news conference at Malacañang yesterday. Rubio, the alleged gunman in the killing of radio broadcaster Dindo Generoso in Dumaguete City on Nov. 7 (right photo), surrendered to his commanding officer on Nov. 13.
Cop tagged in Dumaguete media slay surrenders
MANILA, Philippines — A policeman linked to the killing of Dumaguete City radioman Dindo Generoso was presented to the media at Malacañang yesterday after he supposedly surrendered to authorities following weeks-long surveillance.
The Presidential Task Force on Media Security (PTFoMS) is now conducting a deeper probe on the killing as police interrogate Cpl. Roger Rubio, who was flown from Negros Oriental and presented to the media.
"We are pleased to announce that Rubio is now in government custody due to an intensified manhunt. Mr. Rubio, unfortunately an active personnel of the Negros Oriental provincial mobile force company, gave himself up to his acting officer, police Lt. Col. Judymar de Leon, at around 6 p.m. in the evening of Nov. 13," PTFoMS co-chair Joel Egco said.
According to Egco, the task force had conducted a series of investigations and filed charges against Rubio and three others tagged as suspects in the killing.
"(These) are the courses of action that further proves and solidifies the administration's commitment to stamp out impunity against members of the media," Egco said.
"The administration shall continue to go after and hold accountable to law these perpetrators of media killings and violence in the Philippines, regardless of who and what they are and why they did it," he said.
Central Visayas police director Brig. Gen. Valeriano de Leon said they were "required" by PTFoMS to bring Rubio to Manila and present him to the media.
Apart from Rubio, murder charges were filed against Teddy Salaw and Glenn Corsame. Another suspect, Tomasino Aledro, remains at large.
Since the suspect is a policeman, De Leon said he has appealed to the task force to deal with the case with sensitivity.
"This actually is very isolated (case), that's why I requested Usec. Egco to treat this with utmost dignity because he was initially tagged as a person of interest, not a primary suspect at that because of the conversation that they had before and considering that Corsame was also a former police officer, so we are connecting these events, " De Leon said.
"As for the evidence which we want to hold for the meantime because the case is now in the courts," he added.
Apparently informed that even suspects should be accorded their proper rights until proven guilty by a competent court, Rubio was not paraded to the media or asked to wear an orange shirt usually worn by detainees.
Instead, Rubio was wearing his combat uniform without handcuffs when presented briefly to the press at the briefing room of the Presidential Communication Operations Office.
Rubio was not allowed to speak.
Lt. Col. Wilfredo Arcon, officer-in-charge of the Dumaguete City Police Station, said Rubio's possible links to the murder can be traced to the information gathered from one of the suspects, Salaw, with whom he exchanged text messages.
De Leon said investigators have filed a criminal case against Rubio in relation to the killing and administrative charges could be forthcoming.
Technically, Rubio is under custody of his superior but he has no pending warrant of arrest since the criminal case has yet to be assessed by prosecutors.
De Leon said there was no witness that would directly point to Rubio as the gunman in the Genoroso case. He appealed to witnesses to come out and testify against the person of interest.
"That is what we observed in the procedure of investigation. It was based, the chief of police of Dumaguete based this case, on the (text) conversation… I think the prosecutor accepted the case, but everything will depend on their appreciation of the evidence. And if witnesses will come out in the open in the future, hopefully they can connect the dots," De Leon said.
On Rubio's claims that he is innocent of the charges, De Leon said every suspect would disassociate themselves from the crime. But it is up to the prosecutors to give their assessment, he said.
Generoso, who worked at dyEM 96.7 Bai Radio, was killed last Nov. 7 in Dumaguete City. He was the anchor for development programs of the local government.