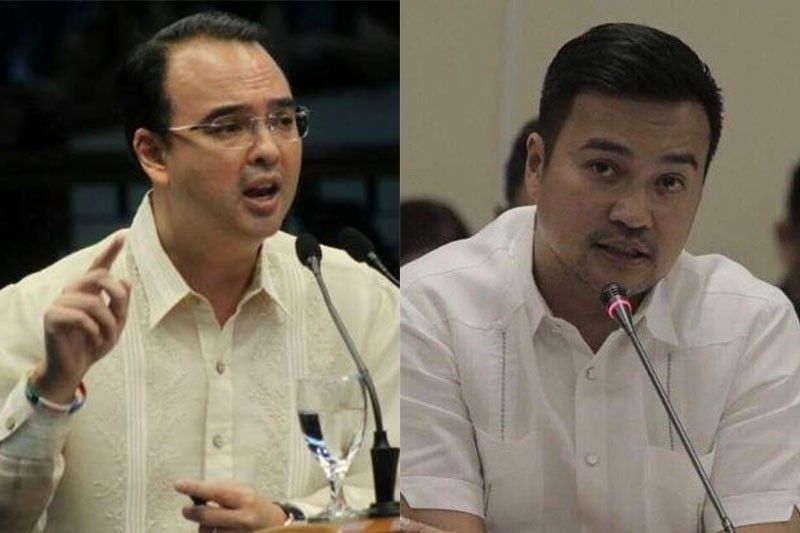 Barzaga said Cayetano's 64-percent and 62-percent approval and trust ratings in recent surveys "are remarkable if we consider the low marks the House received in previous Congresses."
Senate PRIB, file | Lord Allan Jay Velasco/File
Jess Diaz
(The Philippine Star) - November 14, 2019 - 12:00am
Manila, Phillipines — With President Duterte keeping his hands off the issue, the House of Representatives will vote on the term-sharing deal between Speaker Alan Peter Cayetano and Marinduque Rep. Lord Allan Velasco, a House official said yesterday.
"If the President does not intervene, we House members will decide whether to retain Speaker Cayetano or push through with term sharing. As far as we in the Nacionalista Party and other congressmen are concerned, we want continuity in the leadership," Deputy Speaker Luis Raymund Villafuerte told ABS-CBN News Channel.
He said a leadership change in midstream would be "disruptive."
"Look at what happened last year. The 2019 national budget became a casualty," Villafuerte, representative of Camarines Sur's second district, said.
He was referring to the ouster of then speaker Pantaleon Alvarez and the election of former president and Pampanga congresswoman Gloria Macapagal-Arroyo as new speaker.
After taking over, the Arroyo camp discovered that the Alvarez group had tens of billions in pork barrel funds embedded in the proposed budget for 2019, and tried to realign the appropriations, resulting in the three-month delay in the enactment of the spending bill. President Duterte signed the bill in April after vetoing or deleting P95 billion worth of last-minute realignments made by the House leadership.
According to another deputy speaker, Mikee Romero of 1-Pacman, who is an economist, the delay "really took its toll on the economy, which lost at least P500 billion a month, and slowed down growth."
Villafuerte said the House, under Cayetano, tried to avoid another delay in the approval of the budget "by passing the 2020 appropriations bill in just one month."
He said it would be hard to replace the incumbent Speaker, "given our numerous accomplishments in the first three months of his leadership and his high public trust and approval ratings."
Another Cayetano ally, Rep. Elpidio Barzaga Jr. of Dasmariñas City in Cavite, said with Duterte's hands-off stance, House members "will most likely opt to continue with Speaker Alan's leadership."
"Why change or swap horses in midstream? We might as well retain him as our Speaker," he said.
Barzaga is president of the National Unity Party, the first political group to support Cayetano during the speakership fight.
Barzaga said Cayetano's 64-percent and 62-percent approval and trust ratings in recent surveys "are remarkable if we consider the low marks the House received in previous Congresses."
He said the ratings of his House boss "are the highest ever received by a Speaker."
He said congressmen "are happy with Speaker Alan, who has been fair to all of us and who takes care of our concerns."
Another deputy speaker, Neptali Gonzales II of Mandaluyong City, predicted that Cayetano would win if the speakership term-sharing issue were put to a House vote.
"It's difficult to fight an incumbent," he said. A loyal Velasco supporter, who did want to be named, said they have always accepted the possibility that "our Speaker-in-waiting may never be able to occupy the position."