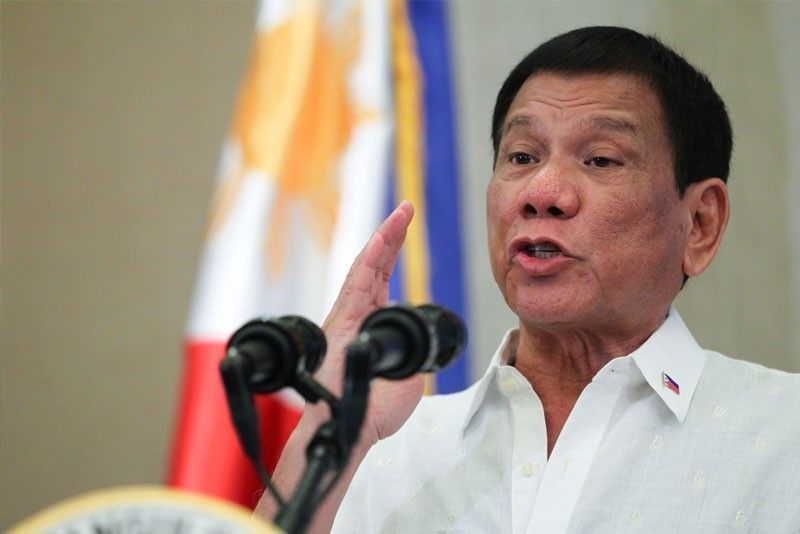 Malacañang has yet to release an official transcript of the President's speech when he attended the birthday celebration of Velasco last Monday.
PCOO/File
Duterte hands off on term-sharing deal on speakership
MANILA, Philippines — President Duterte will not meddle in the term-sharing agreement between Speaker Alan Peter Cayetano and Marinduque Rep. Lord Allan Velasco in the House of Representatives, presidential spokesman Salvador Panelo said yesterday.
"That's what I have been saying all along, that he will not intervene unless his advice is sought," Panelo said.
Panelo refused to expound on Duterte's statement when asked if he would allow Cayetano to stay beyond the pre-arranged 15 months.
"You get your conclusion from what he said, I think that his statements are enough. The President has spoken, it's very clear. So, you reach your own conclusion," Panelo said during a regular press briefing.
Malacañang has yet to release an official transcript of the President's speech when he attended the birthday celebration of Velasco last Monday.
Duterte, however, said during the gathering that it would be up to Cayetano and Velasco if they will honor the term-sharing agreement.
"It's up to you if the parties would honor (the term-sharing agreement). I'm not forcing anybody to take a stand. It's your choice because the agreement and the choice is yours, because you can make or unmake the Speaker," Duterte told the lawmakers during Velasco's joint birthday party with his wife Wen in San Juan late Monday.
Based on the agreed formula, which the President had brokered last July, Cayetano will assume the first 15 months of the speakership while Velasco will take over for the next 21 months – from October 2020 until June 2022.
Velasco believes Cayetano will honor the term-sharing agreement they forged in July.
"On my part, as far as I'm concerned, an agreement is an agreement – a gentleman's agreement. And based on that gentleman's agreement, I will see you next year as the Speaker of the House," Velasco told reporters.
Velasco, the godson of the President, refused to elaborate, saying he is still preoccupied with work.
"We are focused on working at passing laws which I believe will help bring the prices of electricity down," said Velasco, chairman of the House committee on energy.
Velasco admitted being Speaker is not manna from heaven, saying the post "will go through voting."
Last month, Cayetano reassured the public that he will honor the term-sharing agreement with Velasco.
"I'm planning for 15 months and so far we already have three months. So, hopefully we can focus on our work and until that time, perhaps it would be best if we only do what we have to do. Otherwise, there might be disunity," Cayetano told newsmen.
"For me, we can be more productive if we just do our job. After the 15th month, perhaps I have to say I've done my job. Now, the question is did I do it well or not? So, that is where I want to focus first," he stressed.
Cayetano nonetheless expressed openness to the idea of extending his leadership until 2022, but only if Velasco would be willing.
"Am I open to the possibility? If Congressman Velasco himself would tell me: go ahead finish the term, then why should I force him to?" he asked.
"We believe in our own leadership because how can others believe in my leadership if I don't even believe in my own leadership? Having said that, Congressman Velasco also has the leadership, following, and he's a member of the President's party and I respect that," he said.
Cayetano holds the distinction of being the only Speaker who obtained an impressive 64 percent approval and 62 percent trust ratings based on the September 2019 Ulat ng Bayan survey of Pulse Asia. – With Delon Porcalla