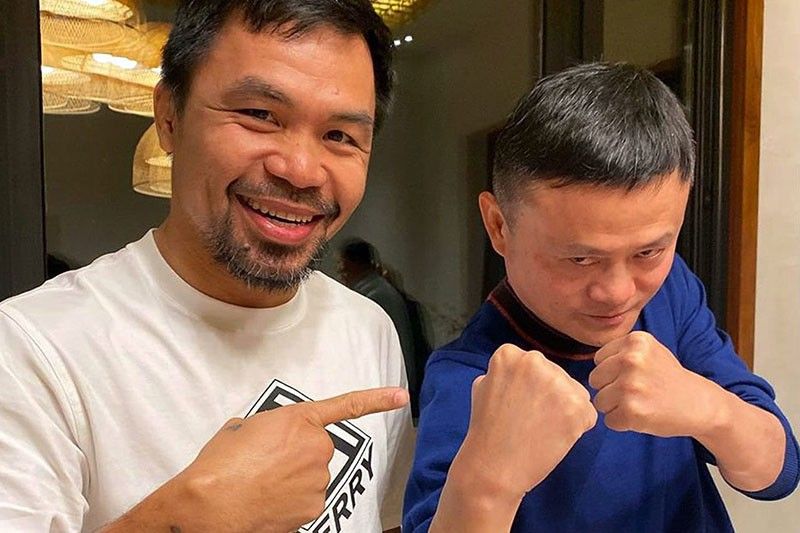 SPARRING PARTNERS: Instagram photo shows Chinese billionaire Jack Ma in a fighting pose as he joins Filipino boxing champion and senator Manny Pacquiao in Hangzhou, China.
Pacman, Jack Ma team up for jab at Mayweather
Abac Cordero
(The Philippine Star) - October 29, 2019 - 12:00am
MANILA, Philippines — Filipino world champion and Sen. Manny Pacquiao dared Floyd Mayweather Jr. to a "real fight," then tried pitting his friend, Chinese billionaire Jack Ma, against the retired boxing superstar.
"Floyd Mayweather, if you want a real fight, fight me," said Pacquiao in a video clip, which he posted on his Instagram account the other day, attracting over 647,000 views.
In the 27-second video, which has gone viral, Pacquiao held the mitts for the 55-year-old Ma, who was hosting the boxing icon and his wife Jinkee in Hangzhou, China.
A portion of the impromptu workout was edited to make it appear that Ma, co-founder of the Alibaba Group who has a net worth of over $41 billion, could throw punches as fast as Pacquiao.
Facing the camera, the 40-year-old Pacquiao, eager to face Mayweather in a rematch of their highly lucrative showdown in 2015, said, "If you want an exhibition, my guy, my friend Jack Ma will take care of you – the real Manny Team."
"Yeah, I am ready. Any time, any place. Manny's team is ready!" Ma said.
Pacquiao's post to his 5.5 million followers on Instagram drew over 6,800 comments, including one from LA-based orthodontist Ed dela Vega who provides customized mouthguards for boxers, including Pacquiao.
"What have you got to say, Floyd?" said Dela Vega.
Another comment referred to the Chinese billionaire as "the GOAT (greatest of all time)" while another said, "He (Mayweather) always talks about money and against this guy (Ma) Mayweather is broke."
Last Sept. 17, the undefeated Mayweather, with a net worth of $750 million, said he was working on an "exhibition" with Pacquiao in Tokyo.
"What I'm working on right now is the Mayweather-Pacquiao exhibition right here in Tokyo, Japan – stay tuned," he said.
Pacquiao's quick reaction to Mayweather's post was, "Why an exhibition? Why not a real fight?". – With Paolo Romero