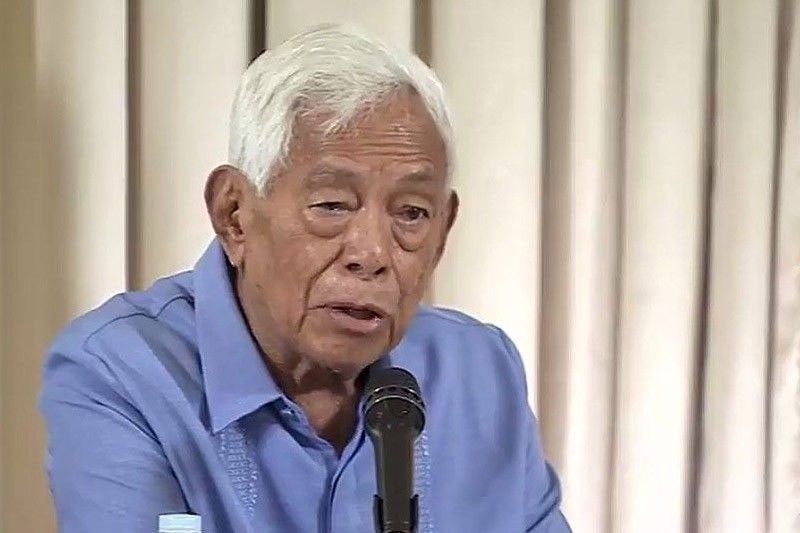 Senator Aquilino Pimentel III said his father had been sick with lymphoma, a cancer that spread throughout the body. Pimentel was put in the intensive care unit of a hospital in Metro Manila last week after his condition worsened.
Philstar.com/File Photo
Nene Pimentel, local government champion, 85
MANILA, Philippines — Former Senate president Aquilino "Nene" Pimentel Jr., a stalwart of the resistance to the Marcos dictatorship and who empowered local government, died early yesterday. He was 85.
"Our beloved Tatay Nene has joined his Creator at 5 a.m. today, Oct. 20, 2019. We thank all those who have been a part of his life. We ask for prayers for the repose of Tatay Nene's soul. Thank you to all," his son, Sen. Aquilino "Koko" Pimentel III said in a statement.
Koko said his father had been sick with lymphoma, a cancer that spread throughout the body. Pimentel was put in the intensive care unit of a hospital in Metro Manila last week after his condition worsened.
"(M)any organs were affected. In the end it was the heart which gave up," he said.
His last foray in public service was being a member of the Duterte administration's consultative committee tasked to review the Constitution.
Pimentel was also a member of the 1971 Constitutional Convention. Two years later, he was jailed among critics of the late strongman Ferdinand Marcos, who had just imposed martial law. He was again detained for protesting the defeat of all opposition candidates, including himself, at the Batasang Pambansa elections in 1978.
He founded Partido Demokratiko Pilipino (PDP) in 1982, which later merged in 1986 with Lakas ng Bayan—the party founded by the late senator Benigno Aquino Jr.
The elder Pimentel was elected senator in 1987 and served until 1992. He again served from 1998 to 2010. He was elected Senate president from 2000 to 2001 during which he and then chief justice Hilario Davide Jr. presided over the impeachment trial of then president Joseph Estrada.
Among the landmark bills he authored were the Local Government Code, creation of the Philippine Sports Commission, and creation of the Autonomous Region in Muslim Mindanao.
"My family and I bereave this very sad news. I feel like I lost a close relative and not just a friend. I was his majority leader when he was Senate President and we were very close. He was my idol," Senate President Vicente Sotto III said.
Senate President Pro Tempore Ralph Recto said "while others sought comfort in numbers, Nene drew strength from his convictions."
"But it is wrong to paint the man solely as a great dissenter. He was also a great builder – of local autonomy, of just peace among a people fatigued of war, of grassroots democracy, of Mindanao development, of ethics in public service," Recto said.
Senate Majority Leader Juan Miguel Zubiri expressed sadness on the passing of Pimentel, who he said "fought and risked his life for the many advocacies that he believed in."
He said even if he and Pimentel had some differences then, "he still treated me professionally and mentored me on the issues of human rights and above all the rule of law."
Senate Minority Leader Franklin Drilon said the country "has lost a true patriot, a freedom fighter, and a champion of democracy, human rights and local governance."
"I lost not just a colleague whom I shared nine colorful years in the Senate, but a true friend who I respect and admire for his service to the nation and our countrymen. I consider it an honor and a distinct privilege to have been succeeded by Ka Nene as Senate President in 2000," Drilon said.
Senators Sonny Angara, Grace Poe and Francis Pangilinan lauded Pimentel for being a "fighter, principled leader, patriot and statesman" who always "kept watch and put himself on the line for the sake of the Filipino people."
Sen. Risa Hontiveros said Pimentel was not only "one of our most experienced and accomplished civil servants, he is also one of the greatest defenders of freedom and democracy in the history of our country. And his greatness was only eclipsed by his love for this nation and its people."
Sen. Richard Gordon and detained Sen. Leila de Lima remembered Pimentel as a very respected elder statesman with a wide breadth of experience in the executive and legislative branches of government, while Sen. Bong Go remembered him for being a steadfast ally of President Duterte.
Sen. Panfilo Lacson remembered Pimentel as his first Senate minority leader who called on him to respond to "the massive vitriolic attacks on my honor and dignity as a newly elected senator in 2001."
Senators Joel Villanueva, Manny Pacquiao and Nancy Binay also remembered Pimentel for his public service that knew no bounds.
Speaker Alan Peter Cayetano also led officials and members of the House of Representatives in expressing their gratitude for Pimentel and condolences to his family.
Former Senate president Manny Villar said he admired Pimentel much and can only imagine the spirited discussion and good laughs he is now sharing in the afterlife with former senators Joker Arroyo and Miriam Defensor-Santiago.
Palace pays tribute
Malacañang yesterday paid tribute to Pimentel, calling him a "respected and courageous statesman" and praising him for his contribution to governance.
President Duterte would most likely visit the wake of the late former senator, presidential spokesman Salvador Panelo said.

"Our people thank former Senator Pimentel for his long, fearless and principled track record of public service. He would forever be etched in our history as a giant among his peers who championed democracy and electoral reform and a visionary who espoused devolution of powers and strong local governance," he added.
Panelo said the Duterte administration is grateful to Pimentel for joining the consultative committee (Concom) formed by Duterte to review the 1987 Constitution and propose amendments that would lead to the establishment of a federal government.
Vice President Leni Robredo expressed grief over the passing of Pimentel.
"The Filipino nation is diminished today with the passing of Senator Nene Pimentel, our leading advocate for local governance, a tireless champion of human rights, and a true patriot," Robredo said in a statement.
Former vice president Jejomar Binay and Pimentel's fellow Concom members also mourned his death.
"We started PDP-Laban together, and have fought alongside each other on issues that will protect our people and promote progress," Binay said.
Concom members Susan Ordinario, Antonio Arellano, Bangsamoro Autonomous Region in Muslim Mindanao speaker Pangalian Ali Balindong, Rodolfo Robles, Virgilio Bautista and committee chairman former chief justice Reynato Puno paid tribute to Pimentel in a statement.
"(He) was not just a public servant but above all, a steadfast advocate of true reforms and real change, a defender of the rights of all, a man of humility, honesty and integrity, a constitutionalist and a great Filipino and patriot," the Concom said.
The Commission on Human Rights, where Pimentel's daughter Gwendolyn Pimentel-Gana is commissioner, remembered Pimentel as "a human rights champion who emphasized the primacy of rule of law and respect for the Constitution and recognized special protection needed for the poor, disadvantaged and marginalized."
The Trade Union Congress of the Philippines expressed gratitude to Pimentel, for empowering Filipino workers through the laws he authored that allowed ordinary workers, farmers and fisherfolk to pool their finances and help each other free their class from economic exploitation.
Father of local government
Panelo said Pimentel, as the acknowledged father of the local government code, "gave his wisdom and lent his voice to the need to empower local governments."
Local leaders in Cagayan de Oro City, where Pimentel was once mayor, also took their time to express their grief and gratitude to the late former senator.
Cagayan de Oro City Mayor Oscar Moreno said considering that Pimentel became the city's local chief executive in 1980, he would ask the deceased's family to bring his remains to the city for public viewing.
The Department of the Interior and Local Government (DILG), meanwhile, has asked all local government units to pay respect to Pimentel by flying their flags at half-staff to the late senator and former minister of local government.
Interior Secretary Eduardo Año, meanwhile, has vowed that the DILG will continue Pimentel's advocacy for federalism. – With Helen Flores, Gerry Lee Gorit, Delon Porcalla, Mayen Jaymalin, Jess Diaz, Ghio Ong, Romina Cabrera, Rainier Allan Ronda