Pinoy domestic helpers in Hong Kong to get pay hike
October 1, 2019 | 12:00am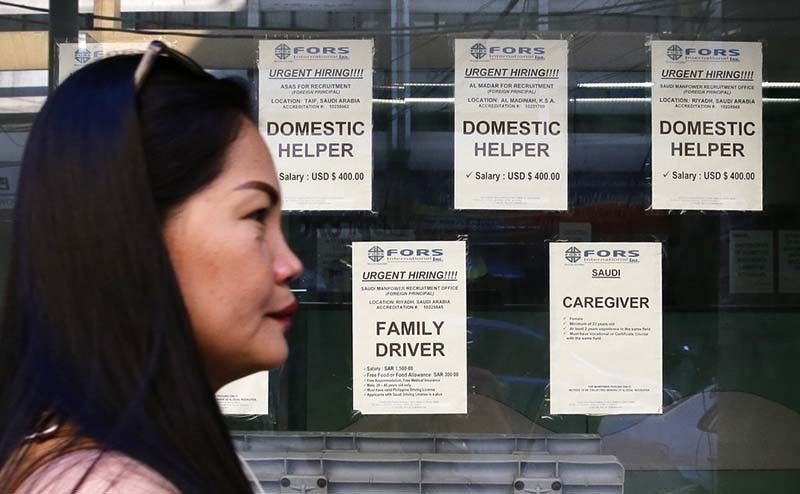 MANILA, Philippines — Filipino domestic helpers in Hong Kong are getting a salary increase, the Department of Labor and Employment (DOLE) said yesterday.
"The new minimum allowable wage (MAW) for domestic helpers will not be less than HK$4,630," labor attaché Antonio Villafuerte said, adding the monthly food allowance of domestic helpers also went up to HK$1,121.
"The new MAW and food allowance will be applicable to all contracts signed on or after Sept. 28," Villafuerte said.
He said contracts providing for the prevailing HK$4,520 monthly pay and HK$1,075 food allowance will still be processed by the Philippine Overseas Labor Office (POLO).
There are more than 200,000 Filipinos working in Hong Kong, most of them household helpers.
Filipinos still want to continue working in Hong Kong despite the continuing protests there.
Meanwhile, the cases of illegal recruitment of Filipinos in Macau are expected to stop as the government will no longer issue permits to tourist workers. ?Filipinos intending to work in Macau will now have to apply with local licensed agencies accredited with Macau recruitment agencies for their welfare and protection.?A memorandum of understanding (MOU) was signed recently by the Philippine Manpower Agencies for Macau (Philman) and Association of Macau Philippine Employment Agencies (Amepa) in the presence of DOLE officials to protect Filipinos who want to work in Macau.
The MOU aims to ensure not only the viability of the Macau market, but also the protection and welfare of Filipino workers in the territory.?Macau has been attracting Filipino tourist workers for the past several years with its sufficient jobs in casinos and hotels and ease in getting work permits.?Household service workers (HSW) have been flown to Macau by illegal recruitment syndicates as tourists and are trafficked to China with a promise of getting $800 in monthly pay.
Most of the HSWs receive less than $400 from their employers, who had to pay the illegal recruiters the cost of bringing them to China.?Migration expert Manny Geslani said there are about 35,000 Filipinos working in Macau. Half of them are domestic helpers and the rest professional workers and casino and hotel employees.
Only a small percentage of these 35,000 Filipinos are documented by the Philippine Overseas Employment Administration (POEA).
Actual figures showed that in 2018, only 918 were deployed by legitimate recruitment agencies from the Philippines.
POEA has repeatedly warned Filipinos against going to Macau as tourist workers, noting that illegal recruiters are luring those who have not found jobs to work as household helpers in China. – With Rudy Santos