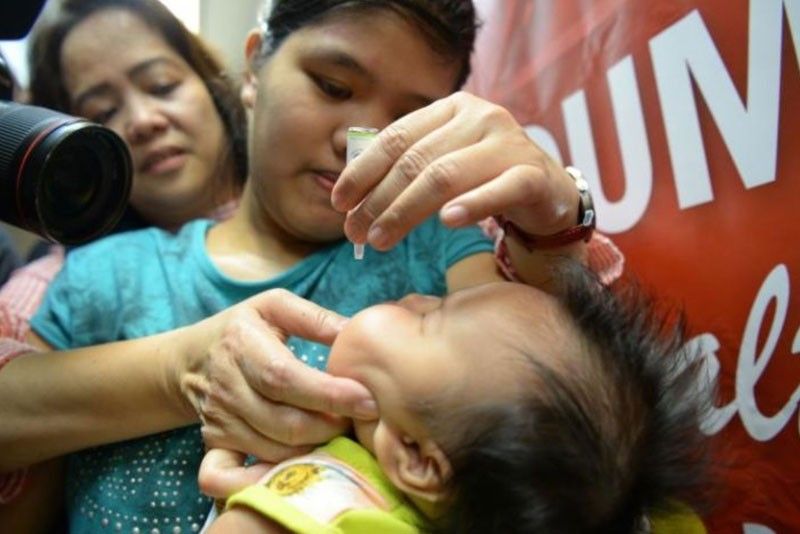 UNICEF country representative Oyun Dendevnorov said LGUs must advise parents to have their children immunized as well as ensure that vaccination campaigns are implemented effectively.
AFP/File
LGUs urged to help promote polio immunization
MANILA, Philippines — The United Nations Children's Fund (UNICEF) yesterday called on all local government units (LGUs) to help in promoting the immunization campaign to prevent the spread of polio in the Philippines.
UNICEF country representative Oyun Dendevnorov said LGUs must advise parents to have their children immunized as well as ensure that vaccination campaigns are implemented effectively.
"Every community leader, religious leader and celebrity must mobilize their communities to participate in immunization activities," Dendevnorov said.
Poorly conducted immunization activities, she said, leave many children susceptible to either vaccine-derived or wild polio viruses. Full immunization can protect children from both forms of virus.
The outbreak of polio in the Philippines calls for urgent action to protect more children from being infected, according to Dendevnorov.
"It reminds us of the importance of increasing immunization coverage to 95 percent of children to stop polio virus transmission in the Philippines. Vaccination is the best and only protection against polio," she said.
The UNICEF officer added that multiple doses of polio vaccine are required to achieve full immunity against the illness.
For her, children across the country and even beyond are at risk of contracting polio as long as one child remains infected.
Oral polio vaccine contains an attenuated or weakened form of the virus and when a child is immunized with OPV, the weakened virus replicates in the intestine for a limited period, thereby developing immunity by building anti-bodies.
The virus is also excreted in the feces. In areas where there is inadequate sanitation and hygiene, the weakened virus can spread in the community before dying out.
"If the population is not fully immunized, the weakened virus can continue to circulate. The longer it is allowed to survive, the more changes it undergoes," Dendevnorov said.
She added that UNICEF is closely working with the Department of Health (DOH) and the World Health Organization in efforts to protect children, especially those from affected areas.
'Fight fake news on vaccines'
The DOH must use its P1.23-billion "advertising, publication, travel" budget to fight fake news on vaccines amid the surge of dengue, measles and polio cases in the country, Senate President Pro Tempore Ralph Recto said yesterday.
Recto said the DOH has many information-related expenses in 2020, including P629 million for advertising, which can be tapped to fight the fake news on vaccines that has kept many children from getting them.
He noted that the agency has allocated some P7.54 billion for the purchase of vaccines that it aims to provide to children, pregnant women and seniors citizens.
Among the beneficiaries are 2.7 million infants who will be given anti-polio shots, a key move in stopping the spread of the polio virus, which has returned to the country after 19 years of zero reported cases.
"Polio is making a comeback, partly because many of our people have been paralyzed by the fear generated by fake news on vaccines," Recto said, echoing the warning by health authorities.
"Superstition in digital form and viral chismis (gossip) are aiding the spread of many viruses," he added.
The senator blamed unfounded fears for plunging the immunization rate for all types of vaccines for children to a low 66 percent last year, way below the 95 percent minimum.
To combat these, Recto urged the DOH to direct a portion of "its massive advertising, travel, training, printing and publication" budget for 2020 to the anti-polio, anti-measles and anti-dengue drive.
Included in the DOH's proposed P91.7-billion budget for 2020 are P622.3 million for advertising, P79 million for "printing and publication," P530 million for travel and P2.16 billion for "training and scholarship."
Recto said these can be used to drumbeat the immunization program, "or can be cut and then rechanneled to buy more vaccines to inoculate more people; and for those already sick, to bring more personnel, medicines and equipment to treatment facilities."
"The money for 'consultations' in hotels – if the topic to be discussed is not important – should be brought to the frontlines," he said, adding that the DOH must practice "financial triage" where important programs must be prioritized and put off what can be postponed.
For 2020, the DOH plans to vaccinate 2.7 million infants against tuberculosis, hepatitis B, diptheria, pertussis, tetanus, polio, measles, rubella and influenza. Two million infants will also get anti-pneumonia shots.
Also in the list are 2.4 million Grade 1 pupils and 1.9 million Grade 7 students who will be vaccinated against tetanus, diptheria, measles and rubella.
The program also covers pregnant women, with 2.7 million of them set to get tetanus vaccines.
Also to be readied are two million units of influenza vaccine and 500,000 units of pneumococcal vaccine for senior citizens.
Robredo makes appeal
Meanwhile, Vice President Leni Robredo yesterday appealed to all parents to have their children vaccinated amid the re-emergence of polio in the country.
"I hope, in the soonest possible time, they will have their children vaccinated. There are free vaccinations available (at) health centers," Robredo said in her weekly program over radio station dzXL.
"They should not believe reports that vaccination will only endanger their children's lives because this is not true. The health centers will not give these vaccines if these are harmful for kids," she stressed. – With Paolo Romero, Helen Flores