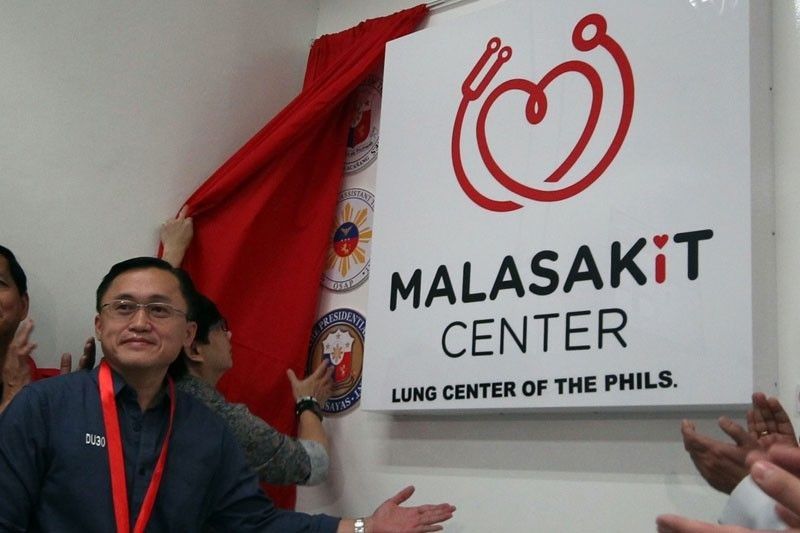 Quezon Rep. Angelina Tan, who chairs the committee and is one of the authors of the bill, said the establishment of the centers "will complement the objectives of Republic Act 11223 or the Universal Health Care law."
Boy Santos/File
House health committee endorses Bong Go's Malasakit bill
Jess Diaz
(The Philippine Star) - September 19, 2019 - 12:00am
MANILA, Philippines — The committee on health of the House of Representatives yesterday endorsed a bill that seeks to institutionalize Malasakit Centers in public hospitals nationwide.
Quezon Rep. Angelina Tan, who chairs the committee and is one of the authors of the bill, said the establishment of the centers "will complement the objectives of Republic Act 11223 or the Universal Health Care law."
She said it is through these centers that poor patients not covered by the insurance program of the Philippine Health Insurance Corp. (PhilHealth) could seek assistance.
"This proposed measure intends to reduce, if not eliminate, out-of-pocket expenditures of indigent patients, including non-medical expenses like transportation costs," she said.
Tan, who is a physician, added that the centers would also serve as "health system enabler to improve the assessment for patient assistance and referral to provide much needed support for patient navigation."
The Malasakit program is the advocacy of former presidential aide and now Sen. Christopher Go, who has filed a counterpart measure in the Senate.
Another author of the bill, deputy speaker and Pampanga Rep. Aurelio Gonzales Jr., said the institutionalization of the centers would perpetuate the program Go started.
Gonzales said the centers would "allow patients to avail themselves of medical and financial assistance from certain government agencies by bringing these offices together under one roof."
"Through Malasakit, we want to make free health services available and accessible to our people, especially the poor," he said.
The other authors of the bill are Luis Raymund Villafuerte of Camarines Sur, Yedda Marie Romualdez of party-list group Tingog Sinirangan, Eric Yap, Jocelyn Tulfo and Niña Taduran of ACT-CIS, Majority Leader Martin Romualdez, Sol Aragones of Laguna, Raul del Mar of Cebu City and Ria Fariñas of Ilocos Norte.
Under the proposed law, Malasakit Centers would be established in all hospitals run by the Department of Health (DOH).
In the case of hospitals operated by local government units and other agencies like the military and the police, they would be encouraged to put up similar assistance units modeled after those created by DOH.
The centers would serve as one-stop-shop for medical and financial assistance for patients not covered by PhilHealth. The assistance would come from such agencies as the DOH, Department of Social Welfare and Development, Philippine Charity Sweepstakes Office and Office of the President.
The hospital director would head the center, while the head of the hospital's medical social work office would take care of its operations. The two would not get extra compensation.
Other agencies and the private sector would be encouraged to participate in the provision of assistance and health services through the Malasakit program.
The committee on health also endorsed a bill that seeks to provide comprehensive renal therapy to patients with end-stage kidney disease in national, regional and provincial hospitals.