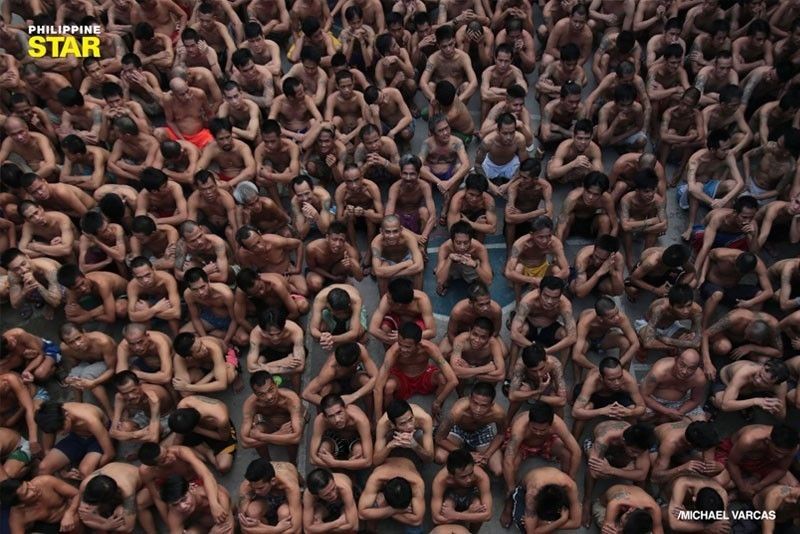 President Rodrigo Duterte has ordered the 1,914 heinous crimes convicts freed over the years of implementation of the law cutting down their prison time due to their good conduct to surrender to authorities.
The STAR/Michael Varcas, File
DOJ: Don't take Duterte's 'dead or alive, better dead' order literally
MANILA, Philippines — President Rodrigo Duterte's "dead or alive, better dead" directive for the capture convicts freed through the Good Conduct and Time Allowance law "should not be taken literally," Justice Secretary Menardo Guevarra said.
Duterte on Tuesday night said he is putting up P1 million bounty to those who can capture the freed convicts of heinous crimes who will not surrender past September 19, the imposed deadline of the president.
READ: Duterte offers P1M bounty for capture of freed heinous crime convicts
His words: "Capture them dead or alive, but maybe dead would be a better option."
The president continued: "Ibalik ko 'yan sa preso, makakain pa 'yang putanginang 'yan. Gagastos pa ako."
(I will put them back in prison and I will have to feed them. I will have to spend money.)
Guevarra told Philstar.com in a message Duterte's order should not be taken literally.
"Law enforcers are supposed to effect peaceful arrests, but may use reasonable force if the subject of arrest violently resists and endangers the security of the arresting officer," he added.
The Philippine National Police has in the past expressed readiness to follow spoken orders from the president.
"In the PNP, especially us in our organization, even probably in the military, there are several ways of giving directives. And verbal directive is one. That's binding," Police Gen. Oscar Albayalde said in July when Duterte ordered Philippine Charity Sweepstakes Office outlets closed over alleged corruption.
For Edre Olalia, president of the National Union of Peoples' Lawyers, however Duterte's latest order is a "dangerous" one, and may even be "illegal."
He told Philstar.com: "It may violate the right to due process, presumption of innocence, principle of ex post facto laws, rules of engagement, protocols on arrest etc."
Arresting protocols
According to the Philippine National Police's primer on law enforcement for citizens, the person to be arrested "shall not be subjected to torture, force, violence, threat, intimidation, or any other means which vitiate the free will."
The primer also stated that arresting officers are "prohibited from firing at moving vehicles, excessive use of force and use of deadly weapons."
The arresting officer may only use force if the suspect "poses imminent danger of causing death or serious physical injury to other persons or the police officers."
Fugitives?
Guevarra said that past Duterte's imposed deadline on September 19, the released prisoners would be deemed as fugitives.
"After the grace period granted by the president , those who will not voluntarily turn themselves in will be considered as evading service of sentence," Guevarra told Philstar.com.
Guevarra, in a separate interview with CNN's "The Source", said that the freed inmate is "simply completing the same sentence [they] have not completed."
EXPLAINER: A look at the Supreme Court rulings behind Duterte's order to re-arrest freed convicts
But Olalia contested the use of "fugitives" to refer to the freed inmates.
According to Rodriguez v Comission on Elections, a "fugitive from justice incudes not only those who feel after conviction to avoid punishment but likewise who, after being charged, flee to avoid prosecution."
The convicts of heinous crimes, however, were released by the Bureau of Corrections after it deducted time credits that they earned for their good conduct—the government is now saying they are not entitled to this time credit.
In an interview with DZBB, University of the Philippines law professor Dean Agabin also said that the freed convicts cannot be deemed fugitives.
"Their release was legal, unless it can be proven that they bribed officials of the Bureau of Corrections so they can be released," the former UP Law dean said in Filipino.
Ex-post facto law
Former Supreme Court spokesperson Theodore Te earlier said that putting the freed convicts back in prison would mean "a retroactive application of the law in a prejudicial manner, which is prohibited by the Constitution as an ex post facto application of the law."
An ex post facto law would penalize a crime that was committed when the act was not deemed illegal yet. The Bill of Rights states: "No ex post facto law or bill of attainder shall be enacted."
"The GCTA that may serve to shorten a sentence and entitle the inmate to be released extinguishes liability and, even if applied erroneously but in good faith to unqualified inmates (e.g., those serving time for heinous crimes who under the law are not entitled to GCTA), cannot justify sending back to jail those set free," Te, who is a professor on criminal law, explained.
READ: Panelo wants freed 'heinous crimes' convicts back in prison, but time allowances are 'irrevocable'
The DOJ and Department of the Interior and Local Government released the revised Implementing Rules and Regulations of the GCTA law or Republic Act 10592 earlier this week.
The revised IRR stated that convicts of heinous crimes are not entitled to the benefits of the 2013 law that expanded time credits for inmates' good conduct.
READ: GCTA law's revised implementing rules exclude heinous crimes convicts as beneficiaries