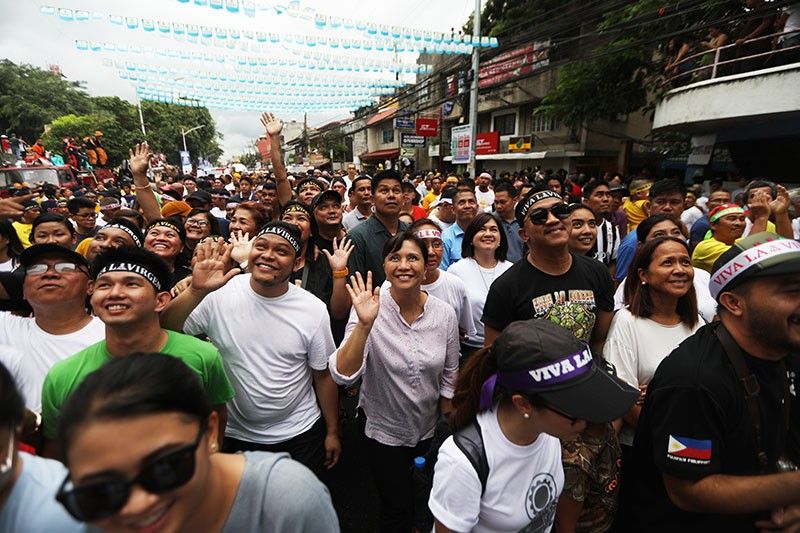 Vice President Leni Robredo joins thousands of devotees in celebrating the feast of Our Lady of Peñafrancia at this year's Traslacion on Sept. 13, 2019, in Naga City, Camarines Sur.
OVP/Charlie Villegas
Robredo, VP advisers can't comprehend Philippines-China situation — Palace
MANILA, Philippines — Malacañang on Saturday slammed Vice President Leni Robredo for criticizing President Rodrigo Duterte's openness to ignore the Philippines' legal victory in the South China Sea and seal an energy deal with Beijing, saying she needs new advisers who can comprehend the maritime row.
China claims most of the contested sea, including the West Philippine Sea, and has rejected a UN-backed international tribunal ruling that said its assertion to the Sea is without legal basis.
Robredo on Thursday rebuked Duterte's "reckless" suggestion that he would "set aside" the Philippines' historic win in order to pursue a joint exploration with China, saying the Philippine leader's remarks were "profoundly disappointing and extremely irresponsible."
Responding to Robredo, presidential spokesman Salvador Panelo said the vice president, like other administration critics, "may have been carried away by their nitpicking and habitual engagement in useless and unproductive semantics."
Panelo also said Duterte was not surrendering the Philippines' rights over the West Philippine Sea and called Robredo's remarks "misplaced and flamboyant."
"The problem with my friend Vice President Leni Robredo is the inability of her political advisers to comprehend the complexities of our current situation with China," Panelo said.
"She may want to change them with some erudite intellectuals knowledgeable in geopolitics and in the art of diplomacy," he added.
Duterte is under growing pressure at home to challenge China — after largely setting aside the standoff for years — with tensions high after a Chinese fishing trawler hit and sank a Filipino boat in June in the contested waters.
The decision to raise the issue marks a turnaround for Duterte, who had revived once-icy diplomatic ties with Beijing after being elected in 2016 when he set aside the maritime ruling in favour of wooing Chinese aid, trade and investment.
China invokes the so-called "nine-dash line" to mark its historic rights to the territory, which is based on a vague map that emerged in the 1940s.
Despite the territorial issues, Manila and Beijing signed a series of agreements over joint cooperation in fields including education, and Duterte hailed the "friendship and the value of our ties" between the two countries.
"It would certainly be the height of folly and naïveté if the Philippines were to ignore areas of investment that our country badly needs to fuel our rapidly expanding growth," Panelo said. — with AFP